ACEC Supports S Corp Legislation
The Council, along with other like-minded business groups, is urging Members of Congress to support the S Corporation Modernization Act of 2017, which would make it easier for S corporations to function.

Introduced by Congressmen Dave Reichert (R-WA) and Ron Kind (D-WI) and Senators John Thune (R-SD) and Ben Cardin (D-MD), the legislation updates rules that govern the day-to-day management of S corporations; streamlines procedures for firms electing to become S corporations; reduces the impact of a tax on S corporations that were C corporations and have undistributed earnings and profits; and modifies the treatment of inherited S corporation shares.

In a letter to all Members of Congress, ACEC urged that these changes be included in tax reform legislation that Congress is expected take up later this year. To read the letter, click here.
ACEC Opposes Funding Cuts for Department of State and USAID
ACEC President/CEO Dave Raymond called upon House and Senate appropriators to fully fund U.S. foreign aid agencies in the 2018 State and Foreign Operations Appropriations bill in order to bolster U.S. competitiveness in foreign markets.

President Trump's preliminary budget would impose 27 percent funding cuts on the U.S. Department of State; U.S. Agency for International Development (USAID); the U.S. Trade Adjustment Authority (USTDA); and the Overseas Private Investment Corporation (OPIC).

In his letter, Raymond emphasized the critical role of these agencies in supporting U.S. foreign policy, as well as promoting U.S. exports, including engineering services.

He also urged lawmakers to adopt language to encourage USAID to hire U.S. engineering firms in international development projects. To view the letter, click here.

In an earlier letter, ACEC addressed other proposed cuts, including those in domestic transportation and water funding. Click here to view the letter.
ACEC-Backed Water Trust Fund Bill Reintroduced
Congressmen Earl Blumenauer (D-OR) and John Duncan (R-TN) have reintroduced ACEC-backed legislation to create a dedicated trust fund for water infrastructure projects around the country.

The Water Infrastructure Trust Fund Act of 2017 (WITFA) would create a voluntary fee for water user industries to be deposited in a trust fund and disbursed through the existing Clean Water and Safe Drinking Water State Revolving Fund (SRF) programs. Companies that participate in the program could include a special supporter logo in their advertisements.

The Council has long advocated creating a dedicated trust fund for water to address the estimated $500 billion gap in water and wastewater funding over the next 20 years.
ACEC Fights Additional Reporting Burdens from DHS
ACEC is urging the Department of Homeland Security (DHS) to revamp its rules on Controlled Unclassified Information (CUI) so they align with other federal agency requirements.

The CUI program, which is administered by the National Archive and Records Administration (NARA), standardizes the way the Executive branch handles unclassified information that requires safeguarding or dissemination controls.

DHS recently released a proposed regulation that would create additional categories of information not required by the NARA and would put additional compliance burdens on government contractors.

In a letter to DHS, ACEC urged the agency to revise the regulation to better conform with the existing federal standard. Click here to read the letter.
ACEC's Pecori Addresses Industry Challenges at Bradley University Conference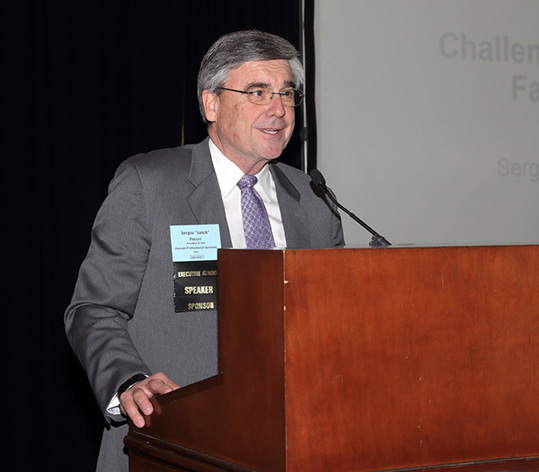 Tennessee Hits ACEC/PAC Target; To Be Honored at Convention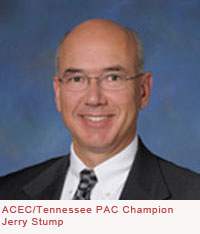 ACEC/Tennessee met its 2017 ACEC/PAC fundraising goal this week, marking the 14th consecutive year the Volunteer State has reached 100 percent.

ACEC/TN, along with ACEC/Indiana, ACEC/Wisconsin, and ACEC/Hawaii, will be recognized for achieving their 2017 PAC objectives at next week's Annual Convention and Legislative Summit in Washington, D.C. Member Organizations that reached their 2016 ACEC/PAC fundraising goals in the last quarter of the year will also be honored.

ACEC/TN PAC Champions Jerry Stump of Volkert and Steve Field of Stantec credited the early success to Executive Director Kasey Anderson's efforts to organize and promote the fundraising to the membership. "We're proud of the continued support of our long-time donors, but equally grateful for the impressive increase in first-time PAC contributors," said Stump. "We are committed to building a broad-based and sustainable ACEC/PAC program in Tennessee."

For more information about ACEC/PAC and ACEC's political programs visit the ACEC/PAC website or contact ACEC Executive Director of Political Affairs Greg Knopp or ACEC/PAC Director Katherine Bohny.
ACEC Convention Opens Sunday: Top Speakers, Capitol Hill Lobbying, 50th Anniversary EEA Gala
More than 1,500 ACEC members will converge on Washington, D.C. next week for the 2017 Annual Convention and Legislative Summit.

The Convention will feature addresses by former White House Communications Director Nicole Wallace and Fortune Magazine Senior Editor Geoff Colvin, and panel discussions with three Congressmen, three Member Firm CEOs, and three former transportation agency leaders.

ACEC "Citizen Lobbyists" will promote the Council's legislative agenda in meetings with their Congressional delegations, calling for tax reform and increased infrastructure investment. For more information on the Capitol Hill visits, click here.

Attendees will also participate in business roundtables, educational sessions, and the 50th Annual Engineering Excellence Awards Gala, hosted by Actor/Comedian Kevin Nealon.

For more information on the ACEC Convention and to register, click here.
Online Class: ESOPs and Why Engineering Firms Love Them, April 27
To ESOP, or not to ESOP?

To get the answer, register for April 27 online class ESOPs and Why Engineering Firms Love Them.

Using case studies, Robert Massengill will cover a range of topics, including: Partial ESOP sales; ESOPs and management buyouts; Going 100 percent—Second-stage ESOP transaction alternatives; ownership expectations and control; tax efficiencies; and how ESOPs are used alone and in combination with other techniques for internal transition plans.

For more information and to register, click here.
Friday Deadline to Submit Your Firm's Innovative Airport Projects to Engineering Inc.
The September/October 2017 issue of Engineering Inc. will spotlight Member Firm's innovations in airport facility and infrastructure design.

If your firm has an innovative airport project that you'd like to be considered for in this special Engineering Inc. section, e-mail the information below to Engineering Inc. Staff Editor Andrea Keeney by Friday, April 21, 2017.

In a one- or two-page document, submit the following: project name and location; project overview, including unique aspects/challenges; and the name, title, phone number and e-mail address of the Member Firm executive to be interviewed for the project profile. The project can be under construction or recently completed.

If you have any questions, contact Andrea Keeney.
The American Council of Engineering Companies
1015 15th St., NW, 8th Floor, Washington, DC 20005-2605
Phone:

202-347-7474

- Fax: 202-898-0068
www.acec.org
- E-mail:
acec@acec.org
Alan D. Crockett, Director, Communications
Gerry Donohue, Editor/Designer