Member Action Needed to Secure Solvency of Highway Trust Fund in Tax Reform Legislation
ACEC is asking lawmakers to support a bipartisan effort to include a sustainable funding solution for the Highway Trust Fund as part of a larger tax reform bill. Members are urged to contact their Representatives today—Click here to access a sample letter that can be personalized with firm-specific information.

Passage of major tax reform legislation is a key priority of President Trump and leaders in Congress. In addition to the opportunity to secure business-friendly tax code changes, this legislation creates an ideal vehicle for securing new revenues to restore long-term solvency to the Highway Trust Fund.

The bi-partisan leaders of the House Highways & Transit Subcommittee—Rep. Sam Graves (R-MO) and Rep. Eleanor Holmes Norton (D-DC)—are circulating a sign-on letter urging the House Ways & Means Committee to include a long-term, dedicated, user-based revenue stream to support transportation infrastructure investment as part of tax reform.

"ACEC has long supported an increase in the gas tax as well as recommending a transition to a vehicle miles travelled (VMT) system," noted ACEC President/CEO Dave Raymond.
ACEC Gears Up For Infrastructure Week
Infrastructure Week 2017, May 15-19, is a national week of education and advocacy on the need to invest in our nation's transportation, water, energy transmission and communications infrastructure.

ACEC is an affiliate partner of Infrastructure Week, and many Member Firms are sponsoring and participating in events in Washington D.C. and across the country.

Click here for more information, including social media content, advocacy materials, and a calendar of events.
House Passes Health Care Bill, Cuts Mandates, Taxes on Firms
The House of Representatives passed legislation last week that would make significant changes to the Affordable Care Act, including the elimination of certain mandates and taxes on engineering firms.

The American Health Care Act of 2017 (AHCA) would repeal the employer mandate penalties on firms with more than 50 employees that do not offer qualified health insurance. Several taxes would also be repealed, including the tax on fully-insured, traditional health plans sold to individuals and small firms, and taxes on wages and investment income paid by individuals who earn more than $200,000 and families that earn more than $250,000. In addition, the 40 percent "Cadillac tax" on high-cost health plans would be delayed until 2025.

The Senate is expected to draft its own health care reform legislation, the next step in what is likely to be a long legislative process.
Congress Protects Infrastructure Funding in FY17 Spending Package
Congress maintained—and in some instances increased—funding for infrastructure programs in the spending bill passed last week to fund the federal government through September 30.

In a letter sent to lawmakers prior to the vote, ACEC President/CEO Dave Raymond urged support for the bill, saying it "represents a prudent and reasonable approach" to funding key federal programs.

The measure fully funds surface transportation programs at levels authorized under the FAST Act and increases funding for water and wastewater projects through the State Revolving Fund (SRF) programs.

In passing the spending bill, Congress rejected most of the proposed program cuts requested by the Trump Administration.

The focus now turns to the FY18 budget process. "We have serious work to do going forward to protect the infrastructure investment programs that are so vital to our industry and to the nation's economy," said Raymond.
ACEC/North Carolina Hosts Congressional Delegation in Washington, D.C.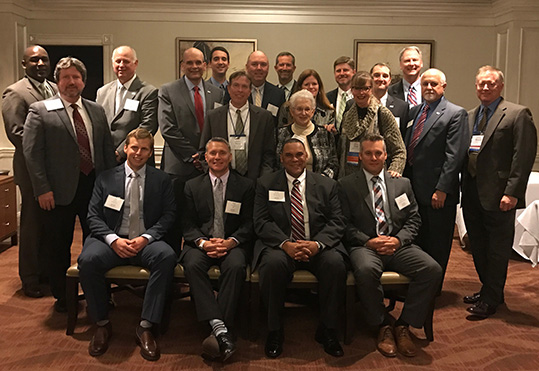 Learn How to Excel as an Expert Witness, Boston, June 15-16
Engineers are often asked to serve as expert witnesses in legal proceedings—but these potentially lucrative assignments require much more than technical expertise.

Register now for ACEC's long-standing seminar, Applying Expertise as an Engineering Expert Witness, which outlines how to prepare for and successfully provide expert testimony for discovery, depositions, the witness stand, and related legal proceedings.

Scheduled for June 15-16, 2017 in Boston, MA, this 1-1/2 day course will detail each step of the qualifications, ramifications, and expectations of serving as an expert witness. Click here for the brochure.
Engineering Compensation to Recruit, Retain, and Reward the Next Generation, May 16
A recent survey found that millennials expect to stay at a job for less than five years. Factor in the A/E/C industry's low unemployment rate—and baby boom retirement rates—and you have firms in full-blown talent panic mode.

In the online class Engineering Compensation to Recruit, Retain, and Reward the Next Generation on May 16, Sarah Walpert will demonstrate how to decrease turnover and weather the impending labor shortage by examining what motivates your young engineering talent.

You'll also review the current climate for recruiting star performers; examine changes and trends for compensation averages by discipline; identify strategies and structures for retaining your top talent; and compare compensation philosophies to decide which works best for your firm.

For more information and to register, click here.
The American Council of Engineering Companies
1015 15th St., NW, 8th Floor, Washington, DC 20005-2605
Phone:

202-347-7474

- Fax: 202-898-0068
www.acec.org
- E-mail:
acec@acec.org
Alan D. Crockett, Director, Communications
Gerry Donohue, Editor/Designer