ACEC Members Address QBS, Regulatory Reform and Size Standards with DOD, GSA, SBA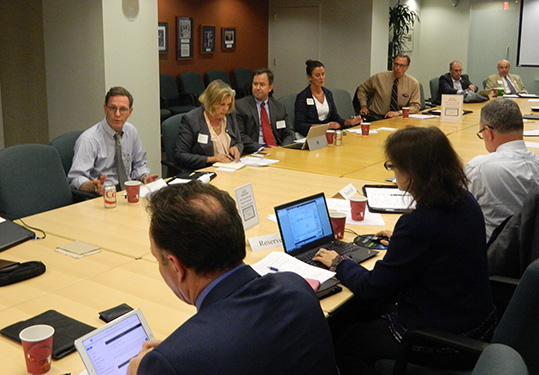 In response to a Department of Defense procurement panel, which has questioned the value of Qualifications-Based Selection, ACEC invited a panel member to the Federal Agencies and Procurement Advocacy (FAPA) Committee meeting last week to underscore the critical importance of maintaining QBS.

Also at the meeting, officials from the Office of Federal Procurement Policy and the General Services Administration were urged to improve contracting consistency across federal agencies.

In addition, representatives from the U.S. Army Corps of Engineers, Naval Facilities Engineering Command and Air Force Civil Engineering Center described upcoming projects.

Small Business Administration (SBA) representatives announced they will conduct a review of size standards this year.
ACEC Hosts Membership Recruitment Training for MOs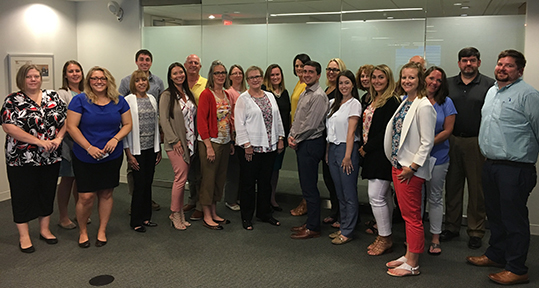 To meet a need highlighted by several state executives, ACEC hosted a special membership training program this week at Council headquarters which included staff from 17 Member Organizations

Led by ACEC membership staff, the program focused on recruitment, retention, recordkeeping, dues billings, and annual certification.

The participants included seven executive directors, 16 staffers, and one M.O. membership committee chair.

"I learned a lot of good stuff to enhance my understanding of membership procedures and services," said ACEC/North Carolina Executive Director Jim Smith.
ACEC Lays Out Tax Reform Priorities to Senate Finance Committee
In a letter to Senate Finance Committee Chair Orrin Hatch (R-UT), ACEC stated its strong support for comprehensive tax reform that provides parity in the top rates for corporations and pass-through businesses, such as S corporations, partnerships, and sole proprietorships.

The letter also reiterated ACEC's opposition to limiting the use of the cash method of accounting. In addition, the Council urged using tax reform to provide sustainable funding for the Highway Trust Fund.

Congressional leadership hopes to take up tax reform legislation in the fall.

Click here to read the letter.
ACEC, Industry Allies Work to Bolster Energy Markets
ACEC is working with key industry allies in support of initiatives to enhance the nation's energy infrastructure.

The Council joined with major energy trade associations, including the American Chemistry Council, American Gas Association, American Petroleum Institute, Edison Electric Institute, Interstate Natural Gas Association, and National Association of Manufacturers, on a letter in support of legislation to streamline the permitting of natural gas pipelines, improve interagency coordination and strengthen the role of FERC as the lead agency under the National Environmental Policy Act (NEPA). The House passed the bill this week, setting the stage for Senate action.

ACEC also signed on to an industry letter urging Senate leadership to confirm the FERC nominees necessary for a quorum. FERC has been without a quorum since early February 2017, which has delayed an estimated $15 billion in natural gas pipeline construction due to lack of final permits.
Senate Health Care Bill Flounders; Repeal Proposal Addresses Several ACEC Concerns
With Senate Republicans struggling to move forward with changes to the Affordable Care Act (ACA), Senate Majority Leader Mitch McConnell (R-KY) is planning a vote on legislation to repeal the law.

ACA repeal would address several measures about which ACEC has repeatedly raised concerns with Congress. It would eliminate the health insurance tax on fully-insured plans sold to small firms, the "Cadillac tax" on high-cost plans, and taxes on the investment income and earnings of high-income individuals and business owners. In addition, the employer mandate penalties for firms with more than 50 employees would no longer be in effect.

Several Senators have already indicated that they will oppose repeal of the ACA without a replacement. McConnell is still expected to call for a vote in order to place Senators on record, and then turn to other legislative priorities such as tax reform and infrastructure.
Register Now for ACEC's Pathways to Executive Leadership Program; Only 10 Spots Remain
Following on last year's sold-out inaugural class, ACEC's 2017 Pathways to Executive Leadership program provides in-depth instruction on how to lead an A/E firm, giving participants the skills necessary to think strategically in their markets, build effective teams, and deliver great customer service.

"The Pathways training was the best experience I've had in terms of learning strategies and tactics that have helped me in my day-to-day activities," said Brad Thompson, planning services manager at Volkert, Inc. "I can't say enough good things about it. It was extremely valuable to me, and I think it would be for anybody in our industry.

The program spans six months, beginning October 18-21, 2016 at the ACEC Fall Conference in Colorado Springs and ending April 22-25, 2017 at the ACEC Annual Convention in Washington D.C., and includes both onsite and online sessions.

Only 10 seats remain for the upcoming class.

Pathways to Executive Leadership is designed for young professionals looking to accelerate their career growth. It fills the gap between ACEC's Business of Design Consulting program and the Senior Executives Institute.

Faculty includes Geordie Aitken and Magda Dominik of the Aitken Leadership Group; Rod Hoffman and Barb Smith of S & H Consulting; and ACEC Member Firm leaders.

For more information on the program and to register, click here.
Former Intelligence Chief Michael Hayden to Speak at ACEC Fall Conference

Former National Security Agency and Central Intelligence Agency Director Michael Hayden will discuss the war on terrorism, growing cyber challenges, and dangers and opportunities facing the United States.

Other speakers at the Conference include:
Martin Ford, best-selling author on the impact of artificial intelligence and robotics
Rob O'Neill, the former SEAL Team Six leader who killed Osama bin Laden
Neil Howe, expert on the Millennial Generation (he coined the term).
The Conference also features CEO, CFO and CIO roundtables and Emerging Leaders and Coalition programs.

The Fall Conference will be held October 15-18 at the Hilton Bonnet Creek & Waldorf Astoria resort.

For more information and to register, click here.
Submit Your Firm's Sustainable Headquarters/Branch Office Design to Engineering Inc. by Friday!
Engineering Inc. will spotlight Member Firms' commitment to sustainability as illustrated through their own facility's green innovations and designs in its November/December 2017 issue.

If your firm's headquarters or branch office features innovative examples of sustainable design and you'd like it to be considered for in this special Engineering Inc. section, e-mail the information below to Engineering Inc. Staff Editor Andrea Keeney by Friday, July 21, 2017:

In a one- or two-page document, submit the following: project name and location; project overview, including unique aspects/challenges; and the name, title, phone number and e-mail address of the Member Firm executive to be interviewed for the project profile. The project can be under construction or recently completed.

If you have any questions, contact Andrea Keeney.
Register for Induction into the Order of the Engineer at Fall Conference
The College of Fellows will host the induction ceremony for interested ACEC Members into The Order of the Engineer—a national organization dedicated to "upholding the standards and dignity of the engineering profession"—at the upcoming 2017 ACEC Fall Conference in Orlando, Fla.

The Order of the Engineer was initiated to foster a spirit of pride in the profession, emphasizing that the primary purpose of engineering is to serve the public and that all members of the engineering profession share a common bond.

At the Fall Conference ceremony, inductees will take the "Obligation of the Engineer" oath and be presented with a stainless steel ring as a symbol of membership.

Click here to register for the induction ceremony and to order rings. Click here to visit the Order of the Engineer website. For further information, contact Daisy Nappier.
Online Class Offers Strategies to Fight Broad Form Indemnification and "Duty to Defend," July 26
Join ACEC/Georgia Executive Director Michael "Sully" Sullivan for an overview of how his State Organization won passage of a bill that prohibits the use of broad form indemnification and/or duty to defend clauses in contracts for engineering, surveying and architecture contracts.

In the July 26 online class Strategies to Fight Broad Form Indemnification and "Duty to Defend," Sullivan will also: Identify the types of indemnification and how different types of indemnifications clauses relate to professional liability insurance coverage; review the state of anti-indemnification legislation in various states as well as recent successful legislative efforts from across the country; recommend potential coalition partners from other affected professions; and outline some of the successful public policy arguments that resonated with legislators on both sides of the aisle as well as strategies for framing the debate in a way that will put you in a position to win.

For more information and to register, click here.
The American Council of Engineering Companies
1015 15th St., NW, 8th Floor, Washington, DC 20005-2605
Phone:

202-347-7474

- Fax: 202-898-0068
www.acec.org
- E-mail:
acec@acec.org
Alan D. Crockett, Director, Communications
Gerry Donohue, Editor/Designer