Market Leaders, Celebrities to Star at ACEC Convention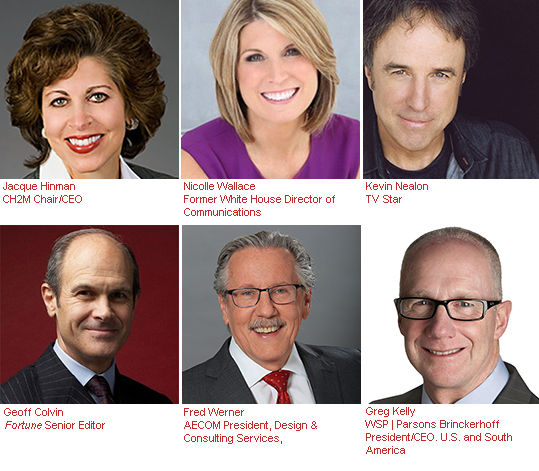 Top executives and distinguished public figures will highlight the 2017 ACEC Convention in Washington, D.C., April 23-26. 1,500 participants are expected.

Jacque Hinman, CH2M chair/CEO; Fred Werner, AECOM president, design and consulting services; and Greg Kelly, WSP | Parsons Brinckerhoff president/CEO, U.S. and South America, will discuss industry prospects with Fortune magazine Senior Editor Geoff Colvin.

Former White House Director of Communications Nicolle Wallace will kick off the Convention, which will also include Members of Congress, Cook Political Report Editor Amy Walter, Pennsylvania Secretary of Transportation Leslie Richards, and many other notable speakers.

TV star Kevin Nealon will host the 50th Anniversary Gala of the Engineering Excellence Awards.

For more information and to register, click here.
Indiana First to Hit 2017 ACEC/PAC Goal Following Record National Year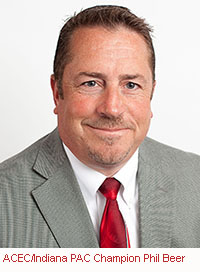 Coming off an extraordinary year for ACEC/PAC—in which $1 million-plus was raised— ACEC/Indiana has jumped to the fore in 2017 by becoming the first state to reach its annual ACEC/PAC goal.

Indiana has been first for three consecutive years, and has hit its fundraising target every year since state goals were established in 2003.

"We're very proud of our track record," said Indiana PAC Champion Philip Beer of USI Consultants in Indianapolis. "The key to our success is that our state board supports this effort 100 percent. They understand ACEC/PAC is central to our advocacy efforts on Capitol Hill."

For more information about ACEC/PAC and ACEC's political programs visit the ACEC/PAC website or contact ACEC Executive Director of Political Affairs Greg Knopp or ACEC/PAC Director Katherine Bohny.
New Executive Committee Members Elected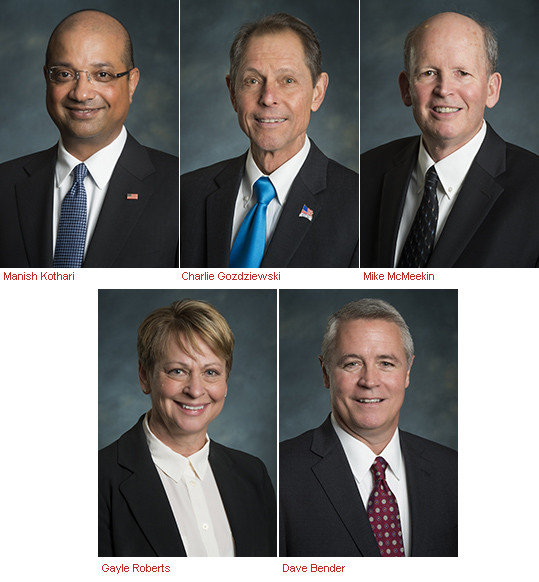 ACEC's Board of Directors has elected new members to the Executive Committee, for two-year terms beginning at the 2017 Annual Convention in Washington, D.C.

Manish Kothari, president/CEO of Sheladia Associates in Rockville, Maryland will become the new chair-elect, succeeding Sergio "Satch" Pecori, who will begin his term as chair.

Newly-elected vice chairs are: Charlie Gozdziewski, executive chairman at Hardesty & Hanover in New York City; Mike McMeekin, president of Lamp, Rynearson & Associates in Omaha, Neb.; and Gayle Roberts, president/CEO of Stanley Consultants in Muscatine, Iowa.

ACEC/Illinois Executive Director Dave Bender will serve as the NAECE representative on the Executive Committee.

In addition to Pecori, current members who will continue on the Executive Committee are Mary Erchul, Joel Goodmonson, Tom Mosure, John Nelson, and Dave Raymond.
ACEC, Allies Seek Complete Elimination of Project Labor Agreements; Engineering Already Exempt
ACEC joined with construction industry allies on a letter urging President-elect Donald Trump to eliminate current mandates on the use of Project Labor Agreements (PLAs) for large federal projects.

Early in his first term, President Obama issued an executive order requiring federal projects in excess of $25 million to use PLAs, which create collective bargaining agreements with labor organizations to establish terms and conditions for employment on construction sites.

ACEC was able to exclude the engineering industry in the final rule—ensuring the independence of design professionals—but the Council has continued to support efforts to eliminate PLAs in order to prevent potential conflicts with the various roles that engineering firms play in project oversight, safety and performance.

The industry letter calls on the incoming Administration to rescind the executive order and to prevent federal agencies from mandating PLAs as a condition for winning federal contracts. Click here to view the letter.
ACEC Calls for Senate to Pass Regulatory Reform
ACEC is partnering with the U.S. Chamber of Commerce and other business organizations in urging Senate leaders to take up the Regulatory Accountability Act of 2017. Click here to read the letter.

The bill would modernize the process by which federal agencies formulate regulations, increasing transparency and allowing more input by affected citizens. Agencies would be required to choose the least costly option unless a more expensive approach is needed in order to protect the public.

The legislation was approved by the House of Representatives by a vote of 238 to 183.
Submit Your Firm's Innovative High-Rise Projects to Engineering Inc. by Feb. 17
The July/August 2017 issue of Engineering Inc. will spotlight Member Firm's innovations in high-rise construction, including office, commercial, residential and mixed-use.

If your firm has a high-rise project that you'd like to be considered for in this special Engineering Inc. section, e-mail the information below to Engineering Inc. Staff Editor Andrea Keeney by Friday, February 17.

In a one- or two-page document, submit the following: project name and location; project overview, including unique aspects/challenges; and the name, title, phone number and e-mail address of the Member Firm executive to be interviewed for the project profile. The project can be under construction or recently completed.

If you have any questions, contact Andrea Keeney.
Register Now for ACEC's Small Firm Council Winter Seminar in San Diego, CA, Feb. 17-18
How can your firm develop and manage an effective human resources system? Get the answers at the annual Small Firm Council Winter Seminar in San Diego, February 17-18.

HR Advisors Group Principal Barbara Irwin will break down the various aspects of a human resources operation and outline how firms can create programs, processes and procedures that meet the needs of the workforce while continuing to focus on the bottom line.

This seminar is for any employee in a small firm tasked with making human resources decisions, such as: owners, principals, HR professionals, CEOs, CFOs.

For more information and to register, click here.
Building a Social Responsibility Program Can Improve your Bottom Line, January 19
Many engineering firms promote a culture of giving and service. Leadership and employees often have a sincere desire and passion to give back to community—either locally or across the globe—but how do you incorporate this into your company culture.

In Building a Social Responsibility Program that Improves your Bottom Line, January 19, Donna Carolow will examine the impact of social responsibility programs, with examples from across the A/E/C community. She will address how these programs can improve a firm's employee, client, and community relations.

For more information and to register, click here.
The American Council of Engineering Companies
1015 15th St., NW, 8th Floor, Washington, DC 20005-2605
Phone:

202-347-7474

- Fax: 202-898-0068
www.acec.org
- E-mail:
acec@acec.org
Alan D. Crockett, Director, Communications
Gerry Donohue, Editor/Designer