ACEC/PAC Activities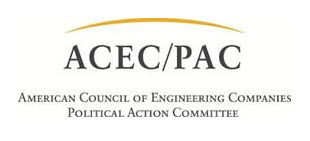 ACEC/PAC will be hosting several events during the 2018 Annual Convention:
The PAC Champions meeting will take place on Monday, April 16th from 2:15 PM to 3:45 PM.
The Spring Sweepstakes drawing will be held during the PAC breakfast on Wednesday, April 18th from 7:30 AM to 8:30 AM! Come celebrate with the lucky winners of fifteen prizes – including a grand prize of $10,000. Tickets are $200 each, with a limit of 5 tickets per person. Click here for entry form.
ACEC/PAC will also host a fundraising event. More information will be available shortly.
If you have any questions about or are interested in attending any of ACEC/PAC's activities during the Fall Conference, please contact Katherine Bohny, ACEC/PAC Director.
ACEC/PAC Corporate Sponsorship Program:
Our valuable corporate sponsors help defray ACEC/PAC's fundraising costs and ensure that we can use all available resources to elect pro-business and pro-engineering candidates. Please consider becoming a corporate sponsor today – please email Katherine Bohny if you're are interested in becoming a corporate sponsor.