ACEC/PAC Activities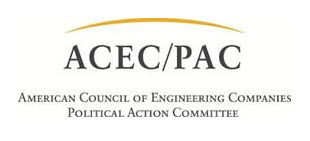 ACEC/PAC will be hosting several events during the 2018 Annual Convention:
ACEC/PAC Champions Meeting – Monday, April 16th – 2:30pm to 4pm
For state PAC Champions, but all major donors are also welcome to attend.
ACEC/PAC will be hosting a fundraiser for Congressman Jeff Denham (R-CA), a member of the House Transportation and Infrastructure Committee, on Monday, April 16th at 5:00pm. More information can be found here.
ACEC/PAC will be hosting a Local Spirits Tasting Reception on Monday, April 16th from 6:00pm to 7:30pm. Tickets are $200/person or $350/couple. The reception will feature spirits from two local distilleries, and the ticket price includes a tasting from both distilleries, cocktails and passed hors d'oeuvres. Click here for more information or RSVP to Katherine Bohny.
ACEC/PAC Spring Sweepstakes Drawing – Wednesday, April 18th – 7:30am to 8:30am (during the PAC Breakfast)

ACEC/PAC's Spring Sweepstakes is back! You could be one of the lucky winners of fifteen prizes – including a grand prize of $10,000. Only 1,500 tickets are available, but they are going fast! You do not need to be present to win.
Tickets are $200 per person (personal check or personal credit card), with a 5 ticket max and available through 6pm on Tuesday, April 17th.
To contribute, please visit the ACEC/PAC website, log in with your ACEC credentials and click Member Access, then Contribute Today! Questions? Please email Katherine Bohny, ACEC/PAC Director.
If you have any questions about or are interested in attending any of ACEC/PAC's activities during the Annual Convention, please contact Katherine Bohny, ACEC/PAC Director.
ACEC/PAC Corporate Sponsorship Program:
Our valuable corporate sponsors help defray ACEC/PAC's fundraising costs and ensure that we can use all available resources to elect pro-business and pro-engineering candidates. Please consider becoming a corporate sponsor today – please email Katherine Bohny if you're are interested in becoming a corporate sponsor.