Special Events & Guest Programs
Guest Program
Guest registration includes:
Welcome Reception
Monday Evening Reception
Tuesday Evening Reception
Access to the Guest Hospitality Lounge open on Monday and Tuesday mornings
Monday Guest Program - Chicago's Awesome Museums

9:30 am-10:00 am

Chicago boasts several world-class museums including the Art Institute of Chicago, Field Museum of Natural History, Shedd Aquarium, Adler Planetarium and the Museum of Science and Industry. Hear history, highlights and tips for visiting all of these outstanding museums from a Certified Tour Guide and make the most of your free time in Chicago!
For more information on registration, click here!
Tours
Private Highlights Tour of the Art Institute of Chicago
Monday, October 14
10:00 am- 1:00 pm
Cost: $45.00 per person
Enjoy an exclusive escorted tour of this great institution which includes Adler and Sullivan's exquisite Trading Room, the magnificent America stained-glass windows by Mar Chagall, and the spectacular galleries of the new Ada Rice Wing. You will also have the exciting opportunity to take a guided tour of the innovative Modern Wing of the Art Institute! The Modern Wing, designed by decorated architect Renzo Piano, shines in its design, technology, and green architecture, dramatically transforming the museum to give it a more contemporary identity.

Architecture River Cruise
Tuesday, October 15
9:30 am-11:30 am
Cost: $65.00 per person
A Chicago family tradition since 1935, this is the tour that started it all. This unique excursion tells the story of more than 200 years of fascinating social, cultural and political history, and explores more than a century of groundbreaking architecture. The journey begins with an up-close perspective of Chicago's internationally-known architecture as seen from the Chicago River. Then venture through the Chicago Lock on to the calm, cool waters of Lake Michigan for expansive views of Chicago's extraordinary 26-mile skyline. Take the selfie of a lifetime on this inspirational experience!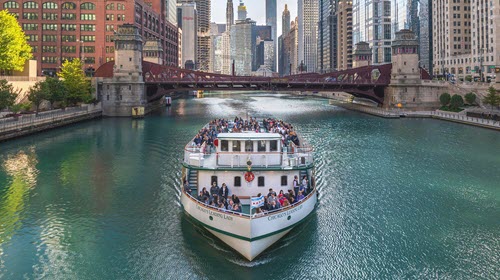 Tour tickets can be purchased through online registration. Registered already? Email Jessica Torrero to add tours to your registration!
ACEC/PAC Events
ACEC/PAC will be hosting several events during the 2019 Fall Conference in Chicago, Illinois:
The PAC Pinewood Rally! Catch the excitement! Races will be held throughout the Conference! More information to come!

The Fall Sweepstakes Drawing will be held during the General Session on Tuesday, October 15, at 8:00 AM. Tickets are $200 each, with a limit of 5 per person. Click here for entry form.

The ACEC/PAC Champions Meeting will take place on Tuesday, October 15, from 10:30-11:45 AM.
Our valuable corporate sponsors help defray ACEC/PAC's fundraising costs and ensure that we can use all available resources to elect pro-business and pro-engineering candidates. Please consider becoming a corporate sponsor today.
If you have any questions about or are interested in attending any of ACEC/PAC's activities during the Fall Conference, please contact Jennifer Pugh at jpugh@acec.org or 202-682-4322.
2019 College of Fellows Charity Fun Walk
Take an early morning stroll around Chicago's famous "Millennium Park"—a 2005 Engineering Excellence Award winner—while also helping young girls achieve their dreams. The Charity Fun Walk proceeds benefit Girls on the Run (GOTR) - a 501(c)(3) nonprofit organization dedicated to creating a world where every girl knows and activates her limitless potential and is free to boldly pursue her dreams. Walkers will receive a commemorative beanie hat, sponsored by the ACEC Life/Health Trust. Power breakfast, fruit, bloody marys, hot beverages, and fruit juices also will be provided, sponsored by ACEC/Illinois.
To sign up for this Charity Fun Walk, click here.
Donation are welcome if you are not able to participate. Make Check Payable to: Girls on the Run
Tuesday, October 15, 2019
Check in Time: 6:15 am
Check in Location: Mayfair Room
Walks Begin: 6:30 am
Donation: $20
For more information, contact Daisy Nappier
College of Fellows Tour
The College of Fellows is hosting a two-hour Private Architectural River Cruise. The private tour will include an expert in Chicago architecture who will provide insights on why Chicago is one of the most architecturally remarkable cities in the U.S.
The cruise will include heavy hors d'oeuvres, a scrumptious food station and open bar.
Tickets are limited and are on a first come, first served basis.
Monday, October 14, 2019
4:00pm – 6:00pm
Cost: $150 per ticket
This tour is open only to members of the College of Fellows. To register for the Private Architectural River Cruise, click here.
Order of the Engineer
The Fellows Committee sponsors an Order of the Engineer Induction Ceremony at ACEC's Fall Conference. The Order of the Engineer is an independent organization with the stated purpose to foster a feeling of pride in, and a dedication to the engineering profession. It promotes honesty and integrity in the everyday actions of engineers and recognizes that today's engineers are dependent on their predecessor for the skills they have acquired. The Order is symbolized by the wearing of a stainless-steel ring on the little finger of the working hand.
An induction ceremony for ACEC Members will take place at the Fall Conference
Monday, October 29
Sheraton Grand Chicago
7:00 am-7:30 am
To register for the Order of the Engineer, click here!