Advocacy / Member Organizations
March 4, 2020
ACEC Illinois' Artl Testifies Before Congressional Subcommittee for CREATE Program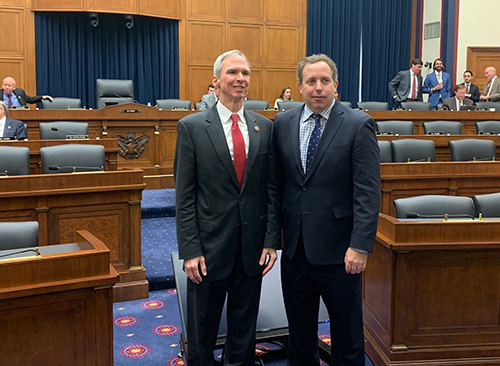 ACEC Illinois Executive Director Kevin Artl (right) stands with U.S. Representative Dan Lipinski (D-IL), who chairs the House Subcommittee on Railroads, Pipelines, and Hazardous Materials. Artl testified before the subcommittee today urging increased federal investment in the CREATE program in Northern Illinois. A first-of-its-kind partnership among the U.S. DOT, State of Illinois, Cook County, City of Chicago, Metra, Amtrak, and the nation's freight railroads, CREATE seeks to reduce train and auto delays throughout the Chicago area by building dozens of new roadway and rail overpasses and underpasses, upgrading tracks, switches, and signal systems, and improving grade crossings throughout the region.

All comments to blog posts will be moderated by ACEC staff.
'Subscribe' enables commenters to sign up for e-mail notification of subsequent entries
Connect with us

To view back issues of the Last Word newsletter, click here.