Advocacy
January 5, 2023
ACEC Kentucky's Russ Romine Reflects on Attending the Brent Spence Bridge Event with President Biden and Leader McConnell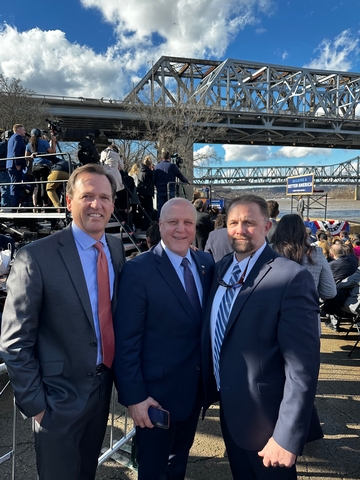 For decades, the Brent Spence Bridge Corridor Project has been discussed and debated by local, state, and national leaders from Kentucky and Ohio, but lack of funding caused the nationally significant project to languish. That changed this week as ACEC Kentucky National Director Brad Gregory and I were on hand to hear President Joe Biden announce and celebrate the single largest project grant in US history. The $1.6 billion grant, part of the historic Infrastructure Investment and Jobs Act (IIJA) passed by Congress last year, will enable the $3.6 billion project to move forward, repairing the existing Brent Spence Bridge and building a companion bridge adjacent to it.
The bridge—which is part of the north/south I-75 corridor between Canada and Miami—is known as the second-worst truck bottleneck in the nation and carries more than $700 billion worth of freight every year. Designed to handle 80,000 vehicles per day when it opened in 1963, the bridge now handles twice that number.
As we saw with passage of last year's long-awaited federal infrastructure legislation, bipartisan support was on full display at the event. Prior to President Biden, the crowd heard from Kentucky Governor Andy Beshear (D) and Ohio Governor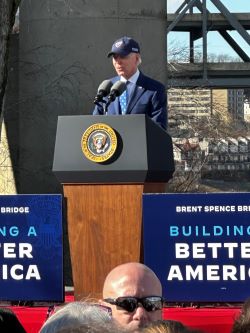 Mike DeWine (R), along with Senate Minority Leader Mitch McConnell (R-KY) and Senators Rob Portman (R) and Sherrod Brown (D) from Ohio. It was a refreshing to hear each talk about what's possible when partisan politics is pushed aside. As the president said, it's important for the American people to see that we can work together and can get things done for the good of the country.
ACEC Kentucky was proud to provide a letter supporting the federal funding application submitted by the Kentucky Transportation Cabinet and the Ohio Department of Transportation last spring. Many ACEC Kentucky member firms have worked on the Brent Spence Bridge Corridor project over the years, and we're excited for the additional opportunities that will be available as the project is now financially viable and ready to move forward.
And finally… on a personal note, the event held extra significance for me. Before I was born, my father began his career as a professional engineer working on the design and construction of I-75 in the northern Kentucky/Cincinnati area. He spent the better part of the first decade of his career primarily focused on construction of this corridor.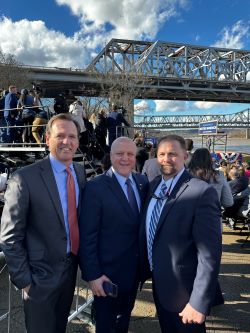 Prior to finishing my career with the Kentucky Transportation Cabinet in 2015, I spent several years working with elected leaders and state and local officials from Kentucky and Ohio to secure support and funding for the project's continued development. It's been a long time coming, but the wait is over!
Russ Romine is the Executive Director of ACEC Kentucky

All comments to blog posts will be moderated by ACEC staff.
'Subscribe' enables commenters to sign up for e-mail notification of subsequent entries
Connect with us

To view back issues of the Last Word newsletter, click here.