Engineers Week / Member Organizations
February 19, 2020
ACEC/Mississippi Celebrates E-Week With EEA State House Display, Radio Ad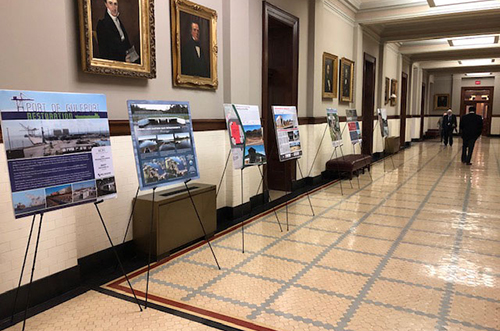 ACEC/Mississippi combined winners from its recent Engineering Excellence Awards competition with a special Engineers Week radio spot to highlight the importance of engineering.
ACEC/MS officials displayed project panels of the state's recent EEA award winners in the hallway of the Mississippi State Capitol in Jackson.
"Each year we host an ACEC/MS Capitol Day which coincides with Engineers Week," said ACEC/MS Mississippi Executive Director Craig Carter. "The day was very successful."
The radio advertisement emphasized the MO's role in the state's engineering industry and the vital role of engineering in our society. Click here to hear the ad.

All comments to blog posts will be moderated by ACEC staff.
'Subscribe' enables commenters to sign up for e-mail notification of subsequent entries
Connect with us

To view back issues of the Last Word newsletter, click here.