ACEC News / Fall Conference
October 25, 2019
College of Fellows Honors Lennox Nishimura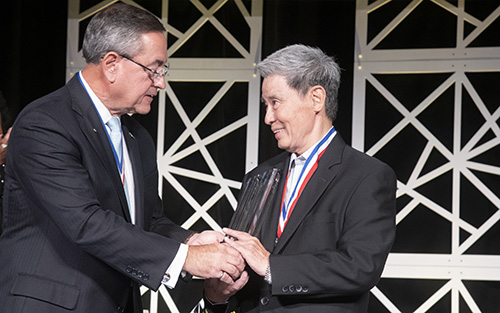 Lennox Nishimura received the College of Fellows Distinguished Service Award at the ACEC Awards Luncheon during the 2019 ACEC Fall Conference.
"In his 16 years of continuous service to the Fellows Committee and ACEC, Lennox has worked tirelessly to improve the awards programs," said Fellows Committee Chair Dennis Ford. "In addition to serving his rotation as Fellows Committee Chair, Lennox also chaired the Scholarships, Young Professionals, and Community Service subcommittees."
In addition to the award, Ford said, Nishimura's "many friends have funded a one-time scholarship to be named The Lennox Nishimura Scholarship which we will award in 2020."
Click here for more information about the College of Fellows.

All comments to blog posts will be moderated by ACEC staff.
'Subscribe' enables commenters to sign up for e-mail notification of subsequent entries
Connect with us

To view back issues of the Last Word newsletter, click here.