ACEC News / Market Forecast
February 4, 2019
Engineering Leader Confidence in Marketplace Drops Sharply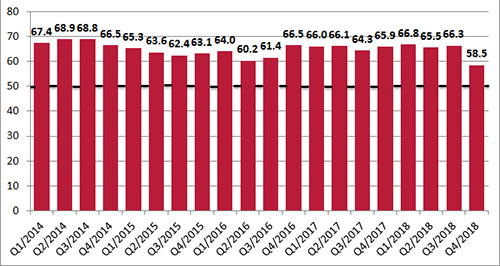 U.S. engineering industry leader confidence dropped markedly in the 4th quarter 2018 Engineering Business Index (EBI).

Results from the survey of just over 200 engineering firm leaders, conducted January 3-18, shows the EBI score falling sharply to from 66.3 to 58.5—the biggest quarter-to-quarter EBI rating decline and the lowest overall rating in the index's 5-year-history.

Similar A/E/C market research, such as the AIA Index and the Dodge Momentum Index, have also declined in recent months.

To read the report, click here.

All comments to blog posts will be moderated by ACEC staff.
'Subscribe' enables commenters to sign up for e-mail notification of subsequent entries
Connect with us

To view back issues of the Last Word newsletter, click here.