ACEC News / Advocacy
January 7, 2020
First Once Again: ACEC Indiana Surpasses 2020 ACEC/PAC Fundraising Goal on January 1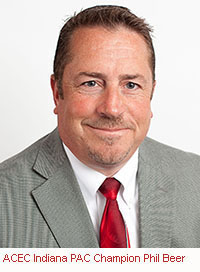 For the seventh consecutive year, ACEC Indiana was the first state to reach its ACEC/PAC fundraising goal, pushing well past its annual target total at 12:01 a.m. on January 1, 2020.
"ACEC Indiana is proud to again lead all states in meeting our PAC Goal for 2020," said PAC Champion Phil Beer of USI Consultants. "Executive Director Beth Bauer, her tremendous staff, all Indiana Board members, and Member Firms understand the need for advocacy at the national level through ACEC/PAC. Early money, especially in a presidential election year is vitally important, and as we enter the primary season, ACEC Indiana is ready to go!"
For more information about ACEC/PAC and ACEC's political programs, visit the ACEC/PAC website or contact ACEC/PAC Director Jennifer Pugh.

All comments to blog posts will be moderated by ACEC staff.
'Subscribe' enables commenters to sign up for e-mail notification of subsequent entries
Connect with us

To view back issues of the Last Word newsletter, click here.