Engineers Week / Industry News
February 18, 2020
Indiana's Norwell Middle School Wins Engineers Week Future City Competition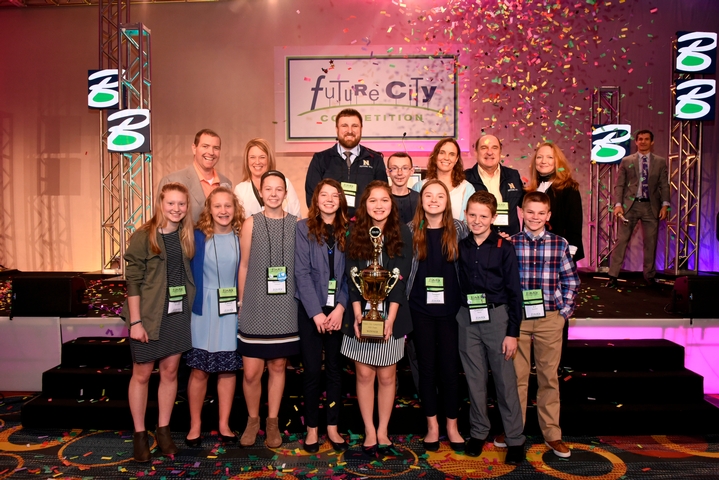 A city of the future – Yemoja – engineered by students from Norwell Middle School in Ossian, IN – won the Grand Prize Tuesday at the 2020 Future City® Competition. It is the 28th year of this prestigious international program held Tuesday at the Hyatt Regency Washington on Capitol Hill. It also is one of the showcase events taking place in celebration of National Engineers Week.
Since last fall, more than 45,000 middle school students from 1,500 schools in more than 40 U.S. regions, as well as teams from Canada and China, have imagined, designed and built cities for the 2019-2020 Future City® Competition.
This year's theme, Clean Water: Tap into Tomorrow, challenged students to identify an urban water system threat and develop a futuristic solution to ensure a reliable supply of clean drinking water.
The Grand Prize includes a trip to U.S. Space Camp for the Norwell Middle School team and $7,500 for the school's STEM program (provided by Finals sponsor Bentley Systems). Their city's solution is based on the model the team researched, developed and presented.
The Future City Competition is a project-based learning experience where students in 6th, 7th, and 8th grade imagine, research, design, and build cities of the future. Keeping the engineering design process and project management front and center, students are asked to address an authentic, real-world question: How can we make the world a better place?
During the Competition, students work as a team to complete five deliverables. They design a virtual city using SimCity™ software. They research a city-wide issue and write an essay describing their findings and innovative solutions. Teams complete a project plan to help keep their project on track. They also build a tabletop scale model of their city using recycled materials and create a short presentation about their city.

All comments to blog posts will be moderated by ACEC staff.
'Subscribe' enables commenters to sign up for e-mail notification of subsequent entries
Connect with us

To view back issues of the Last Word newsletter, click here.