ACEC News / Market Forecast
September 17, 2021
Latest ACEC Private Industry Brief Examines the Energy & Utilities Market Sector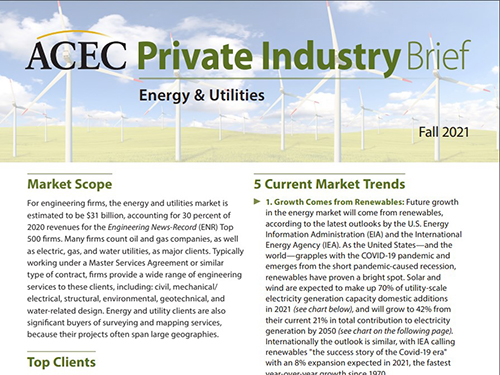 ACEC published this week the Fall issue of the Private Industry Brief, focusing on the energy and utilities market sector. For engineering firms, this market generates about $31 billion annually and accounted for 30 percent of the 2020 revenues of the ENR 500 firms.
In the report, ACEC Private Market Resources Vice President Erin McLaughlin highlights:
Five current market trends, including how states are leading the way to a carbon-free future;
The potential impact of the infrastructure bill on the sector;
Top clients; and
The growing private water utility market.
Click here to download the free report.

All comments to blog posts will be moderated by ACEC staff.
'Subscribe' enables commenters to sign up for e-mail notification of subsequent entries
Connect with us

To view back issues of the Last Word newsletter, click here.