ACEC News / Market Forecast
July 19, 2019
Small Increase in ACEC's Engineering Business Index Fueled by Long-Term Optimism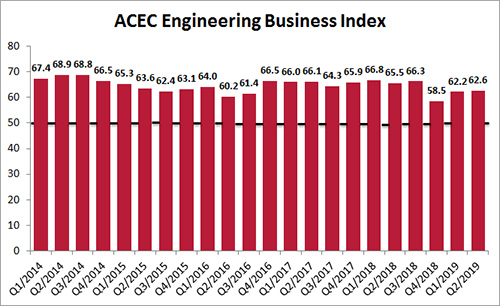 The ACEC Engineering Business Index (EBI) edged up 0.4 points to 62.6 in the Q2 2019 survey, the second consecutive quarterly increase.
The Q2 score, however, is 3.3 percent below the five-year average of 64.7.
The survey of 172 firm leaders was conducted from June 18 to July 3, 2019. The EBI measures engineering industry leader con?dence about their ?rms and their markets. Any score above 50 signals positive market sentiment.
Firm leaders reported that the business climate is better now than a year ago, but has worsened in the past three months, and they believe it will continue to decline over the coming year.
Respondents expect profitability to improve in three years, but not in the next six months or even a year from now. They report backlogs are down from a year ago and three months ago but are confident that their backlog will grow over the coming year.
In the public markets, respondents believe that five of the six tracked sectors will improve over the coming year. Expectations for the Environmental sector rose 7.6 percent, Buildings (up 5.0 percent), Transportation (up 2.8 percent), Education (up 3.2 percent), and Water and Wastewater (up 2.7 percent). The Health Care sector was flat.
The private markets were mixed. Respondents have positive expectations for the Industrial/Manufacturing (up 3.6 percent), Education (up 2.2 percent) and Land Development sectors (up 2.2 percent), but are less optimistic about the Energy and Power (down 3.9 percent), Health Care (down 2.2 percent), and Buildings (down 1.5 percent) sectors.
To view the EBI report, click here.

All comments to blog posts will be moderated by ACEC staff.
'Subscribe' enables commenters to sign up for e-mail notification of subsequent entries
Connect with us

To view back issues of the Last Word newsletter, click here.