ACEC News / Governance
June 26, 2019
State Organization Leaders Focus on Member Services at Orientation Session at National HQ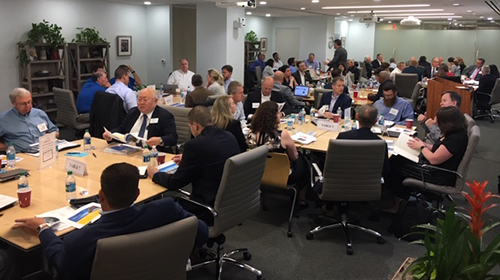 ACEC Chair Mitch Simpler, Chair-Elect Charles Gozdziewski, and President/CEO Linda Bauer Darr hosted leaders from 21 Member Organizations at national headquarters today for the second of two 2019 Leadership Orientation sessions.
During the 1-1/2 day session, state executive directors and volunteer leadership learned about ACEC services and products and strategized on how the organizations can work together to benefit members.
Session participants included:
ACEC/Alabama
President-Elect—Heather Page, Whorton Engineering Inc.
Executive Director—Renee Casillas
ACEC/Arkansas
President-Elect—Steven Beam, Burns & McDonnell
Treasurer—Jerry Holder, GARVER
Executive Director—Angie Cooper
ACEC/Arizona
Chair-Elect—Andrew Haines, Jacobs Engineering Group Inc.
Senior Vice Chair—Lance Jones, LSW Engineering Arizona, Inc.
Secretary—Dawn Cartier, CivTech, Inc.p>
Executive Director—Justan Rice
ACEC/Florida
Vice President—Peter Partlow, E Sciences Inc.
ACEC/Georgia
Chair-Elect—Taylor Wright, Atkins North America, Inc.
Secretary—Greg Teague, Croy Engineering, LLC
Executive Director—Michael Sullivan
ACEC/Hawaii
Director—Derek Mukai, Community Planning & Engineering Inc.
ACEC/Iowa
President—William Bogert, Anderson-Bogert Engineers & Surveyors, Inc.
National Director—David Moeller, Snyder & Associates, Inc.
Executive Director—David Scott
ACEC/Maine
President-Elect—Daniel Diffin, Sevee & Maher Engineers, Inc.
ACEC/Minnesota
President—Sirish Samba, Sambatek, Inc.,
ACEC/Missouri
Vice President—Jeffrey Keller, Burns & McDonnell
ACEC/Metro Washington
President-Elect—Pedro Capestany, ATCS Capital Infrastructure
Vice President—James Hoffman, Summer Consultants, Inc.
Treasurer—Bryan Layman, ECS Mid-Atlantic, LLC
ACEC/Nebraska
Treasurer—Douglas Holle, Schemmer Associates, Inc.
Executive Director—Jeanne McClure
ACEC/New Jersey
Chair—Glen Kartalis, AECOM
Chair-Elect—Craig Johnson, Dewberry
Executive Director—Joseph Fiordaliso
ACEC/New York
Board Member Long Island Region—Paul Boyce, P.W. Grosser Consulting
ACEC/Oklahoma
Vice Chair—David Neuhauser, CP&Y
Vice Chair of Business Practice—Adam West, Benham Design, LLC, a Haskell Co.
Executive Director—James Sullins
ACEC/Pennsylvania
Executive Director—Leeann Sherman
ACEC/South Carolina
Treasurer—Matt Gehman, TranSystems Corp.
Executive Director—Adam Jones
ACEC/South Dakota
Secretary/Treasurer—Doug Wessel, Brosz Engineering, Inc.
Executive Director—Nancy Hoines
ACEC/Tennessee
Executive Director—Kasey Anderson
ACEC/Virginia
President-Elect—Janet Webster, Clark Nexsen, Inc.
ACEC/Wyoming
National Director—Adrienne Nunn, Western Research & Development, Inc.
Executive Director—Gary Grigsby
ACEC Retirement Trust
Vice Chair—Ed Studniski, Gausman & Moore Associates, Inc.

All comments to blog posts will be moderated by ACEC staff.
'Subscribe' enables commenters to sign up for e-mail notification of subsequent entries
Connect with us

To view back issues of the Last Word newsletter, click here.