Convention Lobbying Effort to Focus on Broad Infrastructure, Regulatory Agenda
ACEC's "citizen lobbyists" will go to Capitol Hill during the Annual Convention in Washington, D.C., April 15-18, calling for passage of a robust federal infrastructure program in 2018.

The infrastructure plan sent to Congress by the White House in February, coupled with major water and transportation initiatives already in play, provide the industry with major public policy opportunities that will expand markets.

While the President's infrastructure plan falls short in key areas—notably the lack of new, sustainable sources of funding—it also highlights an area of public policy where Republicans and Democrats have historically cooperated, and represents the one major legislative initiative that has a chance of passage in 2018.

ACEC supports balanced legislation that incentivizes private investment and P3s where appropriate, but also includes direct investment in core federal programs that support critical transportation, water/wastewater, and other infrastructure needs.

The Council is also calling for regulatory reforms to streamline the delivery of infrastructure across a broad spectrum from transportation and water projects to pipelines, grid projects, communications and rural broadband.

"ACEC's lobbying effort is tied in with a larger coalition effort to encourage lawmakers to act this year," said ACEC President and CEO Dave Raymond. "We have a unique opportunity to accomplish a great deal in 2018, but it is critical that we have a strong turnout to advance our agenda."

Click here for more information.
Discount Registration for 2018 ACEC Convention Ends on March 15. Act Now!
Your opportunity to save $100 on your registration for the 2018 ACEC Convention ends on Thursday, March 15. Additional registrants from the same firm and first-time member attendees can save an additional $145.

To register now for the ACEC Convention in Washington, D.C., April 15-18, click here.

The ACEC room block at the Marriott Wardman Park Hotel also closes on March 15. To reserve your room online, click here.

The Convention will feature an all-star line-up of speakers, Capitol Hill visits, the Engineering Excellence Awards Gala hosted by actor/comedian Kevin Nealon, congressional issues briefings, CEO roundtables, and business education sessions.

For more information, click here.
Senator Durbin Secures DACA Visa for Clark Dietz Engineer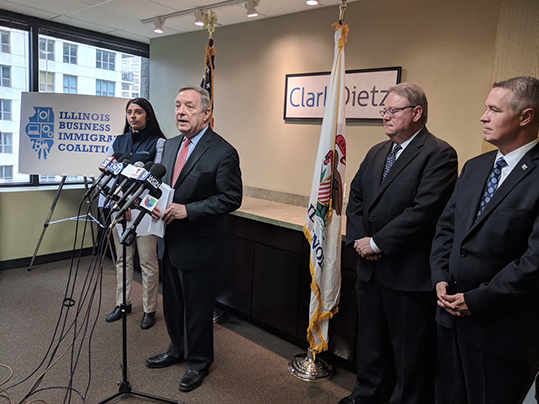 Senator Dick Durbin (D-IL) held a press conference on Monday at ACEC Member Firm Clark Dietz, Inc. in Chicago to urge Congress and President Trump to reach an agreement on the Deferred Action on Childhood Arrivals (DACA) program.

Two months ago, Clark Dietz President/COO Chip Craddock told ACEC/Illinois Executive Director Dave Bender that the DACA visa for Ana Nina Flores, a transportation engineer at the firm, was about to expire.

Bender, who is the co-founder/co-chair of The Illinois Business Immigration Coalition, contacted Durbin's office, and within 48 hours, Flores had a new visa.

Durbin came to Clark Dietz to meet with Flores and Craddock and make his pitch for DACA.
ACEC Outlines Infrastructure Considerations for Automated and Connected Vehicles to FHWA
In response to a Request for Information from the Federal Highway Administration, the Council submitted responses to a series of questions on the infrastructure necessary to support automated driving systems (ADS).

ACEC compiled input from an array of expert Member Firm practitioners working on ADS implementation issues for public and private sector clients around the world. Topics included roadway characteristics and condition, traffic control devices, digital infrastructure and data needs.

ACEC urged FHWA to facilitate continued dialogue between infrastructure owner/operators and ADS developers to collectively identify infrastructure requirements, modifications, investment, and planning needs to accommodate integration of ADS and to derive maximum benefits.

Click here to view the comments.
ACEC Concerned That Association Health Plan Rule Change Would Hurt Life/Health Trust's Competitiveness
ACEC and the ACEC Life/Health Trust submitted joint comments to the Department of Labor (DOL) on a proposed rule that would change the regulation of association health plans (AHPs). Click here to read the letter.

The proposed rule would treat AHPs differently than other health insurance providers serving firms with more than 50 employees. The Council and ACEC Life/Health Trust are concerned that the change would make it difficult for the Trust and other AHPs to offer competitively priced health insurance to larger employers.

The proposed rule would also expand AHP opportunities by allowing groups to qualify based on geographic ties and would allow sole proprietors and their dependents to purchase health insurance through the AHP.

ACEC and the Trust will continue to engage with DOL and Congress to ensure that the Trust can continue serving ACEC Member Firms of all sizes.
ACEC/Ohio Supports Congressman Wenstrup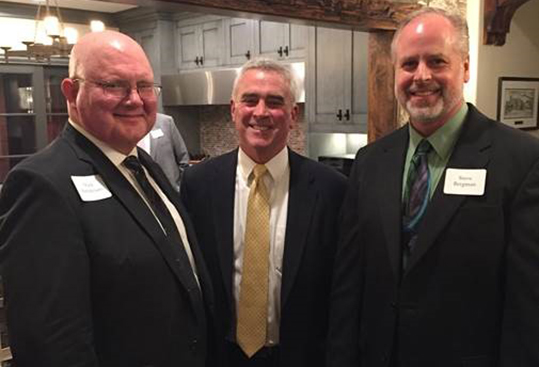 New ACEC Extended Course on Building Project Management Expertise in Your Firm, Starts March 19
Successful and profitable project delivery requires engineering-focused project management skills.

ACEC's new class Laying the Foundation for Superior Project Managers: Practices, Principles, and Fundamentals is designed to give new project managers the skills and confidence to excel within your firm's workflow specifications.

Beginning on March 19, the course combines video learning with live classroom time and has been designed to limit any disruption to billable hours. Participants with earn 18 PDHs.

The course includes nine modules: Job of a Project Manager; Project Management Team and Concepts; Planning and Management Concepts; The Project Team Manager; Soft Skills; Working with Design Firms; Project Notebooks and PM Manuals; Project Quality and Risk Management; and Staffing and Scheduling.

The instructor is Howard Birnberg, executive director of the Association for Project Managers and author of Project Management for Designers and Facilities Managers, 4th ed..

For more information and to register, click here.
ACEC Online Class: Revenue-Generating Advice from Top Rainmakers, March 8
What are the keys to becoming a great seller-doer or rainmaker?

In the March 8 online class Critical Success Factors for Seller-Doers and Rainmakers: Advice from Top Rainmakers in Professional Services, Jim Rogers will report on interviews with dozens of A/E executives who made the journey from technical specialist to seller-doer to rainmaker. He will also share the secrets and strategies to help you improve your revenue generation ability, whether you're an emerging seller-doer or ready-to-ascend to rainmaker.

During this session, you'll learn:
How rainmakers built the communication and selling skills they needed to generate revenue—in good times and bad
Attributes and intangibles you'll need to succeed as a seller-doer
The best learning strategies for certain rainmaking skills
How to motivate others to do more to help develop profitable business
For more information and to register, click here.
Friday Deadline to Submit Your Firm's Innovative Urban Restoration Projects to Engineering Inc.
The July/August 2018 issue of Engineering Inc. will spotlight Member Firm's innovations in urban restoration.

If your firm has innovatively restored an urban industrial or hazardous site that you'd like to be considered for in this special Engineering Inc. section, e-mail the information below to Engineering Inc. Staff Editor Andrea Keeney by Friday, March 9, 2018.

In a one- or two-page document, submit the following: Project name and location; project overview, including unique aspects/challenges; a project photo; and the name, title, phone number and e-mail address of the Member Firm executive to be interviewed for the project profile. The project can be under construction or recently completed.

If you have any questions, contact Andrea Keeney.
Keep Your Firm Thriving with ACEC's Business of Design Consulting Course, March 14-17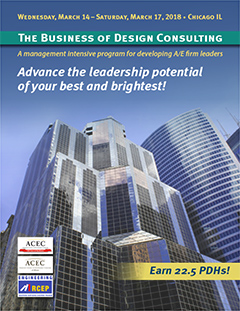 ACEC's Business of Design Consulting course in Chicago, March 14-17, provides a proven playbook for building leadership and managing your firm.

The 3½-day program delivers strategies for a wide array of critical, need-to-know business topics to maximize your firm's performance in today's churning business environment, including change management, strategic planning, finance, leadership, ownership transition, contracts and risk management, and marketing.

The experienced faculty of industry practitioners includes Rod Hoffman of S&H Consulting; Brett Stewart of XL Catlin Design Professional; Colvin Matheson of Matheson Financial Advisors; and David Stone of blüStone Marketing.

The course carries 22.5 professional development hours (PDHs)

For more information and to register, click here.
The American Council of Engineering Companies
1015 15th St., NW, 8th Floor, Washington, DC 20005-2605
Phone:

202-347-7474

- Fax: 202-898-0068
www.acec.org
- E-mail:
acec@acec.org
Alan D. Crockett, Director, Communications
Gerry Donohue, Editor/Designer