Raymond Calls Upon House Speaker Ryan to Make Infrastructure Priority One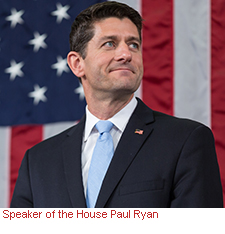 ACEC President/CEO Dave Raymond outlined the Council's infrastructure priorities in a letter to Speaker of the House Paul Ryan. Key elements: (1) Significant direct federal funding increases; (2) Sustainable long-term revenue solution for the Highway Trust Fund; (3) Permitting improvements to accelerate infrastructure development; (4) Expanded incentives for private investment.

"The states alone cannot be responsible for filling the funding gap," Raymond wrote. "From Presidents Lincoln to Eisenhower to Reagan and forward, the federal role has been recognized as indispensable to meeting the nation's infrastructure needs."

Raymond called on the Speaker to make infrastructure his top congressional objective this year.

Click here to view the letter to the Speaker.

Infrastructure legislation in general, as well as targeted bills for aviation and water resources, will be the focal point of ACEC "Citizen Lobbyists" during the upcoming Annual Convention and Legislative Summit in Washington DC. For more information, click here.
ACEC Urges Congress to Extend Key Expired Tax Provisions
ACEC and its business allies have sent a letter to Congressional leaders urging extension of three dozen expired tax provisions.

The expired provisions include the Section 179D energy-efficient commercial buildings tax deduction, as well as the production tax credit for certain renewable resources such as biomass and geothermal. As part of legislation to fund the federal government, Congress voted in February to reinstate the tax measures retroactively for 2017, but did not extend them for 2018.

ACEC supports multi-year extension of these tax provisions so that businesses can rely on them.

The House Ways and Means Committee plans to hold a hearing to review the measures in the context of the newly revised tax code.

Click here to view the letter.
ACEC Endorses Bipartisan Water Financing Bill
ACEC is supporting bipartisan legislation in the House and Senate that seeks to reauthorize and expand the Water Infrastructure Finance and Innovation Act (WIFIA), a program created in 2014 to provide federal loans and loan guarantees to support water projects.

Introduced in the House by Representatives Brian Mast (R-FL), Sean Patrick Maloney (D-NY), Bob Gibbs (R-OH) and Julia Brownley (D-CA) and in the Senate by Senators John Hoeven (R-ND) and Cory Booker (D-NJ), the legislation extends the WIFIA program for five more years and increases authorized funding levels. The measure also improves administration of the program to better enable the Corps of Engineers to utilize WIFIA financing to support major water resource projects.

Click here to view ACEC's letter of support.
Discount Registration for 2018 ACEC Convention Ends on Thursday. Act Now!
Your opportunity to save $100 on your registration for the 2018 ACEC Convention ends on Thursday, March 15. Additional registrants from the same firm and first-time member attendees can save an additional $145.

To register now for the ACEC Convention in Washington, D.C., April 15-18, click here.

The ACEC room block at the Marriott Wardman Park Hotel also closes on March 15. To reserve your room online, click here.

The Convention will feature an all-star line-up of speakers, Capitol Hill visits, the Engineering Excellence Awards Gala hosted by actor/comedian Kevin Nealon, congressional issues briefings, CEO roundtables, and business education sessions.

For more information, click here.
ACEC Convention Panel to Examine Disaster Mitigation Investments
At the upcoming 2018 ACEC Convention, a panel representing federal and local agencies and the Institute for Sustainable Infrastructure will address how HUD and the U.S. Army Corps of Engineers will allocate the $12 billion in federal funding set aside last month by Congress for future disaster mitigation investments.

The panel will look at the changing relationships of federal and local units of government in planning and investment in water and energy infrastructure; examine previous successful initiatives such as Rebuild by Design and the National Disaster Resilience program; and address where future disaster mitigation investment is headed in the national strategy in development by FEMA.

For more information on the Convention, in Washington, D.C., April 15-18, click here.
ACEC/Illinois Supports Congressman Lipinski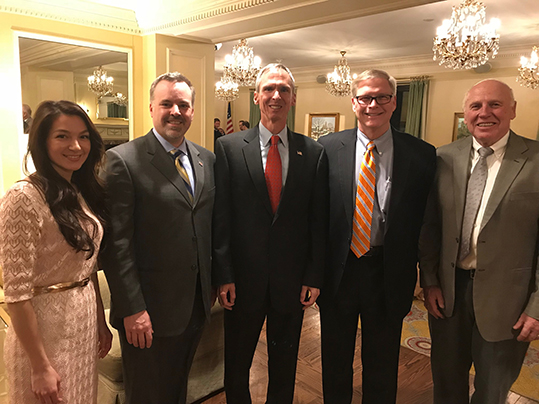 Submit Your Firm's Innovative Urban Restoration Projects to Engineering Inc. by March 22
The July/August 2018 issue of Engineering Inc. will spotlight Member Firm's innovations in urban restoration.

If your firm has innovatively restored an urban industrial or hazardous site that you'd like to be considered for in this special Engineering Inc. section, e-mail the information below to Engineering Inc. Staff Editor Andrea Keeney by Thursday, March 22, 2018.

In a one- or two-page document, submit the following: Project name and location; project overview, including unique aspects/challenges; a project photo; and the name, title, phone number and e-mail address of the Member Firm executive to be interviewed for the project profile. The project can be under construction or recently completed.

If you have any questions, contact Andrea Keeney.
Track the Impact of New Tax Law on ESOPs, March 20
The Tax Cut and Jobs Act of 2017 changed the tax rates for both C corporations and S corporations, and these new will substantially influence ESOP valuations, repurchase obligations, and transaction structures.

In the March 20 online class ESOP Developments: Tax Reform and Regulatory and Transaction Trends in 2018, Pilot Hill Advisors Managing Director Robert Masengill will discuss the pros and cons of the new tax law and how these rates will impact existing and new ESOPs.

The presentation will include:
A quick summary of ESOP basics
The Tax Cut and Jobs Act's impact on ESOPs
DOL settlement agreements
Redemption and ESOP transactions
Tax favored sale strategies
For more information and to register, click here.
New ACEC Seminar Focuses on the Business of Structural Engineering, Anaheim, June 7-8
ACEC's new Business of Structural Engineering seminar in Anaheim, Calif., June 7-8, is designed to reduce your rate of claims against structural engineering projects, increase profitability, and enhance management practices.

Developed by the Council of American Structural Engineers (CASE), the program will focus on lowering your firm's chances of being sued, which will allow you to take on more risky—and often higher-profit—projects

For more information, click here.
NCEES to Discontinue PE Software Engineering Exam
The National Council of Examiners for Engineering and Surveying (NCEES) will discontinue the Principles and Practice of Engineering (PE) Software Engineering exam after the April 2019 exam administration.

NCEES is cancelling the exam because there have only been 81 examinees in the five times the exam has been administered since its inception in 2013, and only 19 candidates are registered for the April exam.

For more information, click here.
The American Council of Engineering Companies
1015 15th St., NW, 8th Floor, Washington, DC 20005-2605
Phone:

202-347-7474

- Fax: 202-898-0068
www.acec.org
- E-mail:
acec@acec.org
Alan D. Crockett, Director, Communications
Gerry Donohue, Editor/Designer