Eight Members of Congress at ACEC Convention Next Week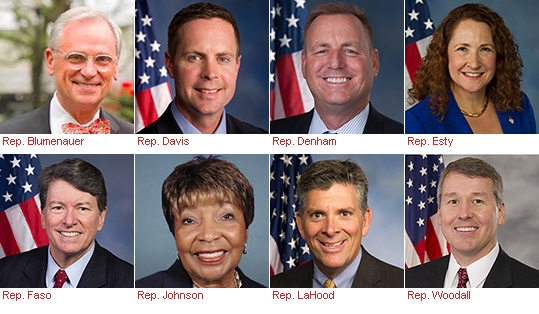 U.S. Representatives will participate in numerous events at the upcoming 2018 ACEC Convention in Washington D.C., April 15-18.

Four Members of Congress will address the politics of infrastructure on Tuesday morning, April 17: Earl Blumenauer (D-OR), Elizabeth Esty (D-CT), John Faso (R-NY), and Rob Woodall (R-GA). Axios and POLITICO Co-Founder Mike Allen will moderate the discussion.

Three U.S. Representatives will join members at the Engineering Excellence Awards Gala on Tuesday evening, April 17: Rodney Davis (R-IL), Eddie Bernice Johnson (D-TX), and Darin LaHood (R-IL).

Congressman Jeff Denham (R-CA) will highlight the ACEC/PAC fundraiser on Monday evening, April 16.

ACEC's citizen lobbyists will converge on Capitol Hill throughout the Convention to advocate for passage of a robust federal infrastructure program in 2018-19.

ACEC supports increased investment in core federal transportation and water/wastewater infrastructure programs, incentives for private investment and P3s where appropriate, and regulatory streamlining to accelerate project delivery.

Click here for more information on ACEC's key lobbying priorities and other resources to help with visits to Capitol Hill.
ACEC Recommendations Accepted in Federal MOU to Speed Up Project Reviews
Twelve federal departments and agencies signed a Memorandum of Understanding (MOU) on infrastructure project delivery this week that is largely consistent with recommendations ACEC submitted to the Administration last year. Signatories include U.S. Department of Transportation, Environmental Protection Agency, Department of the Interior, Department of Energy, and the U.S. Army Corps of Engineers.

Click here to read the agreement.

Under the MOU, the agencies agree to work together under a designated Lead Agency to develop a single permitting timetable with project milestones for preparing a single Environmental Impact Statement and signing a single Record of Decision. Agencies committed to conducting all necessary reviews concurrently and adhering to the project timetable.

The MOU outlines the roles and responsibilities for the lead, cooperating, and participating agencies, and sets expectations for preliminary project planning, scoping, and concurrence points. The overall goal is a two-year deadline for permitting decisions.
Georgia, Montana, Tennessee Join ACEC/PAC 100-Percent Club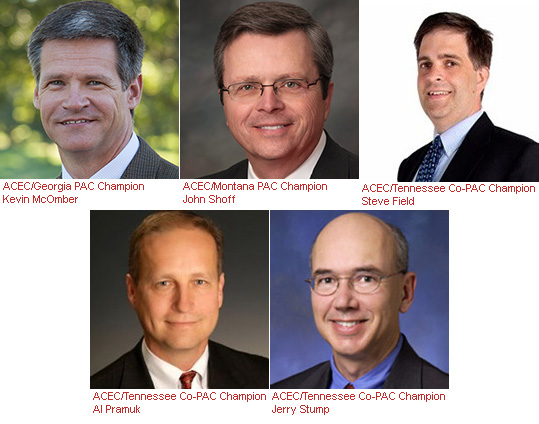 ACEC/Georgia, ACEC/Montana, and ACEC/Tennessee met their 2018 ACEC/PAC fundraising goals this week.

Georgia hit its PAC target for the fourth year in a row. "It's taken a while to create the culture and expectation, but our members now understand the connection between the PAC and a better business environment," said PAC Champion Kevin McOmber of Clark Patterson Lee, who led the effort along with the ACEC/GA Board of Directors and President/CEO Michael Sullivan.

In Montana, which made goal for the seventh straight year, PAC Champion John Shoff of DOWL in Billings said, "The key this year was that individual firm representatives, particularly Scott Murphy from Morrison-Maierle, agreed to take a leadership role within their firm to educate folks on the importance of the PAC. That kind of peer-to-peer effort was huge and made all the difference."

For the 15th consecutive year Tennessee hit its fundraising target. Co-PAC Champions Jerry Stump of Volkert, Steve Field of Stantec, and Al Pramuk of Gresham, Smith and Partners credited an early focus by the MO and plenty of support from Executive Director Kasey Anderson. "We wanted to get our goal met early, so we could then focus on putting those funds to work for us in the 2018 campaign cycle," said Stump. "We'll continue to raise ACEC/PAC funds, but our goal was to get this done before the ACEC Convention."

ACEC/Indiana, ACEC/Hawaii, and ACEC/Wisconsin have already raised more than 100 percent of their ACEC/PAC fundraising objective.

For more information about ACEC/PAC and ACEC's political programs, visit the ACEC/PAC website or contact ACEC Executive Director of Political Affairs Greg Knopp or ACEC/PAC Director Katherine Bohny.
Nominate Your Up-and-Coming Employees for 2018 ACEC Young Professional of the Year Award
Is one or more of the younger members on your staff showing talent beyond their years?

Nominate them for the 2018 ACEC Young Professional of the Year Award. This annual awards program promotes the accomplishments of young engineers, highlighting their engineering contributions and the resulting impact on society.

The deadline for nominations is May 1, 2018.

For more information and for nomination forms, click here.
Celebrate Engineering's Top Achievements at the EEA Gala, April 17. Get Tickets Now!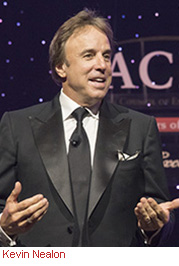 Actor/Comedian Kevin Nealon will once again emcee the ACEC Engineering Excellence Awards (EEA) Gala, celebrating the year's top engineering achievements, on Tuesday, April 17, during the 2018 ACEC Annual Convention in Washington, D.C.

To view a special video invitation from Nealon, click here.

Prior to the Gala, attendees will take part in on-camera interviews on the Red Carpet conducted by a producer with D.C.'s FOX 5 news station. Video of the Red Carpet interviews will be posted on the web and YouTube, and available upon request.

The 2018 EEA Gala Reception begins at 6 p.m., followed by the dinner and awards program—hosted by Nealon.

The Gala concludes with a live-band and dancing at the Champagne After Party.

Just like at the Academy Awards, the entire industry shows up. It's an amazing celebration of engineering excellence, whether you've won an award or not.

For more information and to get your tickets, click here, or contact Daisy Nappier.
CASE Seminar on the Business of Structural Engineering Filling Up Fast, Anaheim, June 7-8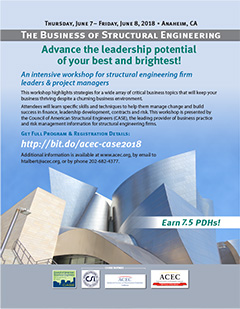 ACEC's new Business of Structural Engineering seminar in Anaheim, Calif., June 7-8, highlights best practices and critical operational management methods that will keep your firm thriving in today's churning business environment.

Attendees will learn the rules of finance and how they work in the real world, and the ins and outs of managing people, risk and resources, including:
Understanding duty to defend and how to protect your firm
Avoiding getting burned by electronic communications
Driving financial performance through metrics
Navigating your way through high risk projects
Transitioning project managers to firm leaders
Developed by the Council of American Structural Engineers (CASE), the program focuses on lowering your firm's chances of being sued, allowing you to take on more risky—and often more profitable—projects.

For more information, click here.
Prospering in the Coming "Retail Apocalypse", April 25
Experts predict that by 2023 more than half of the nation's 1,200 malls will close or be substantially redesigned. At the same time, design and construction opportunities in retail are on the rise, and some submarkets, such as food and grocery, are seeing substantial growth.

In the April 25 online class The "Retail Apocalypse"—Understanding Market Effects and Opportunities, Taylor Coyne and Jason Wollum of Henderson Engineers will examine the effects and opportunities of the changing retail market, including:
Which retail subtypes are growing or shrinking
What makes retail clients unique
How aging indoor malls are being repurposed and renovated nationally
For more information and to register, click here.
How to Be an Engineering Expert Witness, San Francisco, May 31-June 1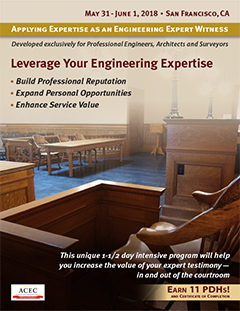 ACEC's exclusive Applying Expertise as an Engineering Expert Witness seminar will prepare you for providing expert testimony for discovery, depositions, the witness stand, and related legal proceedings.

The focused 1-1/2 day course, in San Francisco, May 31-June 1, will run you through each step of the qualifications, ramifications, and expectations of serving as an expert witness.

The faculty for the course includes Arthur Bergman, New Jersey Superior Court; Guy Wm. Vaillancourt, The Johnson Company; and James Lee, Lee & McShane.

To view the course brochure, click here.

To register, click here.
The American Council of Engineering Companies
1015 15th St., NW, 8th Floor, Washington, DC 20005-2605
Phone:

202-347-7474

- Fax: 202-898-0068
www.acec.org
- E-mail:
acec@acec.org
Alan D. Crockett, Director, Communications
Gerry Donohue, Editor/Designer