Tucker Carlson, Steve Schmidt Take On "Fractious Times" at 2018 ACEC Convention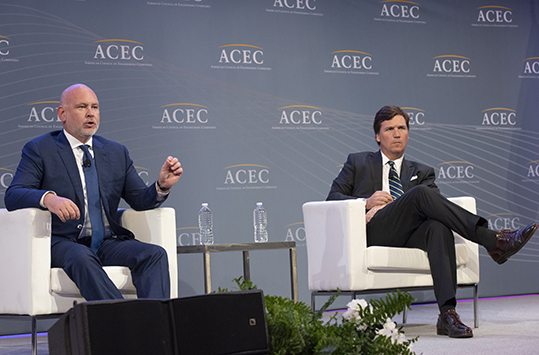 In a highly illuminating general session at the 2018 ACEC Convention, FOX News Host Tucker Carlson and Republican Political Strategist Steve Schmidt dissected "these fractious times in American politics."

Carlson said that "President Trump didn't get us here." Rather, his election was the logical progression of the "core problem that an ever-shrinking pool of people in this country is getting richer and more powerful," and those left behind wanted a voice.

Schmidt agreed, saying "there is a profound disconnect between elites and the people in this country." He added that the trend towards identity politics exacerbates the damage. "No country becomes happier through tribalism," he said.

Addressing infrastructure, Carlson said the Trump Administration made a mistake "when they didn't lead with infrastructure early in the term. Politically, it's a winner. Not doing so went against what the election was decided on—the very real concerns of middle America."

Some 1,500 ACEC members attended the Convention at the Marriott Wardman Park Hotel in Washington, D.C., April 15-18.
Convention Lobbying Effort Produces Results as FAA Reauthorization Expands QBS Reach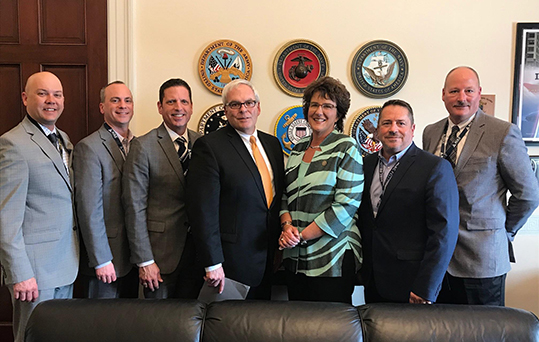 The House of Representatives cleared an aviation infrastructure bill this week that expands the use of Qualifications-Based Selection (QBS) on federally-funded projects, a key priority for ACEC's "citizen lobbyists" during the Convention lobbying effort last week.

The FAA reauthorization bill boosts funding for federal airport programs over five years, and includes provisions to expand the commercial use of Unmanned Aircraft Systems (UAS).

In anticipation of Congress taking up the Water Resources Development Act (WRDA) in the near future, ACEC members also advocated for key water infrastructure priorities, including the State Revolving Fund (SRF) program for drinking water projects, and reauthorization and expansion of the Water Infrastructure Finance and Innovation Act (WIFIA).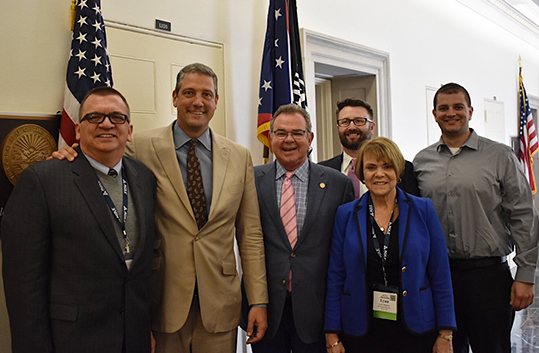 Kothari Succeeds Pecori as ACEC Chair; New ExCom Inducted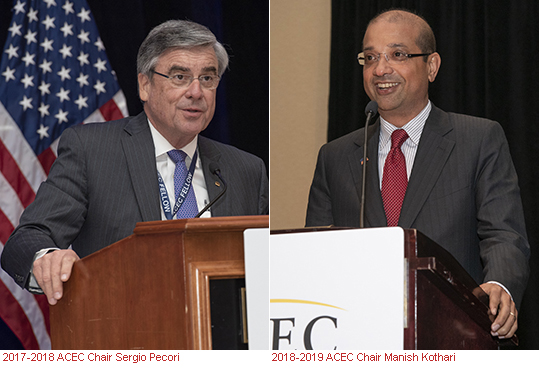 Sheladia Associates President/CEO Manish Kothari took the gavel as 2018-2019 ACEC Chair, succeeding Sergio Pecori of Hanson Professional Services, Inc.

And new members of the Executive Committee are: Chair-elect Mitch Simpler, managing partner, Jaros, Baum & Bolles; Art Barrett, senior vice president, Gannett Fleming; Stephanie Hachem, senior vice president, Kimley-Horn; Keith Jackson, senior vice president, HNTB; and Jay Wolverton, president/CEO, Wolverton & Associates.

They join current ExCom members: Charlie Gozdziewski, executive chairman, Hardesty & Hanover; Keith London, president/CEO, Kennedy/Jenks Consultants; Gayle Roberts, president/CEO, Stanley Consultants; and ACEC President/CEO Dave Raymond. ACEC/Georgia Executive Director Michael "Sully" Sullivan will serve as the NAECE representative.
Tributes for Raymond's 20 Years at Helm; Search for Successor Ongoing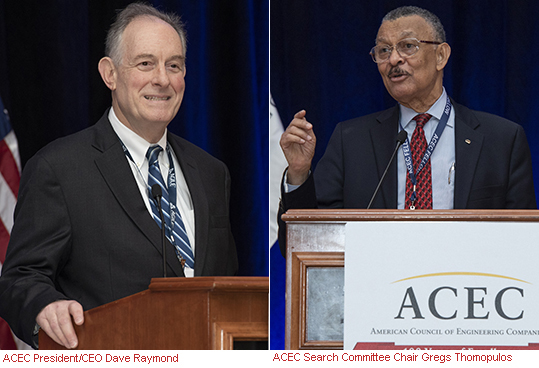 ACEC members paid tribute to ACEC President/CEO Dave Raymond's nearly 20-year "reign" at the Council at various Convention functions including the Board of Directors meeting, Opening General Session, Chairmen Emeritus Dinner, Engineering Excellence Awards Gala, and Coalition Leaders meeting.

At the Board of Directors meeting, ACEC Chair Sergio Pecori announced that the conference room at ACEC National offices will be named the "David A. Raymond Board Room," with a commemorative plaque that recounts Raymond's achievements. Pecori also presented various videos on Raymond's tenure at the Board Meeting, Opening Reception and EEA Gala. Following the Convention, incoming ACEC Chair Manish Kothari held a surprise party for Raymond at his home, with more than 100 attendees, including numerous past ACEC chairs, Executive Committee members, and international guests.

Former ACEC Chair Gregs Thomopulos, who heads the search committee for Raymond's successor, updated the Board of Directors on the search process. Thomopulos reported that the search firm, Heidrick and Struggles, had initially identified 100 candidates, which was winnowed to 16 for intensive Search Committee review. Eight were interviewed in mid-February and three finalists were interviewed at the end of February. Thomopulos said only one of the three became the unanimously selected candidate and, unfortunately, he withdrew from consideration at the last moment; the Committee was unable to reach consensus on the two remaining finalists. The Search Committee will be conducting another round of interviews in May with current and new entrants, with the intent of having a selected candidate by mid-summer. Raymond has agreed to extend his time in office while this process is underway.
EBI Climbs to Highest Level Since Q3/2014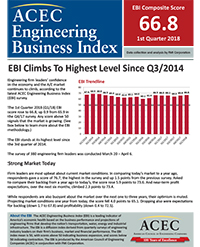 ACEC's Engineering Business Index (EBI), which tracks engineering firm leaders' confidence in the economy and the A/E market, continues to climb, rising 0.9 points to 66.8 in the 1st quarter of 2018. Any score above 50 signals that the market is growing.

The EBI stands at its highest level since the 3rd quarter of 2014.

Firm leaders are most upbeat about current market conditions, optimistic about their volume of business, backlog, and profit performance.

Looking ahead one year, they remain buoyant but their confidence is slightly muted, reporting lower scores for market conditions, backlog, and profitability.

Firm leaders expect public markets to strengthen significantly over the coming year, led by the Transportation (up 5.6 points to 71.1) and Environmental (up 2.6 to 58.0) sectors. They forecast some weakening in private markets, particularly in the Energy and Power (down 3.0 to 65.6) and Manufacturing (down 2.9 to 67.8) sectors.

To read the full EBI report, click here.
FHWA's Hendrickson Tells Convention Attendees that Administration Infrastructure Program Will "Have Lighter Touch"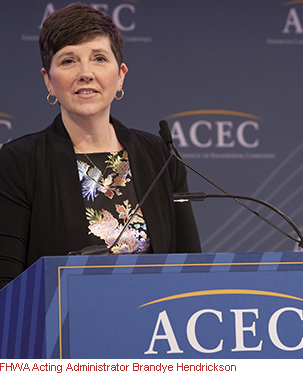 Federal Highway Administration Acting Administrator Brandye Hendrickson told ACEC Convention-goers that the Administration's $1.5 trillion infrastructure proposal calls for a "lighter federal touch and more private investment," but emphasized that "financially speaking, everything is on the table."

FHWA's current focus, she said, has been on "reducing the regulatory burden that has long delayed critical infrastructure projects."

Recalling her days as Indiana DOT Secretary, she spoke of her close working relationship with ACEC/Indiana, saying "the best projects are accomplished through collaboration."
Four Congressional Leaders Bemoan Lack of Consistent Transportation Funding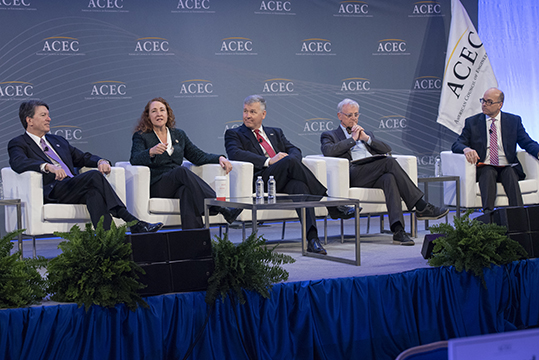 Agreeing on the need for federal transportation funding reform, four U.S. Representatives said that the current structure of the Highway Trust Fund is "unsustainable."

"We clearly have to modernize the Trust Fund and find an innovative way to transition to today's vehicles," said Elizabeth Esty (D-CT), who suggested readjusting the new lower corporate tax rate and collecting repatriated money to fund an infrastructure bank.

John Faso (R-NY) said a user-fee system would be the most equitable way to pay for transportation and emphasized that any program must include those not paying gas taxes. "Electric vehicles are not paying and it's just not fair. Everyone has skin in this game."

Rob Woodall (R-GA) touted his state's recent infrastructure successes including a $16.3 billion I-95 rebuild. "I honestly haven't seen a big drive to create new revenue at the federal level," he said. "Lots of discussion, but not much after that."

Oregon Congressman Earl Blumenauer said he was just plain tired of just talk. "We're not stepping up. We need fewer studies, fewer hearings and more action," Blumenauer said. "The simple fact is you cannot base surface transportation on gallons of fuel consumed. The bottom of the Trust Fund paradigm is about to fall out."
Convention Panel Highlights Benefits, Limitations of P3s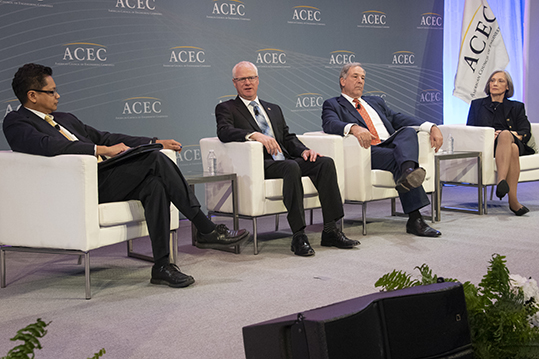 On an expert panel discussing what works and doesn't work with public-private partnerships (P3s), Illinois Tollway Chair Bob Schillerstrom said, "The world has changed. The days of going to D.C. to get funding are gone. We need to be looking at new ways of funding projects. We need to figure out how to bring in private-sector funds."

P3s work better in bigger, more complicated projects, said Georgia DOT Commissioner Russell McMurry. "And they're best suited for projects with a revenue generating component." Georgia will soon be issuing a Request for Qualifications for a P3 project to install broadband along its interstate highways.

Beverley Swaim-Staley, president/CEO of Washington D.C.'s Union Station Redevelopment Corporation (and former Maryland DOT Secretary), said that "Each P3 project is unique. You can't think about them in a standardized way." In addition to bringing in private sector funds, P3s "are a great way to bring innovation and experience into the project."
ACEC and European Federation Commit to Closer Cooperation; FIDIC and EFCA Leaders Address Board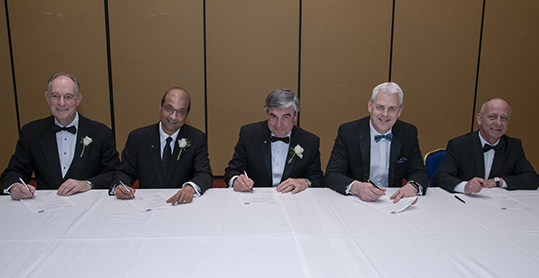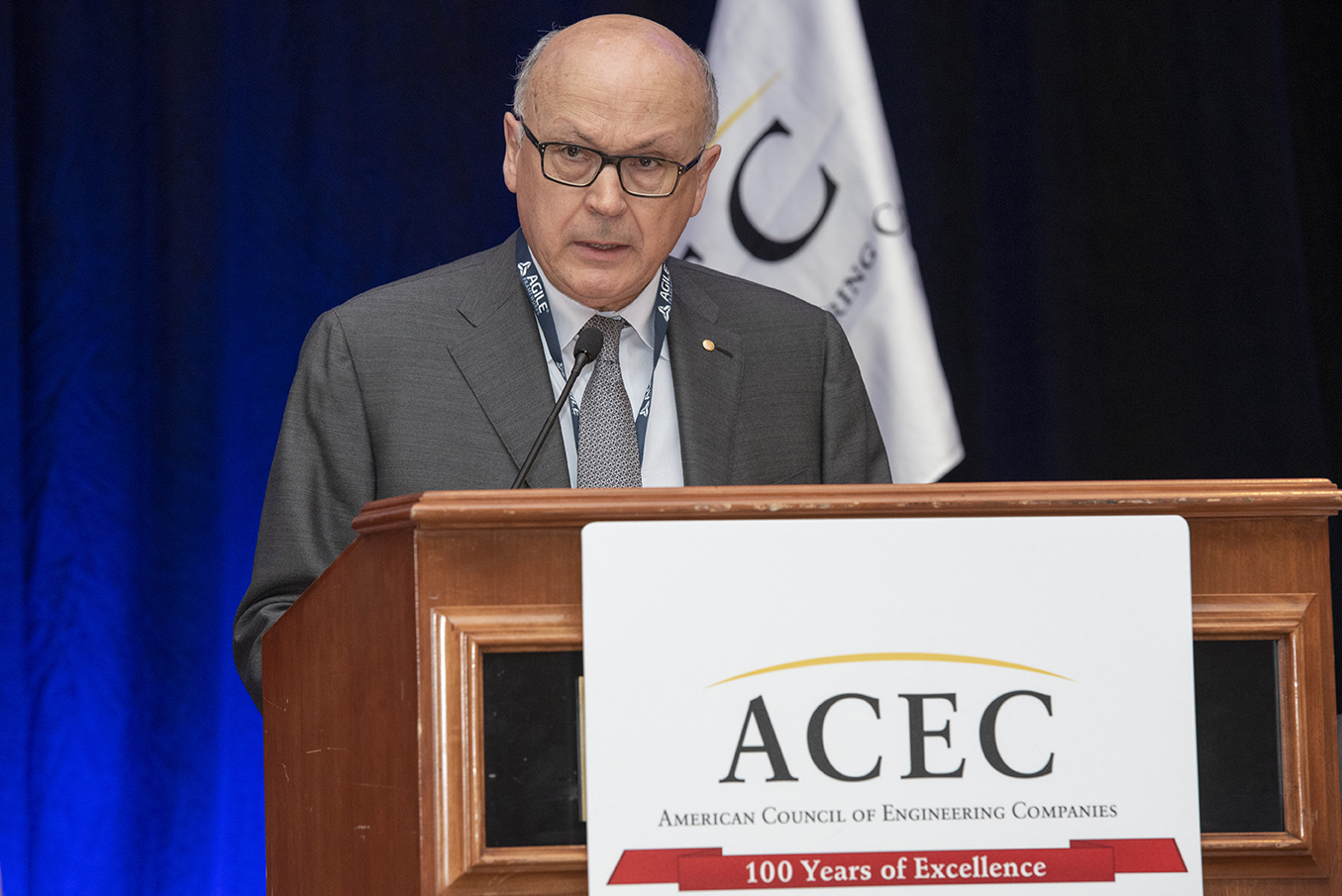 Energy Under Secretary Dabbar Forecasts Significant Expansion in Energy Infrastructure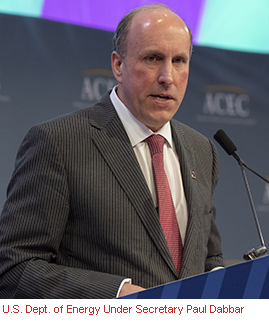 Energy Department Under Secretary Paul Dabber told ACEC's Convention audience that the U.S. energy industry is thriving and is "only going to get better."

"Opportunities to expand is very high for many energy processes, which mean more jobs will become available as the industry continues to grow," and "That expansion will mean the need for more energy infrastructure."

He pointed to significant growth and innovation in solar and wind efficiency, substantially reduced production costs in oil and natural gas, several new LNG terminals under construction, and rapid advances in battery technology.

"Innovation is driving us forward," he said. "We're competing with innovation rather than price, and it's working."
CEO Panel Says Electrical Grid Modernization Will Provide Plenty of Challenges and Opportunities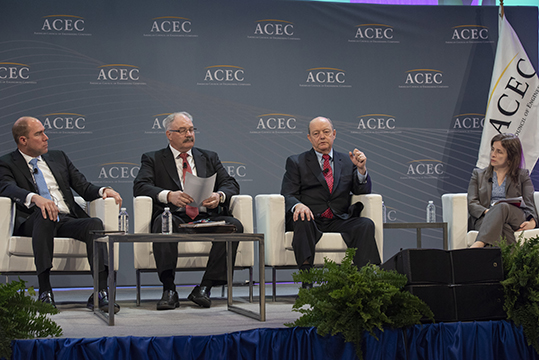 Member Firm CEOs at the ACEC Convention emphasized the need to modernize the nation's power grid.

"The grid as we know it was not established to handle the increasing variety of sources today," said POWER Engineers Chair Jack Hand. "New grid-resilient projects will become increasingly popular and will provide fabulous opportunities for engineers."

Black & Veatch Chairman Steve Edwards said, "We're challenged with doing a better job of incorporating distributed energy to the grid. At the same time, it will mean the need for more transmission lines and more substations."

Kiewit Engineering President Dan Lumma said the instability of the grid will drive energy innovation. "The market is currently trying to catch up to advancing technology, and "Going forward, for example, we won't see renewable systems built without a significant battery storage component."
ACEC/PAC Record Fundraising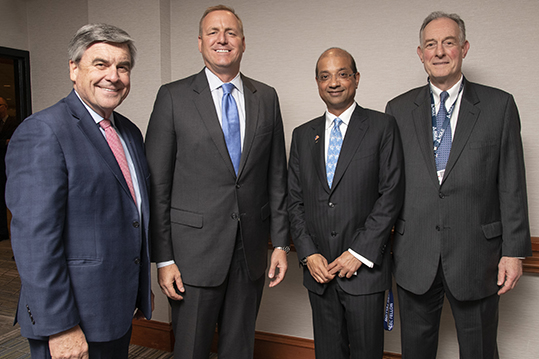 ACEC/PAC set a record for total dollars raised during the 2018 Annual Convention and Legislative Summit—$284,500—thereby also achieving $460,000 in year-to-date receipts, keeping the PAC ahead of last year's record setting pace.

From the more than 1,300 tickets sold for the Spring Sweepstakes, Harry Hughes of Owl Creek Engineering in Thermopolis, Wyo., won the grand prize of $10,000; Michael Jelen of VHB in Silver Spring, Md. and James Longest of Beam, Longest and Neff in Indianapolis, Ind. each won $5,000; and Lee Cammack of J-U-B Engineers in Kaysville, Utah and Tamre Passmore of NOVA Engineering in Kennesaw, Ga. won $2,500 each.

There were ten $1,000 winners: David Bills of Bills Engineering in Honolulu, Hawaii; Roseline Bougher of A.D. Marble in King of Prussia, Pa.; Harvey Floyd of KCI Technologies in Sparks Glencoe, Md.; Chris Magaldi of Thomas & Hutton in Mt. Pleasant, S.C.; Janice Marsters of Hart Crowser in Honolulu, Hawaii; John Nelson of Wright-Pierce in Topsham, Maine; Michael Planer of PES Structural Engineers in Atlanta, Ga.; Thomas Sprehe of KCI Technologies in Sparks Glencoe, Md.; Dick Wells of Kleinfelder in Greensboro, N.C.; and Karen Wood of HMB Professional Engineers in Frankfort, Ky.

ACEC/PAC, Parsons PAC and Kevin Petersen of P2S co-sponsored a fundraiser for U.S. Representative Jeff Denham (R-CA).

For more information about ACEC/PAC and ACEC's political programs, visit the ACEC/PAC website or contact ACEC Executive Director of Political Affairs Greg Knopp or ACEC/PAC Director Katherine Bohny.
Institute for Sustainable Infrastructure Launches Envision v3
The Institute for Sustainable Infrastructure's (ISI) new version of its Envision tool extends the system's industry relevance and pushes the leading edge of sustainable practices, according to ISI President John Stanton.

Infrastructure owners, engineers, planners, designers, and other sustainability professionals use the Envision tool to self-assess infrastructure projects of all types and sizes in relation to their economic, environmental and social contribution.

"Envision v3 is an important progression toward our goal of assisting infrastructure owners and engineers to create cost-effective, resource-efficient, and adaptable long-term infrastructure investments," said Stanton. "After five years of applying Envision on billions of dollars' worth of infrastructure assets, we've incorporated key industry trends and lessons learned into this new version to continue to drive advancement in resilient and sustainable infrastructure design."

ISI was founded by ACEC, the American Public Works Association, and the American Society of Civil Engineers.

For more information, click here.
HDR, WSP USA Win 2018 EEA Grand Conceptor Award; Gala Celebrates 146 Top Engineering Achievements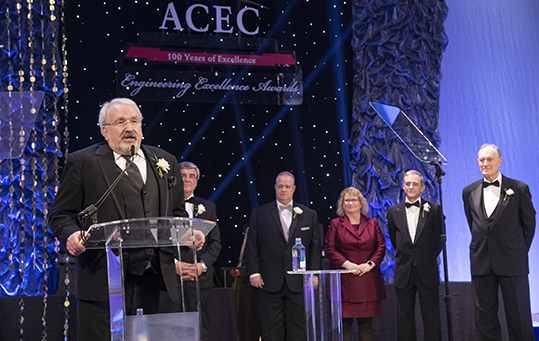 The Bayonne Bridge Project won the 2018 Grand Conceptor Award as the year's best engineering achievement in the ACEC Engineering Excellence Awards. The joint venture of HDR and WSP USA constructed a new bridge platform 64 feet above the existing highway, which was then demolished, in order to provide sufficient navigational clearance for huge "Panamax" cargo ships entering the Port of New York and New Jersey.

More than 650 members attended the black-tie EEA Gala last week in Washington, D.C., which was emceed by actor/comedian Kevin Nealon and honored 146 engineering projects from around the world.

In addition to the Grand Conceptor Award, there were 16 Grand Awards presented, 20 Honor Awards, and 110 National Recognition Awards.

GRAND AWARD WINNERS: 150 North Riverside, Chicago Magnusson Klemencic Associates; Second Avenue Subway-Phase 1, New York, Jaros, AECOM & Arup; Tempe Town Lake Downstream Dam Replacement, Tempe, Ariz., Gannett Fleming; Dixie Drain Phosphorus Removal Facility, Parma, Idaho Brown and Caldwell; University of Massachusetts Design Building, Amherst, Mass., Simpson Gumpertz & Heger; Lotte World Tower, Seoul, South Korea, Syska Hennessy Group; 35th Street Pedestrian Bridge, Chicago, EXP; Crum Creek Viaduct, Swarthmore, Pa., Figg Bridge Builders; Water Jet Peening Bridge Crane System, Burlington, Kan., Merrick & Company; Baha'i Temple of South America, Santiago, Chile, Simpson, Gumpertz & Heger; Augmentation & Relief Sewer, Columbus, Ohio, DLZ Corp.; Basin Creek Water Treatment Plant, Butte, Mont., HDR & Robert Peccia & Associates; Washington Wabash Elevated Train Station, Chicago, EXP; I-91 Brattleboro Bridge Improvements, Brattleboro, Vt., Figg Bridge Engineers; and Chicago Riverwalk, Chicago, Benesch.

HONOR AWARD WINNERS: Interstate 80 Automated Corridors Planning Study, Statewide, Iowa, HDR; Interdisciplinary Science Engineering Complex, Boston, Mass., Arup; Davis Barracks, U.S. Military Academy, West Point, N.Y., Clark Nexen; The Bridge at Cornell Tech, New York, Thornton Tomasetti; Weiss/Manfredi | Turner Construction; Olin Library Transformation, St. Louis, Mo., Alper Audi & Geotechnology, Inc.; California Incline Bridge & Idaho Ave. Pedestrian Overcrossing, Santa Monica, Calif., T.Y. Lin International; Biosolids Dryer Facility, Detroit, Mich. Wade Trim Associates & NEFCO; Lake View Dual Zone Reservoir, Madison, Wis., Short Elliott Hendrickson; Meriden Green, Meriden, Conn., Milone & MacBroom; New York Harbor Water Siphon, New York, Mott MacDonald & CDM Smith; Division 14 Rail Operations and Maintenance Facility, Los Angeles, HDR & Maintenance Design Group; The Left Overloop, Lexington, Ky. Qk4; South 200th Link Extension, Seattle/Tacoma, Wash. HDR; St. Croix Crossing, Oak Park Heights, Minn. & St. Joseph, Wis., HDR and COWI; Dallas Horseshoe Design-Build, Dallas, Texas, WSP USA; Union Station Western Expansion, Kansas City, Mo., Burns & McDonnell; Governors Island Park and Public Space, New York, Hart Crowser; Space Lauch System Test Stands, Huntsville, Ala., Merrick & Company; Marshalltown Generating Station, Marshalltown, Iowa, HDR; and St. Patrick's Cathedral Geothermal Heating & Cooling System, New York, P.W. Grosser Consulting & Landmark Facilities Group.
Nominate Your Up-and-Coming Employees for 2018 ACEC Young Professional of the Year Award
Is one or more of the younger members on your staff showing talent beyond their years?

Nominate them for the 2018 ACEC Young Professional of the Year Award. This annual awards program promotes the accomplishments of young engineers, highlighting their engineering contributions and the resulting impact on society.

The deadline for nominations is May 1, 2018.

For more information and for nomination forms, click here.
The American Council of Engineering Companies
1015 15th St., NW, 8th Floor, Washington, DC 20005-2605
Phone:

202-347-7474

- Fax: 202-898-0068
www.acec.org
- E-mail:
acec@acec.org
Alan D. Crockett, Director, Communications
Gerry Donohue, Editor/Designer