ACEC Ramps Up PR Activities During National Infrastructure Week, May 14-21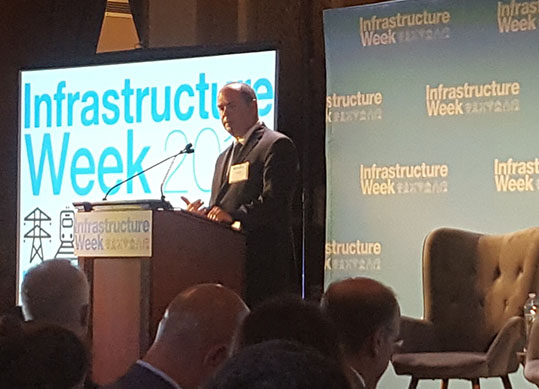 As an affiliate partner of Infrastructure Week 2018, May 14-21, ACEC is participating in numerous events, targeted media activities, and public outreach to make the case for infrastructure funding. Many Member Firms are also sponsoring and participating in events in Washington D.C. and across the country.

This year's theme and social media tag is "#TimeToBuild", with special emphasis at the federal level on aviation and water infrastructure geared to pending FAA reauthorization and WRDA bills. Click here for more information on Infrastructure Week 2018, including social media content and a calendar of events.

ACEC, as part of both the Transportation Construction Coalition and the Americans for Transportation Mobility Coalition, is sponsoring video and digital ads on the need for greater infrastructure funding. Targeted at the White House and Capitol Hill, the ads highlight the economic costs of congestion and urge lawmakers and the Administration to pass robust infrastructure investment and a permanent solution for the Highway Trust Fund.

Click here to view a press release with links to the video and digital ads, which will run for the next two weeks.
ACEC Requests Tax Fix for P3 Projects
ACEC and a coalition of infrastructure groups have asked the Treasury Department to address an unintended consequence of the tax reform law that imposes higher costs on public-private partnership projects.

Prior to passage of tax reform, businesses could fully deduct interest expense. The new law limits such deductibility to 30 percent of adjusted taxable income. P3 project companies, however, are generally structured to not have significant income, but they tend to have high borrowing costs. As a result, these companies face significantly higher effective tax rates and costs.

The coalition has asked Treasury for guidance that includes P3 projects in the real estate exception to the limits on interest deductibility. If regulations do not adequately address the problem, ACEC will approach Congress for a legislative solution.

Click here to read the letter.
ACEC/PAC Continues Record Fundraising Pace, Tops $500,000
ACEC/PAC crossed the $500,000 fundraising mark for 2018 this week, the earliest the PAC has reached that threshold. Eight states have already met their 2018 goals—Indiana, Hawaii, Wisconsin, Georgia, Montana, Tennessee, Massachusetts and, pending pledged commitments, South Carolina—and 16 states have already raised more than 50 percent of their goal.

"The value of meeting our PAC fundraising goal is magnified during a congressional election year," said ACEC President/CEO Dave Raymond. "We are working hard to elect and reelect pro-business, pro-engineering candidates to the House and Senate—and ACEC member support of the PAC is critical to that effort."

For more information about ACEC/PAC and ACEC's political programs, including how to start your own recurring pledge, visit the ACEC/PAC website or contact ACEC Executive Director of Political Affairs Greg Knopp or ACEC/PAC Director Katherine Bohny.
Eight Top Engineering Students to Receive ACEC Scholarships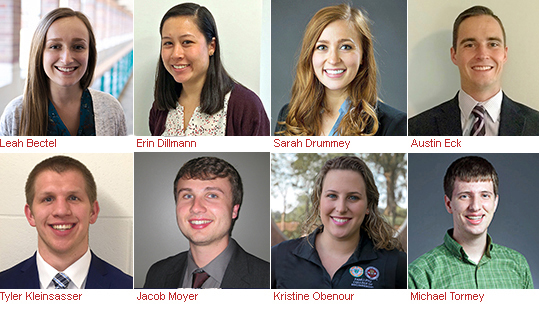 ACEC's Fellows Committee has chosen eight engineering students to receive 2018 ACEC Scholarships.

Sarah Drummey, who is working toward a master's degree in architectural engineering at the University of Nebraska was awarded the $10,000 ACEC Scholar of the Year.

Jacob Moyer was awarded the $10,000 Rina Lee Scholarship. He is working on a bachelor's degree in Surveying Engineering from Ferris State University.

Michael Tormey, who is studying for a bachelor's degree in civil engineering from Northeastern University, received a $5,000 scholarship from ACEC Life/Health Trust.

Leah Bectel, who received the $5,000 a/e ProNet Engineering Scholarship, is working toward a bachelor's degree in environmental engineering from Michigan Technological University.

Austin Eck received the $5,000 Professional Liability Agents Network (PLAN) Scholarship. He is working on his bachelor's degree in Architectural Engineering from Kansas State University.

Tyler Kleinsasser received the $3,000 College of Fellows Scholarship and is studying for a bachelor's degree in civil and environmental engineering at the South Dakota School of Mines and Technology.

Erin Dillmann, who received the $3,000 Small Firm Council Scholarship, is working on a bachelor's degree in Civil Engineering from Northeastern University.

The Council of American Structural Engineers (CASE) awarded a $4,000 scholarship to Kristine Obenour, who is working toward a master's degree in structural engineering from Florida State University.

All of the scholarship winners will be honored at the annual Awards Luncheon at the ACEC Fall Conference in Las Vegas, October 28-31.

For further information about ACEC Scholarships, contact Daisy Nappier.
Nominations for 2018 ACEC Community Service Awards Close on June 15
The ACEC Fellows Committee is soliciting nominations for the 2018 ACEC Community Service Awards, which recognize Member Firm leaders who have made a significant impact on the quality of life in their communities.

Member Organizations nominate award candidates, who must have at least five years of experience as a principal or manager in an ACEC Member Firm. The deadline for nominations is June 15.

Click here to access the Community Service Awards program criteria and nomination form. For more information, contact Daisy Nappier or call 202-347-7474.
Online Class Outlines Capital Strategies for the M&A Market, May 23
Whether you're buying, selling, or focusing on organic growth, understanding current market trends is key to being successful.

In the May 23 online class, Capital Strategies and M&A Market Update, Matt Fultz of Matheson Financial Advisors will examine the ins-and-outs of the current M&A environment and industry best practices for financing recapitalizations, acquisitions, and organic growth.

Participants will gain a deeper understanding of the underlying business factors that impact value and comprehend how to position their firm to best take advantage of industry consolidation trends.

For more information and to register, click here.
Slots Filling Fast for CASE Seminar on the Business of Structural Engineering, Anaheim, June 7-8; Register Now!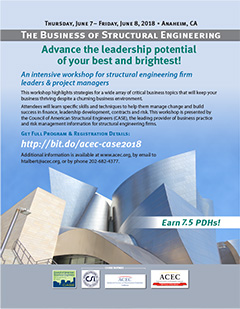 Sign up today for ACEC's new Business of Structural Engineering seminar in Anaheim, Calif., June 7-8. Only seven slots remain for the two-day program which will highlight best practices and critical operational management methods to keep your firm thriving in today's churning business environment.

Developed by the Council of American Structural Engineers (CASE), the program focuses on lowering your firm's chances of being sued, allowing you to take on more risky, and often more profitable, projects.

Attendees will discover the rules of finance and how they work in the real world, and the ins and outs of managing people, risk and resources, including:
Understanding duty to defend and how to protect your firm
Avoiding getting burned by electronic communications
Driving financial performance through metrics
Navigating your way through high risk projects
Transitioning project managers to firm leaders
For more information and to register, click here.
How to Be an Engineering Expert Witness, San Francisco, May 31-June 1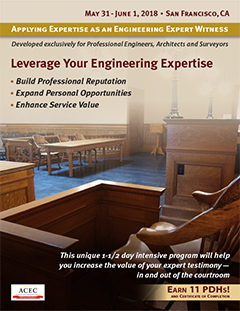 ACEC's exclusive Applying Expertise as an Engineering Expert Witness seminar will prepare you for providing expert testimony for discovery, depositions, the witness stand, and related legal proceedings.

The focused 1-1/2 day course, in San Francisco, May 31-June 1, will run you through each step of the qualifications, ramifications, and expectations of serving as an expert witness.

The faculty for the course includes Arthur Bergman, New Jersey Superior Court; Guy Wm. Vaillancourt, The Johnson Company; and James Lee, Lee & McShane.

To view the course brochure, click here.

To register, click here.
The American Council of Engineering Companies
1015 15th St., NW, 8th Floor, Washington, DC 20005-2605
Phone:

202-347-7474

- Fax: 202-898-0068
www.acec.org
- E-mail:
acec@acec.org
Alan D. Crockett, Director, Communications
Gerry Donohue, Editor/Designer