Transportation Secretary Elaine Chao and All-Star Cast to Highlight 2018 ACEC Convention, April 15-18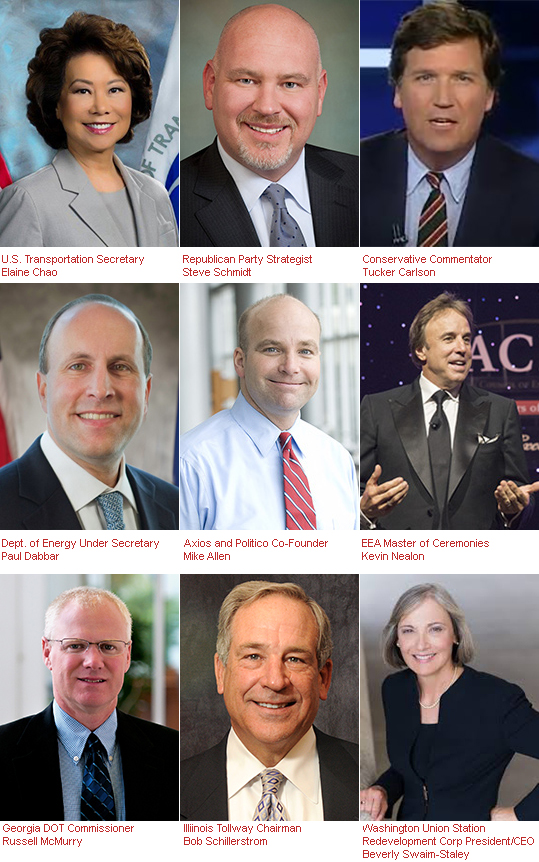 Heading the lineup of political and industry speakers at the 2018 ACEC Convention in Washington, D.C., April 15-18, is U.S. Department of Transportation Secretary Elaine Chao.

Chao has had a long relationship with the Council, dating back to her 2005 ACEC Conference participation as Secretary of Labor.

Steve Schmidt, Republican political strategist and Assistant to President George W. Bush, and Fox News Host Tucker Carlson will both address "National Politics in the Age of Trump."

Mike Allen, co-founder of Axios and Politico, will moderate a discussion with prominent lawmakers on "Infrastructure and the 2018 Election Cycle."

Energy Under Secretary Paul Dabbar (invited) will examine U.S. energy priorities and programs.

Georgia DOT Commissioner Russell McMurry, Illinois Tollway Chairman Bob Schillerstrom, and Washington Union Station Redevelopment Corp. President/CEO Beverly Swaim-Staley will discuss "What Works—and What Doesn't—with Public/Private Partnerships."

The Convention will also feature Capitol Hill visits, the Engineering Excellence Awards Gala hosted by actor/comedian Kevin Nealon, congressional issues briefings, CEO roundtables, and business education sessions.

For more information and to register, click here.
How the New Tax Reform Law Will Affect Your Firm
The recently passed tax reform legislation will have significant implications for engineering firms. Tax rates have changed, existing deductions and other provisions have been eliminated, and new tax benefits have been created.

A January 17 ACEC online class, How the New Tax Reform Law Will Impact the Engineering Industry, will be led by Marc Gerson, former tax counsel at the House Ways and Means Committee. The session will provide a comprehensive overview of the business provisions in the new law and what they'll mean for you. More than 100 Council sites have already registered for the recently announced online class.

Whether you're a C corporation, S corporation, partnership, or LLC, make sure you understand and are able to manage the legal and financial ramifications of the new law.

For more information and to register, click here.
EBI Says Engineering Firm CEOs Upbeat About Market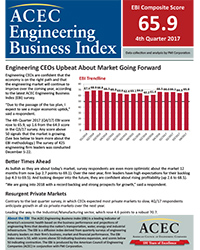 Engineering CEOs are confident that the economy is on the right path and that the engineering market will continue to improve over the coming year, according to the latest ACEC Engineering Business Index survey (EBI).

"Due to the passage of the tax plan, I expect to see a major economic uptick," said one of the 425 survey respondents.

The 4th Quarter 2017 EBI score rose to 65.9, up 1.6 from the 64.3 score in Q3/17. Any score above 50 signals that the market is growing.

CEOs were upbeat about five of the six private markets tracked by the survey, especially the Industrial/Manufacturing, Buildings, and Energy and Power sectors. In the public markets, four of the six sectors were up, led by Education and Health Care.

"We are going into 2018 with a record backlog and strong prospects for growth," said a respondent.

To read the EBI report, click here.
ACEC/PAC Raises More Than $1 Million; 42 states Make Goal during Record Year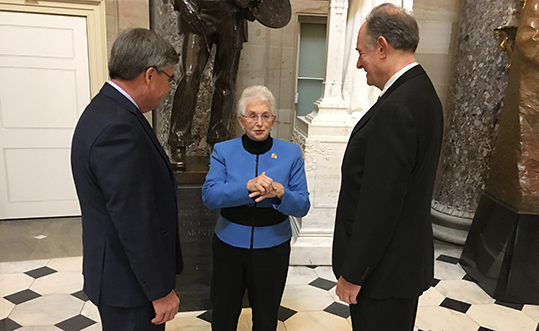 ACEC/PAC raised a record $1,069,204 in 2017, and is off to a strong start in 2018.

"Our recent big win on tax reform is a prime example of how ACEC/PAC supports our business agenda," said ACEC/PAC National Chairman Charlie Gozdziewski

Forty-two states reached their ACEC/PAC goals—also a new record. "Making the ACEC/PAC goal was contagious in 2017," observed ACEC President/CEO Dave Raymond. "Now in 2018, we hope every ACEC Member Organization catches the ACEC/PAC fever!"

Maine, Missouri and Rhode Island made goal for the first time, Illinois and New York each raised more than $80,000 for the first time (NY finished at $83,923 and IL at $82,370), and Delaware raised a record 222% of goal.

A key part of ACEC/PAC's end-of-the-year fundraising campaign was the Last Chance Sweepstakes. Gary Santy of Stantec in South Burlington, VT won $2,000; Milo Riverso of STV Inc. in New York City won $1,000, and Joe Honner of Bartlett & West in Sioux Falls, S.D. won $500.

For more information about ACEC/PAC and ACEC's political programs, contact ACEC Executive Director of Political Affairs Greg Knopp or ACEC/PAC Director Katherine Bohny.
Nominations Open For 2018 QBS Awards Program
Nominations are sought for the 2018 QBS Awards Program, which honors public entities, private organizations, and/or individuals for exemplary use of the QBS selection process at the federal, state, and local levels.

The deadline for nominations is February 21, 2018. Click here to access the nomination form.

ACEC and NSPE, the joint sponsors of the award, will select up to three QBS Award winners. In addition, the QBS Awards program will designate up to four Merit Award winners, each of which will be honored in a state event.
Experts Address Sexual Harassment in the Workplace, Online Class, January 30
News stories about sexual assault and harassment have dominated the media for months now. As a result, many companies, including engineering firms, are evaluating their risks, reviewing their policies prohibiting sexual harassment, and implementing training programs to sensitize employees to the issues, and prevent sexual harassment.

In the January 30, 2018 online class, Sexual Harassment Prevention in the A/E Workplace: Understanding the Law; and Establishing and Improving Policies, Procedures and Effective Training, a panel of experts will identify the elements of an effective policy prohibiting sexual harassment and examine options for training.

The panel includes Beverly Tompkins, general counsel, Simpson Gumpertz Heger; and Joanne Dekker and Kent Holland, ConstructionRisk Counsel.

For more information and to register, click here.
Solve the Mysteries of the FAR; ACEC/NHI Courses, Orlando, Florida, January 15-18
In collaboration with FHWA's National Highway Institute, ACEC will offer Mysteries of the FAR Revealed: Using the AASHTO Audit Guide, in two consecutive courses, in Orlando, Fla., January 15-18, 2018.

Course One is a two-day (January 15-16) program detailing how to apply the Audit Guide in the development and administration of A/E consultant direct and indirect costs and rates.

Course Two, which runs on January 17-18, is an advanced program that focuses on audit requirements and procedures in reviewing compliance with federal regulations and guidance.

For more information on Course One, click here. For Course Two, click here.
Keys to Sustainable, Profitable Business at Small Firm Council Meeting, Austin, Texas, Feb. 1-3
Join small firm leaders from around the country at the 2018 Small Firm Winter Meeting in Austin, Texas, February 1-3.

Mark Goodale, principal/co-founder of Morrissey Goodale, will present Essentials to Achieving a Sustainable, Profitable Business, a 1-1/2 day program on how firms can better market themselves, what key firm positions to fill, how to organize the firm into teams, and when it's time to delegate.

The seminar is designed for firm leadership, including owners, principals, HR professionals, CEOs, and CFOs.

Click here for more information and to register.
The American Council of Engineering Companies
1015 15th St., NW, 8th Floor, Washington, DC 20005-2605
Phone:

202-347-7474

- Fax: 202-898-0068
www.acec.org
- E-mail:
acec@acec.org
Alan D. Crockett, Director, Communications
Gerry Donohue, Editor/Designer