The New York Times Highlights ACEC Advocacy Role for Section 179D
ACEC's advocacy for the Section 179D energy-efficient commercial buildings tax deduction was highlighted in a recent The New York Times article.

Section 179D provides a tax deduction to building owners for certain costs incurred to increase energy efficiency in new and remodeled buildings. When the owner is a public entity (which are tax-exempt), the law allows the deduction to be allocated to the primary designer.

The law does not specify, however, whether a public owner should receive anything in exchange for transferring the deduction, and some entities have begun requiring that designers provide a rebate in exchange. In a statement to the House Way and Means Committee, ACEC argued that these "rebates"—particularly if they are required by the owner after the contract is signed—create financial and ethical problems for engineering firms.

ACEC is working with Congress on this issue, as well as to extend Section 179D, which expired at the end of 2017.
House Committee Boosts 2019 Funding for Transportation Programs
The House Appropriations Committee approved legislation last week that funds highway programs at $50.3 billion, which is $4.25 billion above FAST Act levels. Transit programs receive $13.6 billion, including $2.6 billion for capital investment grants.

BUILD (formerly TIGER) multimodal grants are funded at $750 million, with $250 million designated for projects in rural areas, $250 million for urbanized areas with a population over 200,000, and $250 million for ports. Rail programs receive more than $3 billion.

For aviation, the bill preserves Airport Improvement Program funding from the Airport & Airways Trust Fund at $3.35 billion and adds $500 million in competitive airport grant funding from the General Fund. FAA Facilities & Equipment programs receive $3.25 billion.

The bill also provides $3.3 billion for the Community Development Block Grant program, the same as the 2018 level and 10 percent above 2017.

To view a summary of the bill, click here.

The House is expected to vote on the bill this summer. The Senate Appropriations Committee is scheduled to release their version of the bill next week.
New Hampshire Emerging Leaders Drive PAC Effort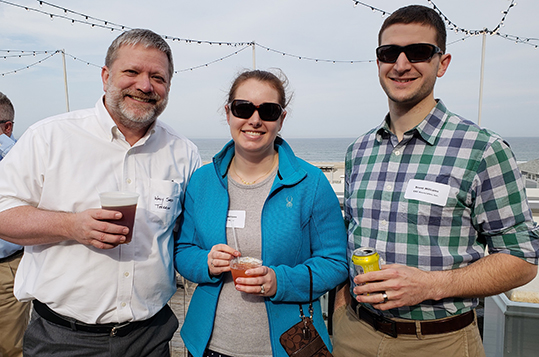 Led by an energized Emerging Leaders Committee, ACEC/New Hampshire looks likely for the first time to reach its annual ACEC/PAC fundraising goal. After the first five months of 2018, ACEC/NH is already at 65 percent of its target.

At the beginning of the year, M.O. leadership tasked the Emerging Leaders Committee with developing a plan to help the state meet its PAC goal. In May, the committee held a raffle, featuring Red Sox tickets, a craft beer basket, and Vermont maple syrup, that more than doubled the amount raised so far this year.

"We feel very confident about not only meeting our PAC goal this year but meeting it early and sustaining that effort for years to come," said ACEC/NH Executive Director Alex Koutroubas. "The emerging leaders have really taken responsibility for this program by personally following up with their peers and firm colleagues—and their results have been impressive."

For more information about ACEC/PAC and ACEC's political programs, visit the ACEC/PAC website or contact ACEC Executive Director of Political Affairs Greg Knopp.
Recognize An ACEC Member Who Has Made A Difference; 2018 Community Service Awards Nominations Close Soon
The ACEC Fellows Committee is soliciting nominations for the 2018 ACEC Community Service Awards, which recognize Member Firm leaders who have made a significant impact on the quality of life in their communities.

The deadline for nominations is June 15.

Member Organizations nominate award candidates, who must have at least five years of experience as a principal or manager in an ACEC Member Firm.

Click here to access the Community Service Awards program criteria and nomination form. For more information, contact Daisy Nappier or call 202-347-7474.
How to Grow Profits through Employee Retention, June 7
Turnover is a major profitability killer in engineering firms.

In the June 7 online class Growing Profits Through Employee Retention, Morrissey Goodale's John Kreiss will show you how to improve employee retention.

Kreiss will demonstrate how to:
Create a culture where team members use their autonomy responsibly.
Develop an environment where staff members make every effort to understand each other and build trust.
Build a culture of growth that provides opportunities and rewards for those who want to work hard toward achieving your firm's vision.
Design a compensation plan that pays staff members above average with incentives to motivate them to perform.
For more information and to register,
click here
.
Register Today for CASE Seminar on the Business of Structural Engineering, Anaheim, June 7-8!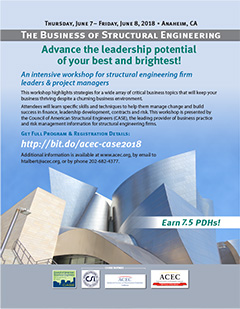 Sign up today for ACEC's new Business of Structural Engineering seminar in Anaheim, Calif., June 7-8. Only seven slots remain for the two-day program which will highlight best practices and critical operational management methods to keep your firm thriving in today's churning business environment.

Developed by the Council of American Structural Engineers (CASE), the program focuses on lowering your firm's chances of being sued, allowing you to take on riskier, and often more profitable, projects.

Attendees will discover the rules of finance and how they work in the real world, and the ins and outs of managing people, risk and resources, including:
Understanding duty to defend and how to protect your firm
Avoiding getting burned by electronic communications
Driving financial performance through metrics
Navigating your way through high-risk projects
Transitioning project managers to firm leaders
For more information and to register, click here.
The American Council of Engineering Companies
1015 15th St., NW, 8th Floor, Washington, DC 20005-2605
Phone:

202-347-7474

- Fax: 202-898-0068
www.acec.org
- E-mail:
acec@acec.org
Alan D. Crockett, Director, Communications
Gerry Donohue, Editor/Designer