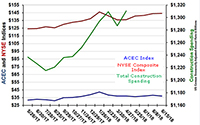 The ACEC Index compares the stock performance of ACEC's publicly held Member Firms with the NYSE Composite Index and Total U.S. Construction Spending.
June
21—Identifying and Developing Your Future Business Development Leaders, by Rich Friedman, Friedman & Partners. What should you look for when identifying future business development talent—both from within and during the hiring process?
26—Spearin and the Standard of Care: How Good Does a Design Have to Be?, by Kevin O'Beirne, manager, Standard Construction Documents, Arcadis, and Gerard Cavaluzzi, vice president & general counsel, Kennedy/Jenks Consultants. How good does a given design have to be to be consistent with applicable contractual provisions and applicable case law?
27—Public Outreach and Communications: A True Value-added Service for Your Clients, by Greg Goodwin, president, G2 Marketing, LLC. The presentation focuses on how to reach out to and educate the public, build consensus, and earn buy-in from important stakeholders—all while facilitating the completion of the project.
28—Pursuing "Winnable Work," Not "Wish-Lists", by Jeff Berk, president, JBA and Don Sherman, Don Sherman Group. The presenters will show how your firm can increase your marketing and business development ROI.
July
10—The Prominent Role of the AIA's BIM/Digital Practice Documents in the AIA 2017 Contract Document, by Jeremy Baker, Construction Law Group, Schiff Hardin. The presentation will explain how Digital Practice Documents can help manage risks posed by the rapidly evolving ways we now transmit, use, and rely on digital data.
11—Taking Stock of the Engineering Industry in 2018—The Economic and Market Trends Shaping the Industry, by Greg Powell, managing director, Investment Banking, FMI Capital Advisors, Inc. The presenter will take a closer look at the key market drivers that shaped the industry in 2017 and what to watch for during the rest of 2018
18—Up, Up and Away - M&A Trends, Tactics, and Outlook for Engineering Firms, by Steve Gido, ROG Partners. Steve Gido will assess the current M&A environment, highlight recent notable transactions, examine typical deal structures and scenarios, discuss valuation trends, and look at what's driving buyers and sellers today.
19—Big Data, Neural Meshes, & Probabilistic Forecasting: Are We Really Improving Decision Making?, by JD Solomon, Principal, CH2M. Learn how to improve diagnostics and forecasting using big data and also examine several case studies ranging from ecosystems in the natural environment to transportation and utility systems in the built environment.
25—Engineering Infrastructure for a Changing Climate—Business and Technical Impacts, by Paul Chinowsky, Department of Civil, Environmental, and Architectural Engineering, University of Colorado. This webinar introduces an emerging sector that could provide new planning, design and construction work—both domestic and international—for A/E firms.
31—Take Control of Your Time: Strategies and Solutions to Boost Productivity and Efficiency, by Bethanne Kronick. Gain strategies and solutions that will boost your productivity and efficiency. You'll walk away with tips you can use the same day as the training.
August
2—Neuroselling: Engage the Brain to Trigger the Buy, by Bryan Gray, Revenue Path Group. The presenter will demonstrate how brain science and a simple three-step process can separate your firm from the pack in your clients' mind and win the pitch.
7—Taking Your Board to the Next Level, by Gerry Salontai, Salontai Consulting Group, LLC. Gerry Salontai will help you determine how your firm's board of directors sizes up and where there may be an opportunity to improve your business.
30—Working Effectively on Multidisciplinary Projects as a Civil Engineer, by Todd Hay, regional vice president, Pennoni. Todd Hay will show you how your firm can more effectively cross market, communicate between departments, and draft proposals for multidisciplinary projects.