$100K Minuteman Grant to Help ACEC/California Defeat Infrastructure Funding Repeal
ACEC has awarded a Minuteman Fund grant of $100,000 to ACEC/California to help kill a critical ballot measure that would repeal California's 2017 gas tax and vehicle fees increase. At stake is $5 billion a year in infrastructure funding.

"This dangerous measure would jeopardize more than 6,500 transportation projects currently planned or in the works throughout California," said ACEC/CA President Ralph Guida of Guida Surveying.

To defeat the November measure (Proposition 6), ACEC/California is working with a broad alliance of stakeholder groups representing business, labor, transportation, and local government.

Click here for more information on the Minuteman Fund.
House Transportation Committee Chairman Proposes Increase in the Gas Tax
Outgoing House Transportation & Infrastructure Committee Chair Bill Shuster (R-PA) has unveiled an outline of infrastructure legislation that increases the federal gas tax by 15 cents a gallon over 3 years and indexes it for inflation.

The proposal would also increase diesel taxes by 20 cents a gallon and create a nationwide pilot program to study a mileage-based fee structure to replace the gas tax. ACEC has strongly supported both policies to ensure long-term funding sustainability.

Shuster, who is retiring from Congress this year, also proposes Council-backed increases to water infrastructure funding, including state Revolving Loan Funds, WIFIA financing, and Harbor Maintenance Trust Fund spending. The bill would codify the "One Federal Decision" approach and 2-year timeline for project permitting.

"This is a good plan that should have been put forward 18 months ago," said ACEC President/CEO Dave Raymond. "We need a sustainable fix to the Highway Trust Fund in advance of the reauthorization of the FAST Act in 2020, and Shuster's proposal is a good start."

Click here for more information on proposal.
Latest EBI: CEOs Buoyant About Current Market, But Concerned Over Future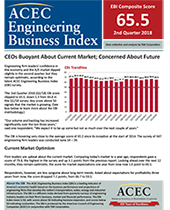 Engineering firm leaders' confidence in the economy and the A/E market dipped slightly in the second quarter of the year, but they remain optimistic, according to the latest ACEC Engineering Business Index (EBI) survey of 347 firm leaders.

The 2nd Quarter 2018 (Q2/18) EBI score slipped to 65.5, down 1.3 from 66.8 in the Q1/18 survey, but any score above 50 signals positive CEO sentiment.

"Our volume and backlog has increased significantly over the last three years," said one respondent. "We still expect it to be up some but not as much as we've seen."

Firm leaders are upbeat about the current market and the coming 12 months, but are concerned about longer term trends. Asked about expectations for profitability three years from now, the score dropped 7.2 points, from 66.7 to 59.5.

"I am concerned about the impact of tariffs on costs for buildings, infrastructure, and industrial projects," said a CEO.

Of the six public markets tracked by the survey, scores fell in five, with the Transportation sector falling the farthest (down 3.5 points to 67.6). In private sector markets, optimism is muted, with scores climbing in only two of the six sectors. The strongest performer was Energy and Power (up 3.7 points to 69.3), and the weakest was Land Development (down 3.4 points to 64.8).

To view the latest EBI report, click here.
ACEC Engages Corps, Navy on Contracting Issues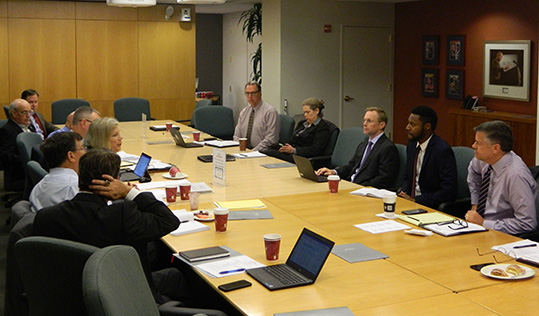 Citing examples of well executed federal procurement contracts, the ACEC Federal Agencies and Procurement Advocacy Committee this week urged officials from the U.S. Army Corps of Engineers and Naval Facilities Engineering Command (NAVFAC) to use them as templates for future contracts.

At its summer meeting, the Committee also reviewed ongoing efforts to defend Qualification-Based Selection (QBS) and discussed a Defense Department review of existing procurement rules. Click here to view a recently released set of DOD recommendations.

Additionally, Committee members discussed the White House's proposal to reorganize a number of federal agencies, most notably moving the Corps' Civil Works program to the Departments of Transportation and Interior.

For more information on the FAPA Committee or to join, contact Dan Hilton.
Fall Conference CEO Panel to Focus on Top Talent Recruitment and Retention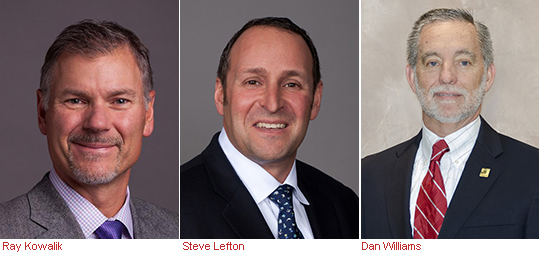 Burns & McDonnell CEO Ray Kowalik, Kimley-Horn President Steve Lefton, and Garver President/CEO Dan Williams will share their best practices for creating workplaces that attract and retain the best engineering talent in a panel discussion at the 2018 ACEC Fall Conference in Las Vegas, October 28-31.

Other Conference highlights include addresses by presidential historian Jon Meacham, inspirational speaker Mick Ebeling, and business strategist Peter Sheahan; a CEO panel on "Gaining an Edge in a Competitive Market;" more than 30 business management sessions, the CASE Risk Management Convocation, CEO Roundtables; the annual Awards Luncheon, and Sales & Marketing and Legal Counsel Forums.

For more information and to register, click here.
Member Organization EEA Contests Gearing Up
Have you recently completed a project that is worthy of state and national acclaim? Get the recognition you deserve by entering the 2019 Engineering Excellence Awards (EEA) competition—the "Academy Awards of the engineering industry."

EEA programs are already starting up in many states, and all will be underway before the end of the summer. All submissions to the 2019 national EEA must be entered through your respective state Member Organization. Click here for state executive director contact information and state EEA entry guidelines.

Submission deadline for the national EEA competition is Friday, January 4, 2019. For all registration information regarding the national EEA contest click here.
ACEC Seminar Laying the Foundation for Superior Project Managers Begins September 10; Register Today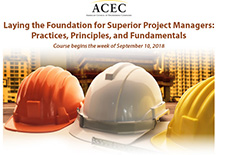 Designed to help new project managers gain skills and confidence to fit your firm's unique workflow specifications, Laying the Foundation for Superior Project Managers: Practices, Principles, and Fundamentals offers online, schedule-friendly training in the field of project management.

Combining the scheduling ease of video learning and the immediacy and intensity of a live classroom, this 9-module interactive course provides a convenient and cost-effective way to learn the fundamentals of project management—with little or no disruption to billable staff time.

Successful, profitable project delivery starts with superior management. Help your staff develop into confident, forward-thinking PMs with a course that adapts to their current workload while driving them to grow.

For more information and to register, click here.
Position Your Firm Before the RFP Comes Out, Online Class, August 15
Join Ken Tichacek in the August 15 online class It's Over Before It Starts: How to Position Your Firm to Win Before the RFP Comes Out to discover how your firm can position itself to effectively win proposals BEFORE clients even issue an RFP. You will walk away with proven ideas and strategies to dramatically improve your hit rate, strengthen your relationships with key clients, and help you choose the kind of work your firm does.

Tichacek will help you:
Identify potential proposal opportunities long before an RFP is issued and develop a disciplined approach to focus your firm's efforts on only the best opportunities.
Develop alliances within client organizations and others which you can rely upon to identify opportunities, gain knowledge you need to win, and test drive your win theme story before you even make a proposal.
Learn how to think and act more strategically so you can position your firm more effectively and plant seeds that will influence the client's decision.
Understand what you need to know about your client, the project at hand, your competition, and your own firm in order to develop effective strategies.
Evaluate what each member of your proposal team needs to do before an RFP is issued, and how to overcome the obstacles each person faces in trying to carry out those responsibilities.
Registrants for the class are invited to send one of your firm's typical proposals and the corresponding RFP to Tichacek prior to the webinar. He will provide a brief, complimentary, evaluation of the proposal within one week after the date of the webinar.

For more information and to register, click here.
The American Council of Engineering Companies
1015 15th St., NW, 8th Floor, Washington, DC 20005-2605
Phone:

202-347-7474

- Fax: 202-898-0068
www.acec.org
- E-mail:
acec@acec.org
Alan D. Crockett, Director, Communications
Gerry Donohue, Editor/Designer