TV Star Kevin Nealon Returns to Emcee Engineering Excellence Gala in Washington, April 17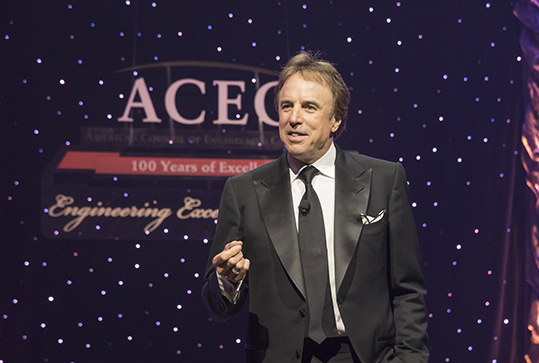 Actor/Comedian Kevin Nealon will once again emcee the Engineering Excellence Awards (EEA) Gala at the 2018 ACEC Convention in Washington D.C.

The "Academy Awards of the engineering industry," EEA will celebrate the industry's top projects at its annual black-tie event on April 17.

Nealon is well-known for his long-time tenure on Saturday Night Live and his performances in several Adam Sandler movies and the HBO series Weeds. He currently stars in the CBS weekly comedy show "Man With a Plan."

The Gala will be followed by an After Party, featuring live music and dancing which is free to all Gala registrants. For more information and to register for the EEA Gala, click here.

For more information about the 2018 ACEC Convention, April 15-18, click here.
ACEC/Indiana Crosses 2018 PAC Finish Line on January 1—"Couldn't be Faster"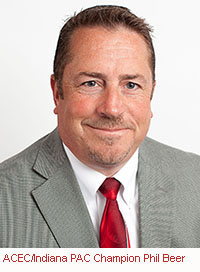 For the fourth year in a row, ACEC/Indiana is the first state in the nation to reach its annual ACEC/PAC fundraising goal. It hit its target on the first day of the year!

Indiana has made its PAC goal every year since formal fundraising targets were established in 2003.

"Our fundraising effort is driven by a 100 percent commitment from our state leadership, our board of directors, and our state Executive Director Beth Bauer and her staff," said Indiana PAC Champion Philip Beer of USI Consultants in Indianapolis. "Our members learn early on that ACEC/PAC is central to our advocacy efforts on Capitol Hill."

For more information about ACEC/PAC and ACEC's political programs, visit the ACEC/PAC website or contact ACEC Executive Director of Political Affairs Greg Knopp or ACEC/PAC Director Katherine Bohny.
New Officers Join Executive Committee in April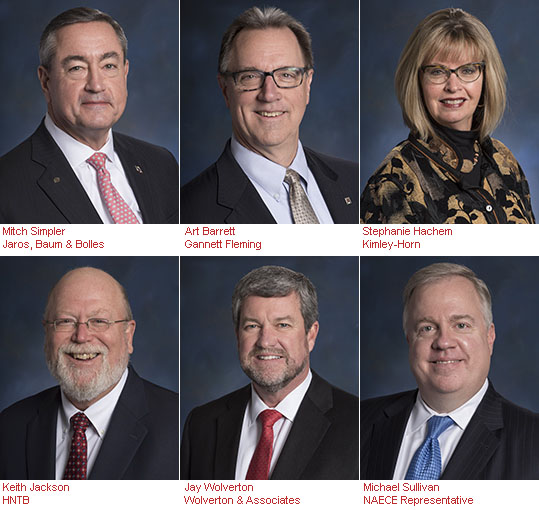 ACEC's Board of Directors has elected five new members to the Executive Committee, with two-year terms beginning in April at the Annual Convention in Washington, D.C.

Mitch Simpler, managing partner of Jaros, Baum & Bolles in New York was elected ACEC chair for 2019-2020, following Manish Kothari, who will begin his 2018-2019 term as chair on April 15.

Newly-elected vice chairs are: Art Barrett, senior vice president of Gannett Fleming in Maryland; Stephanie Hachem, senior vice president of Kimley-Horn in North Carolina; Keith Jackson, senior vice president of HNTB in Texas; and Jay Wolverton, president/CEO of Wolverton & Associates in Georgia.

ACEC/Georgia Executive Director Michael "Sully" Sullivan will serve as the NAECE Representative on the 2018-2019 Executive Committee.
ACEC and Life/Health Trust to Address Proposed Changes to Association Health Plans
The Department of Labor (DOL) has issued a proposed rule designed to facilitate the formation of association health plans (AHPs). The Council and the ACEC Life/Health Trust, which is one of the few entities currently offering health insurance to association members, are reviewing the proposal and its impacts on the Trust.

The proposed rule would make it easier for groups other than associations to qualify as AHPs, such as entities sharing a common geography. Another change would allow sole proprietors and their dependents to purchase health insurance through the AHP.

The Council and the Trust are looking closely at proposed changes that might make it more difficult for the Trust to compete with other health insurance providers.

ACEC and the Trust will comment on the proposed rule, and work with Congress to ensure that the Trust can continue to offer competitively-priced health insurance to ACEC Member Firms.
How the New DOD Cyber Compliance Rule Will Affect Your Firm, January 23
As of December 31, 2017, firms contracting with the Department of Defense are required to comply with the DFARS rule for "Safeguarding Covered Defense Information and Cyber Incident Reporting."

The "Cyber Rule" protects controlled unclassified information (CUI), which is a broad category that includes many types of sensitive—but not classified—information, such as health records, engineering drawings, technical reports and other information.

If your firm contracts or intends to contract with DOD, don't miss the exclusive ACEC online class Are You Ready to Comply with the New DFARS Cyber Rule on January 23. Jonathan Williams, a partner at PilieroMazza, will provide a comprehensive overview of the rule and outline what it means for your firm.

For more information and to register, click here.
Keep Your Firm Thriving with ACEC's Business of Design Consulting Course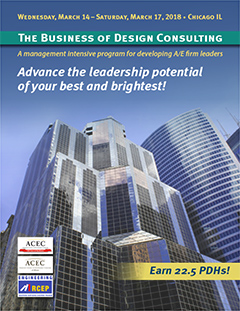 ACEC's Business of Design Consulting course in Chicago, March 14-17, provides a proven playbook for building leadership and managing your firm.

The 3½-day program delivers strategies for a wide array of critical, need-to-know business topics to maximize your firm's performance in today's churning business environment, including change management, strategic planning, finance, leadership, ownership transition, contracts and risk management, and marketing.

The experienced faculty of industry practitioners includes Rod Hoffman of S&H Consulting; Brett Stewart of XL Catlin Design Professional; Colvin Matheson of Matheson Financial Advisors; and David Stone of blüStone Marketing.

The course carries 22.5 professional development hours (PDHs)

For more information and to register, click here.
ACEC/California Supports U.S. Representative Thompson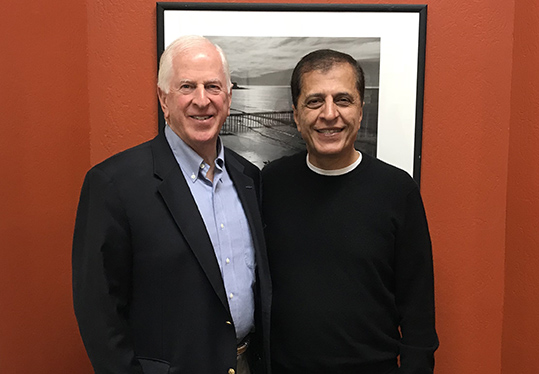 Nominations Open For 2018 QBS Awards Program
Nominations are sought for the 2018 QBS Awards Program, which honors public entities, private organizations, and/or individuals for exemplary use of the QBS selection process at the federal, state, and local levels.

The deadline for nominations is February 21, 2018. Click here to access the nomination form.

ACEC and NSPE, the joint sponsors of the award, will select up to three QBS Award winners. In addition, the QBS Awards program will designate up to four Merit Award winners, each of which will be honored in a state event.
Experts Address Sexual Harassment in the Workplace, Online Class, January 30
News stories about sexual assault and harassment have dominated the media for months now. As a result, many companies, including engineering firms, are evaluating their risks, reviewing their policies prohibiting sexual harassment, and implementing training programs to sensitize employees to the issues, and prevent sexual harassment.

In the January 30, 2018 online class, Sexual Harassment Prevention in the A/E Workplace: Understanding the Law; and Establishing and Improving Policies, Procedures and Effective Training, a panel of experts will identify the elements of an effective policy prohibiting sexual harassment and examine options for training.

The panel includes Beverly Tompkins, general counsel, Simpson Gumpertz Heger; and Joanne Dekker and Kent Holland, ConstructionRisk Counsel.

For more information and to register, click here.
Keys to Sustainable, Profitable Business at Small Firm Council Meeting, Austin, Texas, Feb. 1-3
Join small firm leaders from around the country at the 2018 Small Firm Winter Meeting in Austin, Texas, February 1-3.

Mark Goodale, principal/co-founder of Morrissey Goodale, will present Essentials to Achieving a Sustainable, Profitable Business, a 1-1/2 day program on how firms can better market themselves, what key firm positions to fill, how to organize the firm into teams, and when it's time to delegate.

The seminar is designed for firm leadership, including owners, principals, HR professionals, CEOs, and CFOs.

Click here for more information and to register.
The American Council of Engineering Companies
1015 15th St., NW, 8th Floor, Washington, DC 20005-2605
Phone:

202-347-7474

- Fax: 202-898-0068
www.acec.org
- E-mail:
acec@acec.org
Alan D. Crockett, Director, Communications
Gerry Donohue, Editor/Designer