How Your Firm Can Take Advantage of the 20 Percent Passthrough Deduction, ACEC Online Class, September 17
ACEC's September 17 online class The Nitty-Gritty on the New Passthrough Deduction will provide a detailed overview of the 20 percent passthrough deduction and how it applies to your firm.

The Tax Cuts and Jobs Act passed late last year created the deduction for companies operating as S corporations, partnerships, and sole proprietorships. ACEC and its Member Firms advocated successfully to ensure that engineering firms have full access to the new tax deduction.

The Treasury recently released its proposed rules governing the deduction, and in this exclusive ACEC online class, you will find out how your firm can claim this tax benefit.

Presented by Scott Hursh, Thomas Moul and Jennifer Nelson of Stambaugh Ness, the class will also include discussions of:
What qualifies as eligible business income
Rules on reasonable compensation for owners
Anti-abuse safeguards
Aggregation rules for firms with multiple legal entities
For more information and to register, click here.
U.S. Chamber's Donohue Discusses Infrastructure, Trade, Immigration with ACEC Large Firm Coalition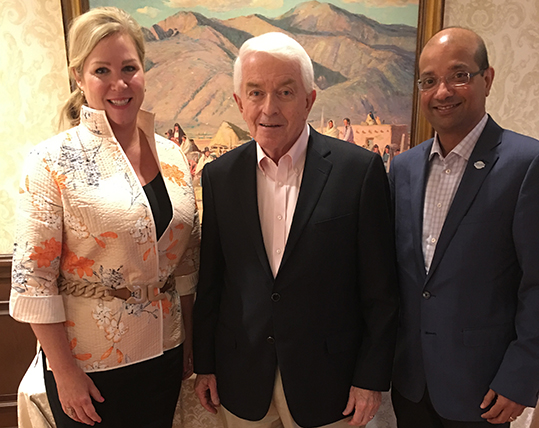 Thomas Donohue, president/CEO of the U.S. Chamber of Commerce, discussed a number of engineering industry issues at a meeting late last week of large firm CEOs and senior executives in Colorado.

Members of ACEC's Design Professionals Coalition (DPC) engaged Donohue on a number of issues, including the Chamber's support for an aggressive infrastructure agenda and putting forward a solution—an increase in the federal gas tax—to pay for it. Donohue also highlighted the benefits of the new tax law, and discussed the business community's concerns regarding trade and immigration and the need to resolve both in order to support a growing economy.

"Tom Donohue is a major force in Washington, and this was a unique opportunity for our senior large firm leaders to hear candid insights on the business agenda going forward," said ACEC President and CEO Linda Bauer Darr.
ACEC Names Laura O'Neill-Kaumo as Chief Operating Officer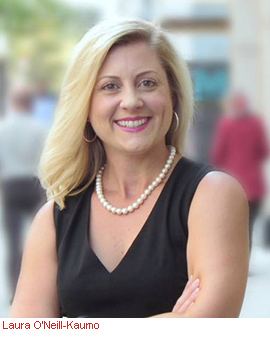 Laura O'Neill-Kaumo joins ACEC on September 5 as Chief Operating Officer, replacing Mary Ann Emely, who is retiring after 17 years of service to the Council.

O'Neill-Kaumo will be responsible for guiding the strategic planning process, identifying new service areas for membership, and overseeing the Council's technical and administrative operations.

O'Neill-Kaumo has most recently served as senior vice president of government and regulatory affairs at the National Stone, Sand & Gravel Association (NSSGA), overseeing programs to increase federal infrastructure investment and promote regulatory reform. Prior to that, she worked at the Owner Operator Independent Drivers Association, as staff counsel for the Boston Red Sox, and as a professional staffer in the U.S. House of Representatives.

"Laura brings an unparalleled strategic outlook combined with a solid record of tangible accomplishment in the infrastructure arena that will further enhance the recognition and appreciation of the engineering industry," said ACEC President/CEO Linda Bauer Darr.
ACEC Supports Administration Drive to Tighten NEPA Review Process
ACEC filed comments last week in response to an information request by the Council on Environmental Quality (CEQ) as part of a larger effort to streamline National Environmental Policy Act (NEPA) project reviews.

While supporting the purpose of NEPA and its role in improving the delivery of infrastructure projects, the Council expressed support for many of the goals set forth by CEQ, including "promotion of efficient, well-informed, and timely federal decision making."

Members from ACEC's Environmental and Energy and Transportation Committees collaborated to develop the comments and will continue to participate in the initiative.

CEQ, which is undertaking the NEPA reforms under an Executive Order, is expected to issue proposed regulatory changes soon.

To view ACEC's comments, click here.

For more information, contact Lynn Schloesser.
EPA Proposes Replacement of Obama's Clean Power Plan
EPA released a new proposed rule called "Affordable Clean Energy" to reduce CO2 emissions from coal-fired power plants. The proposal would replace the Clean Power Plan (CPP) adopted during the Obama Administration, now stayed by the Supreme Court.

The proposed rule recommends upgrades for coal-fired plants to produce electricity more efficiently without triggering complete and prohibitively expensive technology overhauls. States would be allowed flexibility to balance their energy needs in making cuts in CO2 emissions.

The proposed rule faces months of public and legal reviews and likely court battles. In anticipation of CPP replacement, power companies expect to maintain the ongoing market-driven shift to cleaner and cheaper sources such as natural gas and renewables. Though the proposed rule would maintain coal-fired generation above levels projected under the Clean Power Plan, EPA's analysis shows coal consumption shrinking, but at a slower rate.

For more information on the proposed rule, click here.

ACEC's Energy and Environment Committee engages on this and other issues affecting energy markets. For more information or to join the committee, contact Lynn Schloesser.
Meacham, Ebeling and Sheahan to Headline ACEC Fall Conference in Las Vegas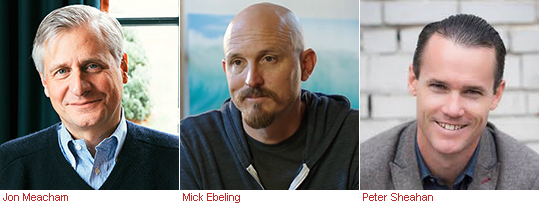 Pulitzer Prize-winning historian Jon Meacham will kick off the 2018 ACEC Fall Conference at the Bellagio in Las Vegas, October 28-31. Author of the current New York Times bestseller, The Soul of America: The Battle for Our Better Angels, Meacham will provide historical context to today's political climate.

Mick Ebeling, CEO of Not Impossible Labs, will share his inspirational story of collaborating with engineers, programmers, and philanthropists to create innovative solutions to the problems facing the planet's most vulnerable people.

Peter Sheahan, an expert in workforce trends and generational change, will offer insights on how engineering firms can gain a competitive advantage in today's turbulent market.

The Fall Conference will feature two CEO panels: Gaining an Edge in a Competitive Market; and Creating a Workplace to Attract and Retain the Best Talent. In addition, more than 30 advanced business sessions, CEO, CIO, and CFO roundtables, and the Awards Luncheon will fill out the Conference.

For more information and to register, click here.
Wind Accounts for 30 Percent of Power Generated in Four States
Wind energy now accounts for more than 30 percent of the power generated in Kansas, Iowa, South Dakota, and Oklahoma, according to the U.S. Wind Industry Annual Market Report. Wind produces more than 10 percent of the electricity in 14 other states.

According to the report, wind generated 6.3 percent of the nation's power in 2017.

Wind energy capacity increased by 9 percent in 2017 and the total capacity of wind farms under construction or nearing completion exceeds 30 gigaWatts.

Wind production capacity increased 40 percent year-over-year in the first quarter of 2018.

To download an executive summary of the report, click here.
Submit Your Firm's Smart Transportation Infrastructure Projects to Engineering Inc. by September 7
The January/February 2019 issue of Engineering Inc. will spotlight Member Firm innovations in smart transportation infrastructure.

If your company has designed a smart transportation-related infrastructure project that you'd like to be considered for this special Engineering Inc. section, email the information below to Engineering Inc. Staff Editor Andrea Keeney by Friday, September 7, 2018:

In a one- or two-page document, submit the following: project name and location; project overview, including unique aspects/challenges; a project photo; and the name, title, phone number and e-mail address of the Member Firm executive to be interviewed for the project profile. The project can be under construction or recently completed.

If you have any questions, contact Andrea Keeney.
Report Highlights State of Nation's Stormwater Programs
The National Municipal Stormwater Alliance (NMSA) has released its inaugural State of Stormwater Report, providing an overview of the challenges and opportunities facing the nation's municipal stormwater programs.

"Each state is attaching issues in somewhat different ways," said NMSA Chair Scott Taylor. "This report takes a look at that for the first time, providing information critical to moving the needle on clean water."

The report gives a snapshot of municipal separate storm sewer system (MS4) program implemention, current regulary issues, and industry trends.

To view the report, click here.
Member Organization EEA Contests Gearing Up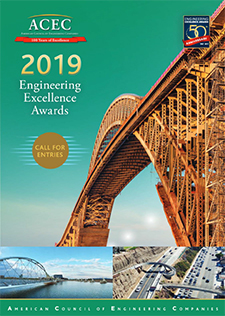 Have you recently completed a project that is worthy of state and national acclaim? Get the recognition you deserve by entering the 2019 Engineering Excellence Awards (EEA) competition—the "Academy Awards of the engineering industry."

EEA programs are already starting up in many states, and all will be underway before the end of summer. All submissions to the 2019 national EEA must be entered through your respective state Member Organization. Click here for state executive director contact information and state EEA entry guidelines.

Submission deadline for the national EEA competition is Friday, January 4, 2019. For all registration information regarding the national EEA contest click here.
ACEC/Ohio Supports Congressman Chabot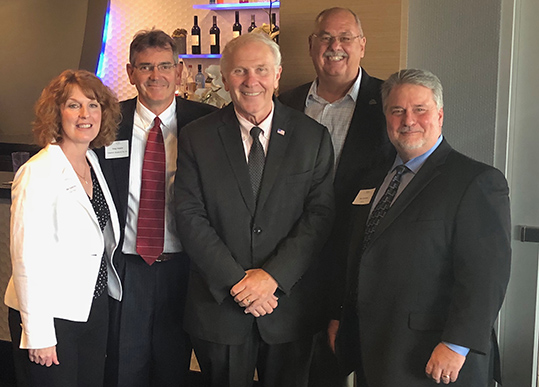 USDA Provides $4 Billion for Rural Water Infrastructure
The U.S. Department of Agriculture is providing $4 billion in loans and grants to rural communities to maintain, modernize, or build water and wastewater systems.

The funding is available through the Water and Waste Disposal Loan and Grant program and is targeted toward rural communities with fewer than 10,000 residents.

The program offers business opportunities for firms with relationships with rural communities that may not know about the funding or need help applying for it.

For more information on the program, click here.
ACEC Boosts Scholarship Program to Attract Best and Brightest to Industry
To better compete with other industries for the best and brightest talent, the Council is enhancing students' ability to pursue engineering careers by boosting the ACEC scholarship program. Last year, the Council awarded scholarships to eight deserving students totaling $45,000.

To expand the program—making more and larger scholarships available—ACEC has launched a fundraising drive.

Members can invest in our industry's future by providing monetary support to the ACEC scholarship program today. All donations toward the program are 100 percent U.S. tax deductible.

For more information about the scholarships and to contribute, contact Daisy Nappier.
ACEC Seminar Laying the Foundation for Superior Project Managers Begins September 10; Register Today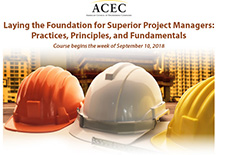 Designed to help new project managers gain skills and confidence to fit your firm's unique workflow specifications, Laying the Foundation for Superior Project Managers: Practices, Principles, and Fundamentals offers online, schedule-friendly training in the field of project management.

Combining the scheduling ease of video learning and the immediacy and intensity of a live classroom, this 9-module interactive course provides a convenient and cost-effective way to learn the fundamentals of project management—with little or no disruption to billable staff time.

Successful, profitable project delivery starts with superior management. Help your staff develop into confident, forward-thinking PMs with a course that adapts to their current workload while driving them to grow.

For more information and to register, click here.
Register for Induction into the Order of the Engineer at Fall Conference
The College of Fellows will host the induction ceremony for interested ACEC Members into The Order of the Engineer—a national organization dedicated to "upholding the standards and dignity of the engineering profession"—at the upcoming 2018 ACEC Fall Conference in Las Vegas.

The Order of the Engineer was initiated to foster a spirit of pride in the profession, emphasizing that the primary purpose of engineering is to serve the public and that all members of the engineering profession share a common bond.

At the Fall Conference ceremony, inductees will take the "Obligation of the Engineer" oath and be presented with a stainless steel ring as a symbol of membership.

Click here to register for the induction ceremony and to order rings. Click here to visit the Order of the Engineer website. For further information, contact Daisy Nappier.
The American Council of Engineering Companies
1015 15th St., NW, 8th Floor, Washington, DC 20005-2605
Phone:

202-347-7474

- Fax: 202-898-0068
www.acec.org
- E-mail:
acec@acec.org
Alan D. Crockett, Director, Communications
Gerry Donohue, Editor/Designer