Water Infrastructure Bill Passes House; Senate Action Expected Next Week
The House of Representatives approved a new version of the Water Resources Development Act (WRDA) today, authorizing new Corps of Engineers water projects and increasing investments in drinking water infrastructure. The Senate is expected to vote on the measure next week.

"The importance of investing in our nation's ports, waterways, locks and dams, as well as projects to mitigate against flood events cannot be overstated," wrote ACEC President/CEO Linda Bauer Darr in a letter of support to the leaders of the House Transportation and Energy Committees. "This legislation continues the bipartisan work in Congress to prioritize and advance these critical water resource needs."

The bill—S. 3021—authorizes 12 new Corps water resources projects, as well as modifications to three existing projects, and reauthorizes federal levee and dam safety programs.

The bill also authorizes over $4.4 billion over three years for the Safe Drinking Water Act State Revolving Fund (SRF) program, as well as $100 million to assist communities to repair drinking water systems impacted by natural disasters. The measure also reauthorizes and expands the Water Infrastructure Finance and Innovation Act (WIFIA) to enable state infrastructure finance authorities to use this financing mechanism to supplement their SRF programs.

For more information on WRDA 2018, click here.
ACEC Leaders Discuss Global Infrastructure Future at FIDIC Conference in Berlin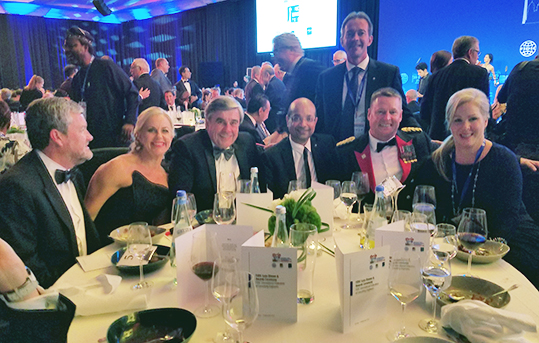 ACEC Chair Manish Kothari of Sheladia Associates and ACEC President/CEO Linda Bauer Darr led the ACEC delegation to the recent 2018 FIDIC International Infrastructure Conference held in Berlin.

ACEC is the largest member of FIDIC, which represents consulting engineer associations in 102 countries.

Under the theme "Mobility and Smart Infrastructure" the three-day conference featured more than 800 global engineering leaders examining infrastructure challenges and opportunities in the face of new and emerging technologies.

Conference highlights include Bill Howard of CDM Smith becoming FIDIC President-elect, and Kothari joining other global CEOs in a panel discussion on the future for consulting engineering in the digital economy.

At the 2018 FIDIC Awards, the World Trade Center Transportation Hub in New York City, designed by STV, won the Special Award of Merit. The Pearl Harbor Memorial Bridge in New Haven, Conn., by AECOM, and the SR 520 Floating Bridge in Seattle, by HDR, received Awards of Merit.

The ACEC delegation also included former FIDIC President Gregs Thomopulos and Richard Stump of Stanley Consultants; former ACEC Chair Sergio "Satch" Pecori of Hanson Professional Services; ACEC Vice Chair Jay Wolverton of Wolverton Associates; John Scales of HDR; and ACEC Principal Advisor Mark Steiner.
Congressional Appropriators Forbid Transfer of Army Corps of Engineer Civil Works Programs
Bipartisan lawmakers in the House and Senate have included language in a major spending bill to prohibit the Administration from moving forward with a proposed transfer of a significant portion of the Army Corp of Engineer Civil Works program to the Departments of Transportation and Interior.

In the $147.5 billion spending package filed Monday and making its way to both the House and Senate floor, appropriators stated "the conferees are opposed to the proposed reorganization as it could ultimately have detrimental impacts for implementation of the Civil Works program and for the numerous non-federal entities that rely on the Corps' technical expertise, including in response to natural disasters."

House and Senate lawmakers also included binding provisions in the spending package that will prohibit the Administration from moving forward: "None of the funds made available by this Act or any other Act may be used to reorganize or to transfer the Civil Works functions or authority of the Corps of Engineers or the Secretary of the Army to another department or agency."

The White House proposal, included in a government reform plan entitled Reshaping American Government in the 21st Century, would move commercial navigation functions, such as maintaining channels, harbors and waterways, and operating, designing and engineering locks and dams to the Department of Transportation. It would also move programs such as estuary and aquatic restoration and various additional regulatory functions to the Department of Interior.
Professional Sports Pioneer Susan O'Malley to Address Fall Conference, October 28-31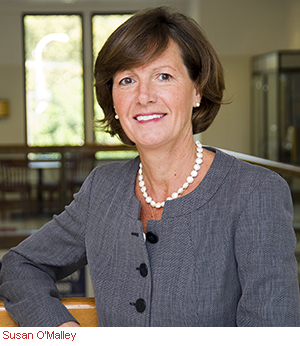 Susan O'Malley, the first female president of a professional sports franchise, will discuss leadership and thriving in a male-dominated field in a keynote address at the upcoming Fall Conference, October 28-31 at the Bellagio Resort in Las Vegas.

O'Malley was named president of the NBA's Washington Bullets (now the Wizards) at the age of 29. A pioneer in both sports and business, she became president of Washington Sports and Entertainment, Inc. where she also ran the Verizon Center, the WNBA's Washington Mystics and Ticketmaster. During her tenure, she introduced innovative marketing and customer service initiatives that are still in use today.

Other Conference speakers include presidential biographer Jon Meacham, who will bring a historical context to today's politics; Not Impossible Labs CEO Mick Ebeling, who specializes in crafting innovative technological solutions to seemingly intractable societal problems; and business strategist Peter Sheahan, who will talk about how firms can target growth in a turbulent market.

For more information and to register for the Fall Conference, click here.
House to Vote on Employer-Friendly Health Care Legislation
The House of Representatives is scheduled to consider legislation that would modify several employer-related provisions of the Affordable Care Act.

Introduced by Congresswoman Jackie Walorski (R-IN), the legislation would change the definition of full-time employee from someone who works 30 hours per week to 40 hours per week. In addition, penalties that apply to employers with more than 50 employees that do not offer qualified health insurance would be repealed retroactively through the end of 2018.

H.R. 3798 also delays the so-called 'Cadillac tax' on high-cost health plans until 2023. ACEC continues to support these modifications to the ACA.
Ways and Means Committee To Vote On Making 20 Percent Passthrough Deduction Permanent
The House Ways and Means Committee plans to vote this week to permanently extend the individual tax rates and the 20 percent passthrough tax deduction included in the Tax Cuts and Jobs Act (TCJA), which was signed into law in December 2017. Under the TCJA, these provisions will expire at the end of 2025.

The TCJA created the new tax deduction of up to 20 percent of qualified business income of S corporations, partnerships, and other passthrough businesses. ACEC waged a successful effort to ensure that engineering and architecture firms have full access to the deduction and strongly supports making it permanent. To learn more about the passthrough deduction, register for ACEC's special webinar on Monday, September 17. (See below)

The reform bill also includes new incentives for start-up businesses and measures to promote retirement and education savings.

Although the full House of Representatives is expected to vote on the reforms this fall, Senate consideration is less likely.
Kentucky Latest State to Make PAC Goal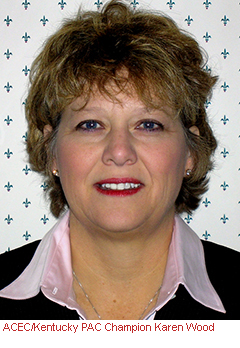 ACEC/Kentucky achieved its ACEC/PAC fundraising goal this week, making it the eighth consecutive year at 100 percent and 15th time in the past 16 years.

PAC Champion Karen Wood of HMB Professional Engineers in Frankfurt said members in the state are aware of the need for early support to get ACEC/PAC funds to deserving congressional candidates ahead of the November elections.

In addition to Kentucky, 12 states have reached their 2018 fundraising goal: Indiana, Hawaii, Wisconsin, Georgia, Montana, Tennessee, Massachusetts, South Carolina, Rhode Island, Connecticut, New Hampshire, and Alabama.

For more information about ACEC/PAC and ACEC's political programs, visit the ACEC/PAC website or contact ACEC Executive Director of Political Affairs Greg Knopp or ACEC/PAC Director Jennifer Pugh.
Still Time to Get the "Nitty-Gritty" on 20 Percent Passthrough Deduction, ACEC Online Class, September 17
ACEC's September 17 online class The Nitty-Gritty on the New Passthrough Deduction will provide a detailed overview of the 20 percent passthrough deduction and how it applies to your firm.

The Tax Cuts and Jobs Act passed late last year created the deduction for companies operating as S corporations, partnerships, and sole proprietorships. ACEC and its Member Firms advocated successfully to ensure that engineering firms have full access to the new tax deduction.

The Treasury recently released its proposed rules governing the deduction, and in this exclusive ACEC online class, you will find out how your firm can claim this tax benefit.

Presented by Scott Hursh, Thomas Moul and Jennifer Nelson of Stambaugh Ness, the class will also include discussions of:
What qualifies as eligible business income
Rules on reasonable compensation for owners
Anti-abuse safeguards
Aggregation rules for firms with multiple legal entities
For more information and to register, click here.
U.S. Construction Spending Up Slightly in July
Small increases in public projects and homebuilding overcame a sharp drop in private nonresidential outlays in July, pushing U.S. construction spending up just 0.1 percent for the month. In June, construction spending fell 0.8 percent.

Public construction spending increased 0.7 percent in July, with federal construction spending leading the way, up 2.5 percent. State and local government construction spending increased 0.6 percent.

Homebuilding outlays increased 0.6 percent, following two consecutive monthly declines. Homebuilders highlighted rising material costs and shortages in land and labor as drags on the market.

Private nonresidential construction spending, which includes manufacturing and power plants, fell 1.0 percent in July, marking the largest decline since August 2017.

For more information, click here.
ACEC Boosts Scholarship Program to Attract Best and Brightest to Industry
To better compete with other industries for the best and brightest talent, the Council is enhancing a student's ability to pursue an engineering career by boosting the ACEC Scholarship Program. Last year, the Council awarded scholarships to eight deserving students totaling $45,000.

To expand the program—making more and larger scholarships available—ACEC has launched a fundraising drive.

Members can invest in our industry's future by providing monetary support to the ACEC scholarship program today. All donations toward the program are 100 percent U.S. tax deductible.

For more information about the scholarships and to contribute, contact Daisy Nappier.
U.S. Battery Energy Capacity Increased 68 Percent Last Year
U.S. utilities increased their battery storage capacity by 68 percent in 2017, according to a survey by the Smart Electric Power Alliance. The nation's battery energy capacity increased to 1.3 gigawatt hours (GWh).

The installation of longer-duration batteries was the driving force behind the increase. These batteries, which discharge for several hours, have allowed utilities to balance solar with widespread storage, particularly in Hawaii, California, and Florida.

California utilities remain the leaders in storage energy capacity. The state added 75 percent of the nation's incremental capacity.

For more information on the survey, click here.
ACEC/California Supports Congressman Vargas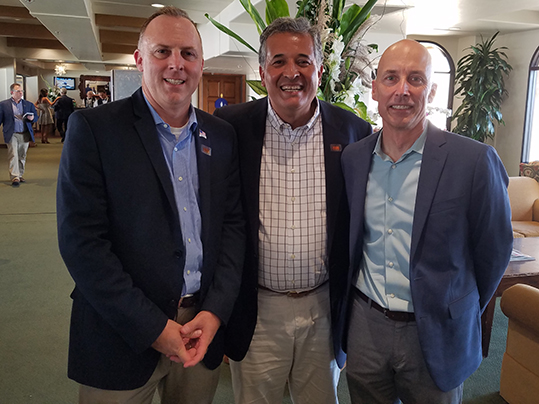 FHwA Releases $225 Million for Rural Bridge Replacement/Rehabilitation
The Federal Highway Administration (FHwA) has made $225 million in Highway Bridge Improvement Grants available to rural states.

The funds are restricted to the 25 states with a population density of less than 100 people per square mile: Alabama, Alaska, Arizona, Arkansas, Colorado, Idaho, Iowa, Kansas, Maine, Minnesota, Mississippi, Missouri, Montana, Nebraska, Nevada, New Mexico, North Dakota, Oklahoma, Oregon, South Dakota, Texas, Utah, Vermont, West Virginia and Wyoming.

According to the FHwA, "the funds must be used for highway bridge replacement or rehabilitation projects on public roads that leverage the efficiencies associated with bundling at least two highway bridge projects into a single contract."

For more information, click here.
College of Fellows to Hold Charity Fun Walk at Fall Conference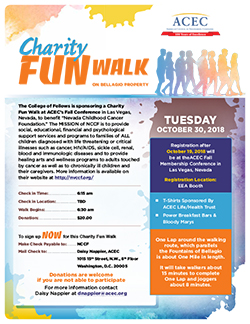 Walk a mile for a great cause at the upcoming 2018 ACEC Fall Conference in Las Vegas.

The College of Fellows will host its third annual Charity Fun Walk at the Fall Conference on Tuesday, October 30, featuring a one-mile lap that takes in the famous fountains at the Bellagio Resort in Las Vegas.

The walk will benefit the Nevada Childhood Cancer Foundation (NCCF), which provides social, education, financial, and psychological support services to families of children with life-threatening or critical illnesses. For more information about NCCF, click here.

Participants will receive commemorative T-shirts, sponsored by the ACEC Life/Health Trust. Power breakfast bars and Bloody Marys will also be provided.

For more information on the Charity Fun Walk and to register, click here or contact Daisy Nappier.
The American Council of Engineering Companies
1015 15th St., NW, 8th Floor, Washington, DC 20005-2605
Phone:

202-347-7474

- Fax: 202-898-0068
www.acec.org
- E-mail:
acec@acec.org
Alan D. Crockett, Director, Communications
Gerry Donohue, Editor/Designer