Senate Passes FAA Reauthorization with Expanded QBS; President Expected to Sign Bill into Law
The Senate approved a final, five-year Federal Aviation Administration reauthorization bill on Wednesday that includes an ACEC-backed amendment to expand the use of Qualifications-Based Selection (QBS) on federally funded airport projects.The House approved the bill last week and it now goes to the president for his signature.

The QBS provision requires that airports comply with Brooks Act procedures if any portion of a project utilizes Airport Improvement Program (AIP) funds. This is designed to prevent agencies from segmenting state or local funds for A/E services in order to avoid federal QBS rules.

The bill holds AIP funding flat at $3.35 billion per year for 2018-2023. It also authorizes an additional $1.06 billion annually for airport improvement grants for small and medium-size airports, but those funds are not guaranteed and are subject to annual appropriations from the General Fund. FAA Facilities and Equipment is authorized at $3.33 billion in 2018, rising to $3.7 billion in 2023, also subject to annual appropriations.

The cap on Passenger Facility Charges remains at $4.50 per flight segment, but the bill allows flexibility for more airports to collect the maximum amount. The U.S. Department of Transportation is directed to conduct a study of airport infrastructure needs and make recommendations on financial resources and options to upgrade the aviation system to meet projected passenger volumes.

For unmanned aircraft systems, the bill includes provisions to facilitate the integration of drones into the national airspace; bolster research, development, and testing programs; and authorize more risk-based permitting for commercial UAS operations.

Click here for a summary of the bill.
Twenty-Eight Member Organizations Participate in ACEC Listening Tour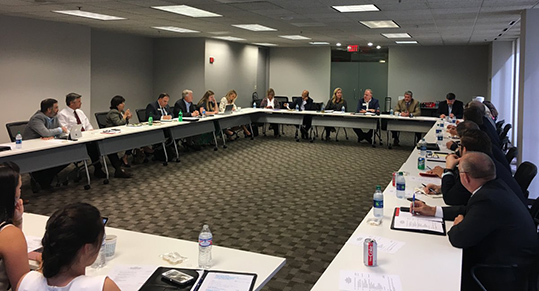 ACEC Chair Kothari Participates in NAFTA Update; Supports Opening of International Markets for Engineering Services
ACEC Chair Manish Kothari of Sheladia Associates recently served on the Industry Trade Advisory Committee on Services (ITAC-10), which reviewed the draft update to the North American Free Trade Agreement (NAFTA) and commented on its impact.

Regarding engineering services, the advisory report states: "ITAC-10 supports U.S. Government efforts to negotiate new trade agreements designed to open international markets for U.S. engineering firms. The engineering services sector as related to design, construction, environment and infrastructure believes that it can operate successfully under the provisions of the Trade Agreement.

"Building on the elements of the original NAFTA, which necessarily focused on important licensure standards, comity and reciprocity among other salient matters, the Trade Agreement offers provisions that support the ability of the U.S. engineering services sector to offer creative, innovative and cost-effective solutions to North America's infrastructure challenges and the built-environment's needs."

Negotiators for the United States, Canada, and Mexico agreed on a NAFTA update over the weekend. The agreement must still be approved by Congress, in an up-or-down vote without amendment.

Click here to view the ITAC-10 report. To view all of the Advisory Committee opinions, click here.
ACEC Supports Proposed Passthrough Tax Deduction Rule
With input from Member Firms, ACEC submitted comments to the U.S. Department of Treasury supporting the proposed rule to implement the new passthrough tax deduction.

The Tax Cuts and Jobs Act lowered the corporate tax rate from 35 percent to 21 percent, and created the 20 percent tax deduction for passthrough firms, including S corporations, partnerships, and sole proprietorships. The proposed rule reflects congressional intent, due to ACEC advocacy, that engineering and architecture firms should be fully eligible for the deduction.

ACEC also advocated for improvements to the section of the rule that allows firms with multiple legal entities to aggregate them for the purposes of claiming the tax deduction. This is a key concern for larger engineering firms that operate in multiple states. To view the coalition letter, click here.

Treasury expects to release the final rule by the end of 2018.
ACEC/Iowa Supports Congressman King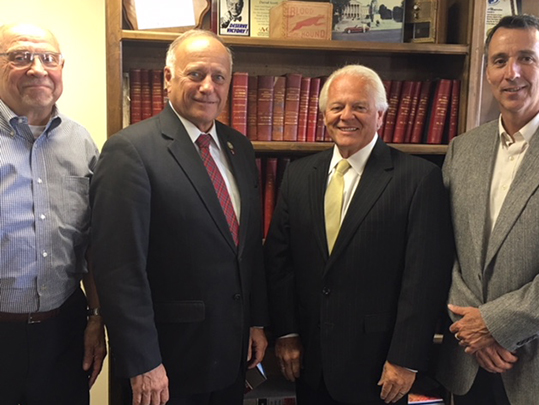 AASHTO, ARTBA Elect New Leaders
Utah Department of Transportation Executive Director Carlos Braceras was elected president of the American Association of State Highway and Transportation Officials (AASHTO) at the annual meeting in Atlanta last month. Missouri Department of Transportation Director Patrick McKenna was elected vice president. For more information, click here.

The American Road & Transportation Builders Association (ARTBA) elected Lane Industries President/CEO Bob Alger as chairman at its annual meeting in New York City on Oct. 1. For more information click here.
Coal Consumption for Power Generation Falls to 35-Year Low
With power producers shuttering coal-fired units in favor of cheaper and more flexible natural gas as well as solar and wind, coal consumption for power generation fell to 298 million tons in the first half of 2018, down from 312 million in the same period in 2017 and the lowest level since 1983.

U.S. power producers generated almost 6 percent less electricity from coal in the first half of the year even as total generation rose almost 5 percent and gas-fired generation was up 17 percent.

Generators continue to close coal units, with coal-fired generating capacity down to 246 gigawatts at the end of June 2018, compared with 262 gigawatts in June 2017 and 273 gigawatts in June 2016. Remaining coal units are also being run for fewer hours and/or at lower rates than last year.
USDA Provides $392 Million for Rural Water and Wastewater Projects
The U.S. Department of Agriculture (USDA) will provide $392 million through the Water and Waste Disposal Loan and Grant program to fund 120 rural water and wastewater infrastructure projects in 42 states.

The Water and Waste Disposal Loan and Grant program finances drinking water, stormwater drainage and waste disposal systems for rural communities with 10,000 or fewer residents. In many cases, states, other federal partners, and nonprofits work with USDA to also provide funding for these projects.

To view the list of funded projects, click here.
U.S. Department of Transportation Announces $366.2 Million for Bus System Modernization
The Federal Transit Administration will award $366.2 million in grants "to improve the safety and reliability of America's bus systems and enhance mobility for transit riders." A total of 107 projects in 50 states and territories will receive funding from FTA's Buses and Bus Facilities Infrastructure Investment Program.

The funding supports projects to replace, rehabilitate, and purchase buses and related equipment, as well as projects to purchase, rehabilitate, and construct bus-related facilities.

To view a list of the selected projects, click here.
Meacham, Ebeling, Sheahan, and O'Malley Headline ACEC Fall Conference in Las Vegas
The 2018 ACEC Fall Conference at the Bellagio resort in Las Vegas, October 28-31, features a high-powered line-up of internationally renowned speakers.
Pulitzer Prize-winning historian Jon Meacham, whose current book The Soul of America: The Battle for Our Better Angels topped The New York Times bestseller list, will offer historical context to today's political climate.

Mick Ebeling, CEO of Not Impossible Labs, will share his inspirational story of collaborating with engineers, programmers, and philanthropists to create innovative solutions to the problems facing the planet's most vulnerable people.

Peter Sheahan, an expert in workforce trends and generational change, will offer insights on how engineering firms can gain a competitive advantage in today's turbulent market.

Susan O'Malley, the first female president of a professional sports franchise, will discuss leadership and thriving in a male-dominated field.

In addition, the Conference features two panels of Member Firm CEOs discussing key industry issues, more than 30 management education programs, CEO roundtables, the CASE Convocation, the annual ACEC Awards Luncheon, and numerous ACEC coalition, council, and forum events.

There's still time to register. For more information, click here.
Submit Your Firm's Creative Anti-Drought Project to Engineering Inc. by November 9.
The March/April 2019 issue of Engineering Inc. will spotlight Member Firm's creative anti-drought projects.

If your company has designed a project to overcome severe drought that you'd like to be considered for in this special Engineering Inc. section, e-mail the information below to Engineering Inc. Staff Editor Andrea Keeney by Friday, November 9, 2018.

In a one- or two-page document, submit the following: project name and location; project overview, including unique aspects/challenges; a project photo; and the name, title, phone number and e-mail address of the Member Firm executive to be interviewed for the project profile. The project can be under construction or recently completed.

If you have any questions, contact Andrea Keeney.
How to Reposition Your Firm in an Era of Accelerating Change, October 9
Disruptive forces are upending the engineering industry at a breathless pace. Artificial intelligence, connected devices, delivery solutions, big data, society, politics, and the labor pool are contributing to the wholesale reshaping of the market. Without question many businesses will disappear, but others will adapt—make sure yours is one of them.

In the October 9 online class, Repositioning in an Era of Accelerating Change, join Doug Reed to learn how your firm can make the changes necessary to thrive in this ever-changing market.

During this 60-minute session you'll explore:
The urgency to influence change and control your firm's future
Strategies to identify and execute your business' evolution in this future state
Where to get information on predicted changes
For more information and to register, click here.
Register for Induction into the Order of the Engineer at Fall Conference
The College of Fellows will host the induction ceremony for interested ACEC Members into The Order of the Engineer—a national organization dedicated to "upholding the standards and dignity of the engineering profession"—at the upcoming 2018 ACEC Fall Conference in Las Vegas.

The Order of the Engineer was initiated to foster a spirit of pride in the profession, emphasizing that the primary purpose of engineering is to serve the public and that all members of the engineering profession share a common bond.

At the Fall Conference ceremony, inductees will take the "Obligation of the Engineer" oath and be presented with a stainless steel ring as a symbol of membership.

Click here to register for the induction ceremony and to order rings. Click here to visit the Order of the Engineer website. For further information, contact Daisy Nappier.
The American Council of Engineering Companies
1015 15th St., NW, 8th Floor, Washington, DC 20005-2605
Phone:

202-347-7474

- Fax: 202-898-0068
www.acec.org
- E-mail:
acec@acec.org
Alan D. Crockett, Director, Communications
Gerry Donohue, Editor/Designer