ACEC Awards Minuteman Fund Grants to Florida and Indiana to Support Infrastructure Initiatives
ACEC/Florida has received a Minuteman Fund grant to support ballot initiatives in three counties to levy one-half to one percent sales surtaxes to fund transportation improvements, school upgrades, and new school construction. If all initiatives pass, the counties would have nearly $27 billion over ten years to invest in these projects. ACEC/FL and its Member Firms are supporting political committees in each county advocating for passage of the referendums.

ACEC also provided a grant to ACEC/Indiana as it advocates for water-related infrastructure funding in the upcoming General Assembly session. Since 2003, the M.O. has urged lawmakers to increase funding for water infrastructure, and has proposed an additional $500 million/year for the next 20 years. ACEC/Indiana will work with state legislative leaders and the General Assembly's Water Infrastructure Task Force to develop recommendations.

For more information on the Minuteman Fund, click here.
Delaware Meets Fundraising Goal "To Get ACEC/PAC Dollars Out To The Campaigns"
For the 12th consecutive year, ACEC/Delaware has reached its annual ACEC/PAC goal.

"Because this is a congressional election year, we know how important it is to meet our goal as early as possible and get ACEC/PAC dollars out to the campaigns that need it most," said PAC Champion Ted Januszka of Pennoni Associates in Newark. "And we plan to keep raising ACEC/PAC funds the rest of the year!"

Delaware joins Indiana, Hawaii, Wisconsin, Georgia, Montana, Tennessee, Massachusetts, South Carolina, Rhode Island, Connecticut, New Hampshire, Alabama, Kentucky and Illinois as states already at goal for 2018. Several more MOs are expected to meet their fundraising goals prior to the upcoming ACEC Fall Conference in Las Vegas.

For more information about ACEC/PAC and ACEC's political programs, visit the ACEC/PAC website or contact ACEC Executive Director of Political Affairs Greg Knopp or ACEC/PAC Director Jennifer Pugh.
Power of ACEC Video, Engineering Inc. Win Best in Class in 2018 Eddie/Ozzie Awards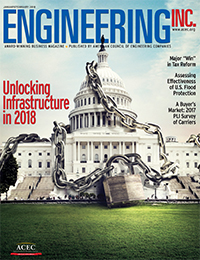 The January/February 2018 Engineering Inc. was named Best Full Issue Magazine in the Energy, Utilities, Engineering category, in the annual Eddie/Ozzie Awards last week in New York City.

The Council's membership video, Power of ACEC won the Ozzie for Best Video in the Association/Non-Profit category.

For more than 20 years, the Eddie and Ozzie Awards have recognized excellence in magazine editorial and design across all sectors of the industry. The 2018 competition featured more than 2,500 entries.
FIDIC CEO Calls for Improved Collaboration Among Project Stakeholders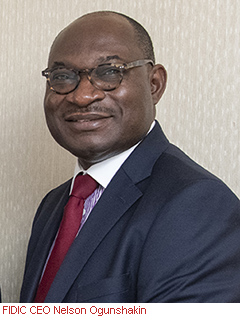 At the World Bank Global Infrastructure Facility advisory council meeting in Singapore on Tuesday, Nelson Ogunshakin, CEO of the International Federation of Consulting Engineers (FIDIC), said improved collaboration among investors, developers, and consulting engineers will enhance project preparation, investment feasibility, design, and implementation.

Speaking to foreign governments officials, multilateral development bankers, private sector investors and financiers, Ogunshakin highlighted the need for increased standardization of procurement contractual processes and financing documentation.

"FIDIC represents 1.1 million engineering professionals in more than 100 countries worldwide," he said. "It's clear from our global experience that the more we adopt a uniform approach in the area of contract and financial provision then the more efficient and effective final project outcomes can be."

ACEC is the largest member of FIDIC, which represents consulting engineer associations around the globe.
Americans Would Pay More to Fund Infrastructure Improvements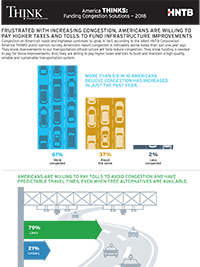 Seven out of 10 Americans would be willing to pay higher taxes or tolls for infrastructure improvements, according to a recent HNTB survey.

Among those willing to pay more, 46 percent support tolls and other fees paid by users of specific roads, bridges or tunnels, and 27 percent would like to see higher taxes paid by everyone.

The Funding Congestion Solutions—2018 survey found that 61 percent of respondents believe that congestion on U.S. roads has increased in the past year.

Eight in 10 respondents said they would be willing to pay tolls to avoid congestion and have predictable travel times, even when free alternatives are available; and 64 percent believed that price-managed lanes can help manage or reduce highway congestion.

The survey of 1,011 adults was conducted in September.

To view the survey results, click here.
Construction Costs Continue to Climb—Even Without Tariffs
Construction materials prices climbed 7.4 percent over the past year, according to new data from the U.S. Department of Labor.

The primary cause for the increase was the double-digit rise in cost of several key materials such as diesel fuel up 29 percent, steel pipe increasing 22 percent, fabricated structural metal climbing 12 percent, asphalt paving mixtures and blocks climbing 11 percent, and aluminum mill shapes increasing 11 percent.

"The new construction materials cost data likely under-reports actual price increases," cautioned Ken Simonson, chief economist at the Associated General Contractors. "Federal officials collected most of their data in the first half of the month, before new tariffs affecting many construction materials started."

Labor costs are also on the rise. In September, for the first time, the average hourly wage for construction workers surpassed $30 an hour. Year-over-year construction wages rose 3.1 percent. With the industry facing an ongoing worker shortage, labor costs will continue to climb in the coming months.
ACEC/Texas Supports Senator Cornyn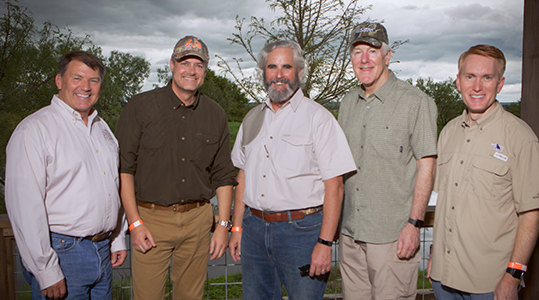 National EEA Awards Online Submittal Portal Opens
The 2019 Engineering Excellence Awards (EEA) online submittal portal is now open for submissions. To compete in the national EEA competition, all project materials must be submitted online through the portal.

To qualify for the national EEA program, projects must first be entered through your state Member Organization. All state programs are now underway. Click here for state executive director contact information and state EEA entry guidelines.

The entry deadline for the national 2019 EEA competition is January 4, 2019. Judging will be held in February and all award winners will be honored at the annual EEA Gala on May 7, 2019, during the ACEC Annual Convention in Washington, D.C.

Click here for more information.
Submit Your Firm's Creative Anti-Drought Project to Engineering Inc. by November 9.
The March/April 2019 issue of Engineering Inc. will spotlight Member Firm's creative anti-drought projects.

If your company has designed a project to overcome severe drought that you'd like to be considered for in this special Engineering Inc. section, e-mail the information below to Engineering Inc. Staff Editor Andrea Keeney by Friday, November 9, 2018.

In a one- or two-page document, submit the following: project name and location; project overview, including unique aspects/challenges; a project photo; and the name, title, phone number and e-mail address of the Member Firm executive to be interviewed for the project profile. The project can be under construction or recently completed.

If you have any questions, contact Andrea Keeney.
Keys to Transitioning Project Managers into Firm Leaders, October 23
With business and project success so closely connected, it's only natural that your project managers should grow into firm leaders. The same skill sets apply: clear communication, financial insights, people skills.

In the October 23 online class, Transitioning Project Managers to Firm Leaders, Howard Birnberg will explore how to bring out the best from your PMs and help them successfully transition into leadership positions within your firm.

Takeaways from the program include:
Understanding the characteristics of a strong/effective project manager
Defining the role of project managers in the engineering services marketing process
Rooting out problems with weak or ineffective project management systems
Identifying the topics for training project managers transitioning to firm leadership
Outlining the benefits and options of mentoring programs
For more information and to register, click here.
Register for Induction into the Order of the Engineer at Fall Conference
The College of Fellows will host the induction ceremony for interested ACEC Members into The Order of the Engineer—a national organization dedicated to "upholding the standards and dignity of the engineering profession"—at the upcoming 2018 ACEC Fall Conference in Las Vegas.

The Order of the Engineer was initiated to foster a spirit of pride in the profession, emphasizing that the primary purpose of engineering is to serve the public and that all members of the engineering profession share a common bond.

At the Fall Conference ceremony, inductees will take the "Obligation of the Engineer" oath and be presented with a stainless steel ring as a symbol of membership.

Click here to register for the induction ceremony and to order rings. Click here to visit the Order of the Engineer website. For further information, contact Daisy Nappier.
The American Council of Engineering Companies
1015 15th St., NW, 8th Floor, Washington, DC 20005-2605
Phone:

202-347-7474

- Fax: 202-898-0068
www.acec.org
- E-mail:
acec@acec.org
Alan D. Crockett, Director, Communications
Gerry Donohue, Editor/Designer