Midterm Election Changes Face of Congress; ACEC/California Scores Huge Win on Infrastructure Funding
With the Democrats taking control of the House of Representatives and the Republicans solidifying their control in the Senate, the next Congress poses both challenges and opportunities for the engineering industry.

"ACEC has built a strong reputation on Capitol Hill for bipartisanship and is well-placed to work with the new leadership," said ACEC President and CEO Linda Bauer Darr.

Democrats who have a close relationship with the Council and support a strong federal infrastructure program will likely chair key committees, including Rep. Peter Defazio (D-OR), who is expected to lead the House Transportation & Infrastructure Committee, and Rep. Richard Neal (D-MA), who is projected to assume control of the House Ways & Means Committee.

Election night saw ACEC and the state organizations win several critical ballot initiatives. The biggest victory came in California, where voters defeated Proposition 6, which sought to repeal the robust infrastructure program approved last year that provides $5.2 billion annually to improve the state's roads and bridges.

"Through our Minuteman Fund, we invested heavily in this effort," said Darr. "ACEC/California, led by Executive Director Brad Diede, worked extraordinarily hard as part of a successful campaign to protect this needed investment."

ACEC Texas, and particularly its Houston chapter, used Minuteman Fund support to defeat an attempt to repeal major water infrastructure funding legislation previously approved by Houston voters.

ACEC/Florida secured wins in four counties that will raise sales taxes to support transportation infrastructure and school improvement/construction, once again with Minuteman Fund support.
ACEC CEO Bauer Darr Maps Out Road Ahead for Council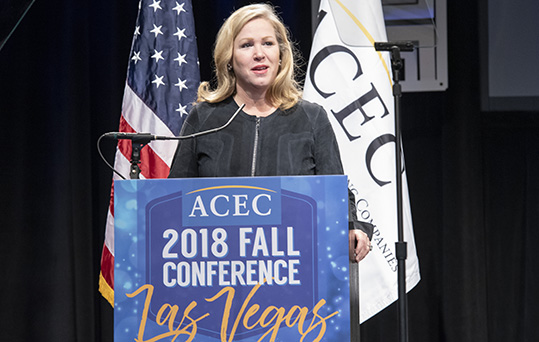 After three months in office and in the wake of a listening tour of the State Organizations, ACEC President/CEO Linda Bauer Darr laid out her vision for the Council to the Board of Directors. Her vision is to:
"Work with and through our extensive network of grassroots member organizations to communicate and grow the ACEC value proposition for our members, and build strength and prominence for ACEC and the business of engineering locally, in Washington, DC, and on the national stage."
Over the next 12 months, the Council will update its strategic plan. "To support that effort," Darr said, "we will survey our members to assess where we are in terms of providing value and to get a sense of their priorities."

Darr will reallocate resources within the national organization, creating a new Membership and Member Organization Services Department "to strengthen our relationship with the MOs and to ensure that they are well-resourced to grow." Darr will move part of the existing team into the newly formed department to focus on enhanced member communications and to build greater awareness of the ACEC value proposition.

Darr plans to "build out the ACEC Research and Management Foundation to support our public policy agenda...and to create a new position focused on strategic communications to create a compelling narrative about our industry and to target opportunities to engage with the media, extend our influence, and build prominence for engineering and ACEC."
EBI Survey: Current Market Strength Buoys CEO Confidence, But Future Concerns Remain
U.S. engineering firm leaders are optimistic about the strength of the A/E/C market, according to the latest ACEC Engineering Business Index (EBI) survey, but concerns remain about the staying power of the U.S. economy and the impact of the ever-tightening pool of qualified engineers.

In the 3rd Quarter 2018 survey, the EBI score rose 0.8 points to 66.3. The EBI distills CEO confidence about their firms and their markets into a single index number, and any score above 50 signals positive CEO sentiment.

The strength of the current market, and the backlog and future profits it will produce were prime drivers behind the rise in the EBI score. "Business has never been better," said one survey respondent.

At the same time, firm leaders worry about whether the economy can maintain its torrid pace.

"We see 2019 as being about the same as this year with the possibility of work levels tapering off by the end of 2019 going into 2020," said another respondent.

Asked about the greatest threat to their firm's success, 37 percent pointed to the shortage of engineering talent.

"Experienced labor is difficult to find," said one respondent. "We've been hiring new graduates and engineers with two to four years of experience."

Other threats were "Adverse Economic Trends" (26 percent), "Lack of Public/Private Funding (18 percent), and Commoditization of Engineering Services (14 percent).

To read the complete EBI report, click here.
Gozdziewski Nominated for ACEC Chair; Three Vice Chair Nominees
Charles Gozdziewski, executive chairman of Hardesty & Hanover in New York, N.Y., has been tapped to be ACEC Chair in 2020-2021 by the ACEC Nominating Committee, subject to approval by the ACEC Board of Directors.

The Nominating Committee also forwarded three new Vice Chair nominees, who would join the Executive Committee in May, 2019: John Carrato, Alfred Benesch, Chicago, Ill.; Keith London, Kennedy/Jenks Consultants, Murrieta, Calif., who is currently serving an interim term on the Executive Committee; and Kenneth Smith, T. Baker Smith, Houma, La.
Meacham Reminds Fall Conference Audience that American Politics Has Been Here Before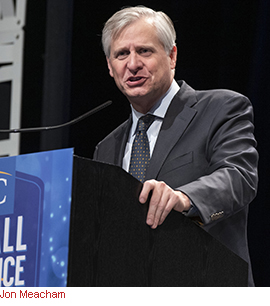 Presidential historian and author Jon Meacham told Fall Conference attendees that despite the nation's despair about the current political climate, nothing that is happening today is new.

"There's no way we can say 'things have never been worse politically,'" he said. "If we don't acknowledge and learn from our history, we're doomed to make the same mistakes over and over again."

Meacham recounted that in the late 1700s, President John Adams coined the phrase "fake news," and in the early 1900s the influx of Asian immigrants gave rise to a fervent nationalist movement.

He said America will always contain 50 percent of the citizens who like what's going on and 50 percent of the citizens who don't. "It doesn't mean we're going off the cliff, it's called a democracy.

"Closing our minds strictly because of affiliation makes it difficult to discover those things that we may actually agree on."
CEO Panel Recommends Side-Stepping Commoditization Through Differentiation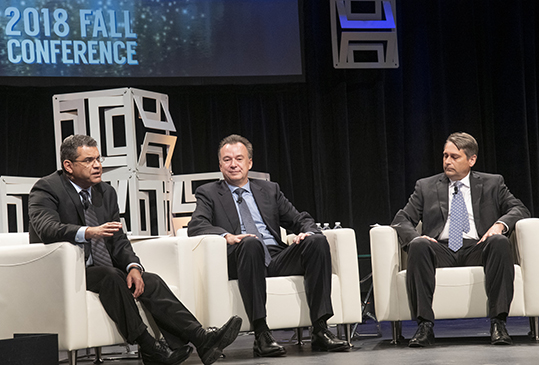 With firms facing the increasing commoditization of engineering services, a panel of CEOs addressed how they distinguish their firms.

"You either compete on price or on differentiation," said Arcadis North America CEO/COO Joachim Ebert. "Given the choice between the two, I'll take differentiation every day of the week."

Golder Global President & CEO Hisham Mahmoud said his firm's strategy has been to concentrate on its core geo-science practice. "We've chosen to be specialized as a company rather than generalized," he said. "Focus on areas where you can differentiate yourself."

Equally important, said Joseph Sczurko, president, strategy & development at Wood, is "to understand what the competition's differentiators are."

All three emphasized that the critical step is to increase the firm's focus on the client's interests.

"We're shifting from being a project-centric firm to be more client-centric," said Sczurko. "Figure out your value proposition. What value do you bring to the customer."
Mick Ebeling Calls on Fall Conference Attendees to Practice "Enlightened Capitalism"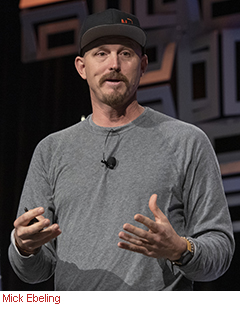 "Everything around us was at some point impossible," Not Impossible Labs CEO Mick Ebeling told a general session audience at the Fall Conference. "Impossible is a total fallacy."

Ebeling's firm develops technological solutions to problems that he terms "absurd." For example, the firm built an affordable 3D printer to create prosthetic limbs for children in the South Sudan who have been wounded in the long-running conflict; and they created an open-source eyewriter for a paralyzed artist.

Ebeling combines technology and story-telling. He and his team find a problem to solve for a single person, and then use video and social media to demonstrate how the solution can help many people.

ACEC members were a receptive audience for Ebeling's enlightened capitalism message. "Doing good is good business," he said. "It's good branding. It's good growth. It's good recruiting."

To learn more about Not Impossible Labs, click here.
CEOs Panel Shares Tactics for Recruiting and Retaining Top Talent
Leaders of firms that have been nationally recognized as "Best Places to Work" shared their best ideas in a CEO Panel at the Fall Conference.

Kimley Horn President Steve Lefton focused on employee development: "Younger staff have an insatiable thirst for knowledge, from technical skills to leadership coaching. In the past year, more than half of our staff has taken part in some form of training."

All three firms are employee-owned. That's not a coincidence, said Burns & McDonnell CEO Ray Kowalik, but he added that it increases the complexity. "You have to wear two hats, employee and owner," he said. "You have to balance the two to remain competitive." Using the example of employee benefits, Kowalik said that the firm is probably in the 50 to 60th percentile in the industry, but focuses on "benefits that are used by the largest number of team members."

At Garver, President/CEO Dan Williams credits the "culture of fellowship. "It's a huge incentive when everyone knows each other," he said. "The better they know each other, the better they work together."

Other tips for retaining employees included:
Celebrate every firm achievement
Never stop recruiting
Communicate on why decisions are made and how they affect your employees
Foster an entrepreneurial spirit in the firm
Push authority down to the local level
Sheahan Urges Fall Conference Attendees to "Lead Your Client to the Future"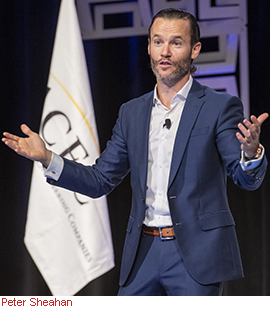 Business Strategist Peter Sheahan gave a high-paced presentation at the Fall Conference, addressing how firms can grow and prosper in a changing market.

Addressing the commoditization threat in engineering, he said, "Don't complain that your core product is getting commoditized if you are solving the same problem in the same way as your competition."

Sheahan said firms need to capitalize on today's strong economy to move differentiate themselves.

"Move up the value chain, solve the more complex problem, and put the customer at the center," he advised. "Lead your client to the future."

Sheahan also offered the provocative premise that people are prisoners of their own assumptions and fail to see beyond them. "If you want to know what the market will look like in 10-15 years," he said "Look right in front of you today."
O'Malley Shares Secrets of Effective Leadership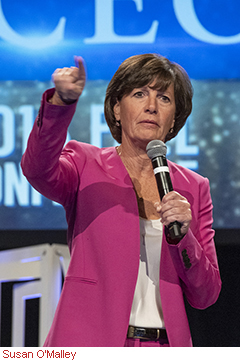 Susan O'Malley, who was the first female president of a professional sports franchise, presented her rules for succeeding in a male-dominated environment.

"A lot about effective leadership is changing the culture," said O'Malley, who at age 29 became president of the NBA's Washington Bullets (now the Wizards). She also headed Washington Sports and Entertainment, Inc., the Verizon Center, the WNBA's Washington Mystics and Ticketmaster.

She offered seven leadership tenets:
Make your bed every day: "If you're not getting the small things right how can you get the big things right?"
Plan your work and work your plan: "Constantly think how you will move forward."
Keep working on your craft: "Always strive to get a little better every day."
Set clear expectations: "Communicate as opposed to assuming it is understood what you want."
When you mess up, make it right: "Don't be afraid to admit a mistake, but make sure that mistake is rectified."
Have Fun: "If you are enjoying what you're doing, you're going to do it better."
People make the difference: "Surrounding yourself with talented, positive people will make your job easier."
Fall Conference Propels ACEC/PAC Record Momentum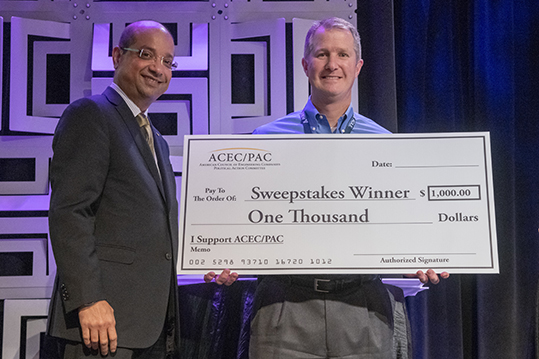 ACEC/PAC raised more than $197,685 at the Fall Conference, keeping the PAC on a record fundraising pace. Year to date, ACEC/PAC has raised $899,158.

More than 475 members participated in the 2018 ACEC/PAC Fall Sweepstakes. Gary Etter of Greenman-Pederson, Inc., in Babylon, N.Y. won the grand prize of $10,000. Camilo Rocha of TRC Companies, Inc. in Encinitas, Calif., and John Atz of Kimley-Horn in West Palm Beach, Fla. each won $5,000. The $2,500 winners were Matthew Natale of Johnson, Mirmiran & Thompson in Philadelphia, Pa. and Kumar Allady of RADISE International in Riviera Beach, Fla. Ten members won $1,000: Rick Baldocchi of Avcon, Inc. in Orlando, Fla.; Larry Swartz of Notkin Engineering, Inc. in Seattle, Wash.; David Wantman of WGI in West Palm Beach, Fla.; Andrew Pennoni of Pennoni Associates, Inc. in King of Prussia, Pa.; Mark Prochak of DRMP, Inc. in Orlando, Fla.; Craig Hunter of HDR in Omaha, Neb.; Peter Partlow of E Sciences, Inc. in Orlando, Fla.; David Scott of ACEC/Iowa; Bruce Stidworthy of Bohannan Huston, Inc. in Albuquerque, N.M.; and Joseph Hagerty of Oates Associates, Inc. in St. Louis, Mo.

The ACEC/PAC TopGolf Tournament raised $11,300. In the "Beat the Pro" contest, Stephanie Christensen of EMCS, Inc. in Wausau, Wis. won for the women and Jay Simson of ACEC/New York won for the men.

ACEC/PAC also hosted a special "Thank You" reception for the ACEC/PAC Major Donors of $1,000 or more.

For more information about ACEC/PAC and ACEC's political programs, visit the ACEC/PAC website or contact ACEC/PAC Director Jennifer Pugh.
College of Fellows Charity Fun Walk Raises More Than $3,000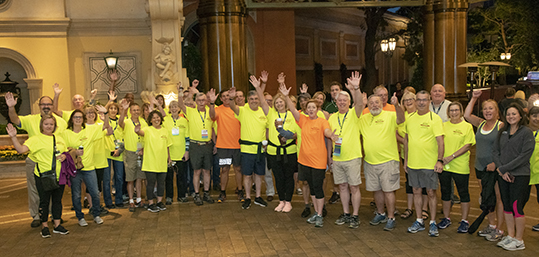 ACEC Celebrates Scholarship Winners, Community Service Awardees and Other Honorees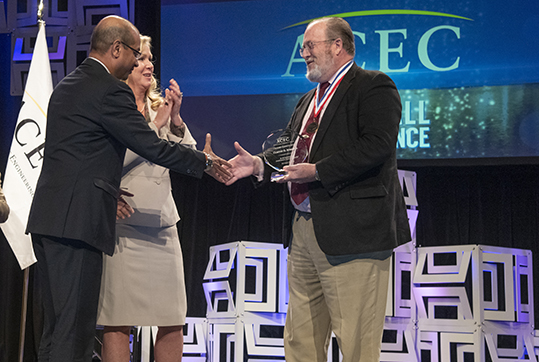 At the Annual ACEC Awards Luncheon, the Council honored exceptional members and students.

Five Member Firm employees were recognized as Young Professionals of the Year for their significant contributions to the industry early in their careers: Raine Gardner, MSA Professional Services, Baraboo, Wis.; Aaron Grote, Lamp Rynearson, Omaha, Neb.; Kurt Lysne, Moore Engineering, West Fargo, N.D.; Eddy Roberts, LERA Consulting Structural Engineering, New York, N.Y.; and Andrew Woodroof, Digital Engineering, Kenner, La.

The College of Fellows awarded scholarships to eight outstanding engineering students: Sarah Drummey, $10,000 ACEC Scholar of the Year Scholarship; Jacob Moyer, $10,000 Rina Lee Scholarship; Michael Tormey, $5,000 ACEC Life/Health Trust Scholarship; Leah Bectel, $5,000 a/e ProNet Scholarship; Austin Eck, $5,000 Professional Liability Agents Network Scholarship; Kristine Obenour, $4,000 Council of American Structural Engineers (CASE) Scholarship; Erin Dillman, $3,000 Small Firm Council Scholarship, and Tyler Kleinsasser, $3,000 College of Fellows Scholarship.

The 2018 Community Service Award, recognizing a Council member for their extraordinary contribution to their community, was presented to Kunal Gangopadhyay, EBA Engineering, Nottingham, Md.

The Coalitions Distinguished Service Award was given to Mark Borushko, David Evans & Associates, Phoenix, Ariz.

Black & Veatch's Clint Robinson received the 2018 ACEC Chairmen Emeritus Award for his "outstanding service and support to the Council."
Five Council Members Inducted Into Order of the Engineer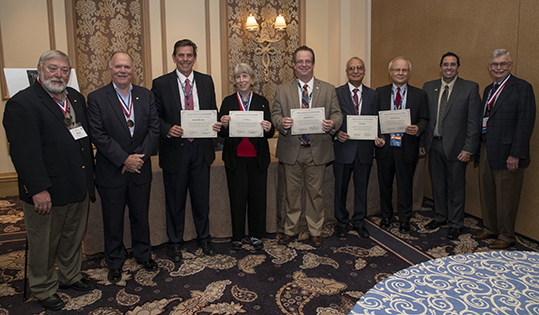 The American Council of Engineering Companies
1015 15th St., NW, 8th Floor, Washington, DC 20005-2605
Phone:

202-347-7474

- Fax: 202-898-0068
www.acec.org
- E-mail:
acec@acec.org
Alan D. Crockett, Director, Communications
Gerry Donohue, Editor/Designer