M.O. Leadership Orientation Sessions Focus on Vision, Expanded Services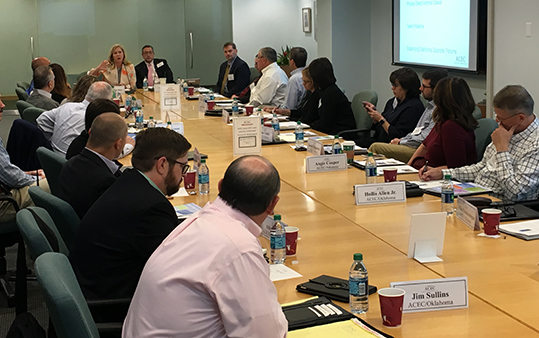 Sixty-seven representatives from 33 Member Organizations are participating in the annual Leadership Orientation sessions at the ACEC/National offices in Washington, D.C. Representatives from the ACEC Life/Health Trust and ACEC Retirement Trust also attended the meetings.

In the November 8-9 and November 12-13 sessions—and in the upcoming November 15-16 meeting—ACEC President/CEO Linda Bauer Darr shared her vision for the Council, and staff members outlined current and new services that the national organization provides to the M.O.s to improve their legislative efforts, education programs, and member recruitment and retention.

"The Member Organizations are our pipeline for new members and engagement at the national level," said Darr. "We will work with them to ensure that they are well-resourced to grow and to prosper."
Transportation Initiatives Fared Well in Mid-Term Elections
The defeat of Proposition 6 in California, which would have repealed $5.2 billion in annual transportation infrastructure improvements, was the biggest transportation win in last week's elections, but there were many smaller victories.

At least 314 transportation-related measures appeared on state and local ballots during the mid-term election, according to the Eno Center for Transportation. The measures accounted for more than $50 billion in transportation investments, including roads and bridges, public transit, airports, ports, and cycling and pedestrian paths. Almost two-thirds of the ballot issues were in Michigan and Ohio, which require property tax increases for improvements to be approved by voters.

Last week's Last Word reported on ACEC/Florida's wins—with Minuteman Fund support—in four counties to raise taxes to pay for infrastructure upgrades.

Other notable wins include:
Arlington County in Virginia passing a $74.6 million bond issue.
81 percent of Austin, Texas voters approving a $160 million multimodal transportation bond measure.
Four New Mexico counties renewing a tax that funds commuter rail and bus systems.
Maine voters approving a $106 million bond for transportation improvements.
Michigan passing a recreational marijuana measure, which includes a 10 percent excise tax, some of which goes into the state's transportation fund.
Transportation advocates suffered a couple of significant losses. In Missouri, a proposal to increase the gas tax lost and Colorado voted down two transportation bond measures.
Political Divide Could Lead to Passage of Infrastructure Legislation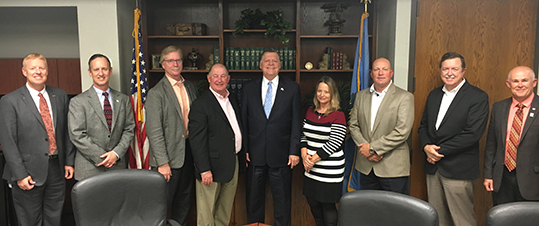 The divided Congress may increase the chances for a new federal transportation infrastructure program to replace the FAST Act, which expires in September 2020.

Historically, divided governments have yielded compromises on infrastructure investment because both parties can take credit for the win and get cover for any repercussions.

In a recent speech, President Trump said, "We have a lot of things in common on infrastructure. It really could be a beautiful bipartisan type of situation." And key Democratic leaders, including current House Minority Whip Steny Hoyer (D-MD), have said that infrastructure would be a top priority in the next Congress.

The primary roadblock for any agreement will be funding. Republicans have generally favored approaches that don't require tax increases, while Democrat proposals have included an increase in the federal gas tax.
Baltimore Voters Say No to Water Privatization
More than three-quarters of Baltimore residents last week voted to ban the privatization of the city's water and sewerage systems. Baltimore is the largest U.S. city to explicitly rule out water privatization.

Baltimore's water system is one of the oldest in the country and decades of deferred maintenance have pushed up rates and spurred interest from private water companies. The measure prohibits any asset sales or leases of the system.

Baltimore officials say they were concerned that privatizing the system would push up rates further.

Other cities have reportedly expressed interest in the measure. The Pittsburgh City Council recently met with members of the Baltimore City Council to discuss the issue.
Leading Indicator for Non-Res Construction Falls for Third Straight Month
The Dodge Momentum Index, which tracks the initial report of nonresidential building projects in planning, dropped 4.2 percent in October. This marked the third consecutive monthly decline for the Index, which Dodge says has "been shown to lead construction spending for nonresidential buildings by a full year."

The Momentum Index consists of two components: Commercial building and institutional building. Much of the impetus in the Index's decline has been due to the commercial component, which suggests that the sector is near or has reached its peak. The institutional component has been relatively stable, due to increased public funds for projects such as schools and airports.

For more information on the Momentum Index, click here.
EPA Invites 39 Water Projects to Apply for WIFIA Funding
The Environmental Protection Agency (EPA) has invited 39 projects in 16 states and the District of Columbia to apply for Water Infrastructure Finance and Innovation Act (WIFIA) loans. The projects will receive WIFIA loans totaling approximately $5 billion to help finance more than $10 billion in water infrastructure investments.

The EPA received 62 letters of interest from both private and public entities in response to the 2018 WIFIA Notice of Funding Availability.

Of the selected projects, 37 will address aging infrastructure. Eight will also reduce lead or other drinking water contaminants.

For more information about the projects, click here.
Study Comparing Power Generation Costs Includes Environmental and Health Impacts
Natural gas, wind, and solar energy are the cheapest sources of new electricity generation, according to a study by the University of Texas at Austin's Energy Institute.

The study compared power sources using the "Levelized Cost of Electricity" (LCOE) which factors in externalities such as public health and environmental effects associated with electricity generation.

Wind power was the cheapest power source in the High Plains states, the Midwest, Texas, and even part of the Northeast; solar power was the most affordable source in the Southwest, as well as part of the eastern and northern regions of the country; and natural gas was cheapest for much of the rest of the country.

To view the report, click here.
Model Code for Green Construction Released
The International Code Council, ASHRAE, the Green Building Council, and the Illuminating Engineering Society have released the 2018 Green Construction Code (IgCC).

The IgCC takes a whole systems approach to the design, construction and operation of buildings and includes measures to lower operating costs, improve indoor environments, decrease the impact on natural resources, and improve neighborhood connections and walkability.

A public-private collaboration, the green code correlates with the International Energy Conservation Code, ASHRAE 90.1, and many other standards.

"Taking into account the latest technologies and cost-effective strategies for dealing with resource scarcity, the IgCC helps cities, states and countries build stronger, smarter, sustainably, and more resiliently," said Code Council CEO Dominic Sims.

To purchase the 2018 IgCC, click here.
College of Fellows Inducts New Members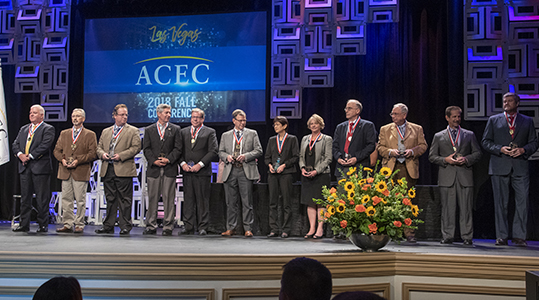 National EEA Awards Online Submittal Portal Opens
The 2019 Engineering Excellence Awards (EEA) online submittal portal is now open for submissions. To compete in the national EEA competition, all project materials must be submitted online through the portal.

To qualify for the national EEA program, projects must first be entered through your state Member Organization. All state programs are now underway. Click here for state executive director contact information and state EEA entry guidelines.

The entry deadline for the national 2019 EEA competition is January 4, 2019. Judging will be held in February and all award winners will be honored at the annual EEA Gala on May 7, 2019, during the ACEC Annual Convention in Washington, D.C.

Click here for more information.
ACEC Boosts Scholarship Program to Attract Best and Brightest to Industry
To better compete with other industries for the best and brightest talent, the Council is enhancing a student's ability to pursue an engineering career by boosting the ACEC Scholarship Program. Last year, the Council awarded scholarships to eight deserving students totaling $45,000.

To expand the program—making more and larger scholarships available—ACEC has launched a fundraising drive.

Members can invest in our industry's future by providing monetary support to the ACEC scholarship program today. All donations toward the program are 100 percent U.S. tax deductible.

For more information about the scholarships and to contribute, contact Daisy Nappier.
Creating a Seller-Doer Culture in Your Firm, November 27
Every engineering firm needs rainmakers, but having too much of your revenue rest on the shoulders of a few people can be risky and limit growth.

In the November 27 online class The Executive's Guide to Creating a More Sales Driven Culture, Jim Rogers will show you how distributing the sales load will help you grow your firm more rapidly.

Rogers will lay out the blueprint for creating a more sales-driven culture, including how to align five elements of your organization to:
Support a sales driven environment
Select and develop the "right" people
Motivate people to sell
Create and sustain culture change
For more information and to register, click here.
The American Council of Engineering Companies
1015 15th St., NW, 8th Floor, Washington, DC 20005-2605
Phone:

202-347-7474

- Fax: 202-898-0068
www.acec.org
- E-mail:
acec@acec.org
Alan D. Crockett, Director, Communications
Gerry Donohue, Editor/Designer