House to Act on Tax Extenders, Including ACEC-Backed Energy-Efficient Commercial Buildings Deduction
The House of Representatives is expected to consider legislation this week that would extend nearly 20 expired tax provisions through the end of 2018, including the Section 179D energy-efficient commercial buildings tax deduction.

ACEC strongly supports extension of Section 179D.

The legislation also includes a few technical corrections to the Tax Cuts and Jobs Act, retirement savings provisions, incentives for start-up companies, and reforms to the IRS.

Although the House is likely to have the votes for passage, Senate consideration is unclear. Key Senate Democrats have raised concerns about the lack of bipartisan, bicameral consultation, so resolution of the tax extenders may spill into 2019.
Arkansas, Nevada and New York Latest States to Achieve PAC Goals
ACEC/Arkansas, ACEC/Nevada and ACEC/New York hit their 2018 PAC fundraising targets this week, bringing the total number of states currently at or over their goals to 22.

ACEC/NY has surpassed its goal for five consecutive years, and co-PAC Champion (and National ACEC/PAC Chairman) Charlie Gozdziewski of Hardesty & Hanover expects 2018 to be its most successful fundraising year. "We led the nation in PAC fundraising last year and we expect to do the same this year," he said.

"We raised nearly $84,000 in 2017," said co-PAC Champion Tom Cascino of AECOM. "Our goal is to beat that by the end of the year."

Led by co-PAC Champions Brad Hammond of McGoodwin, Williams and Yates, and Roger Dodd of FTN Associates, Arkansas made goal for the 14th consecutive year. "We sell ACEC/PAC as an investment in our firms and in our business," said Dodd. "Our members understand good government begins with greater involvement in the political process."

At goal for the ninth straight year, ACEC/Nevada PAC Champion Scott Plummer of GCW in Las Vegas credited that success to a strong peer-to-peer effort educating members on the impact of federal issues on their firms.

For more information about ACEC/PAC and ACEC's political programs, visit the ACEC/PAC website or contact ACEC Executive Director of Political Affairs Greg Knopp or ACEC/PAC Director Jennifer Pugh.
Steel Tariffs and Strong Economy Wreak Havoc for Infrastructure Projects
Infrastructure projects across the country are facing cost increases and delays due to the rising prices of many key commodities and a tight labor market. The strong economy has created a shortage for some materials, while the 25 percent steel tariffs imposed by the Trump Administration have pushed up steel prices.

According to the Wall Street Journal, diesel fuel costs have risen 27 percent in 2018, steel mill products are up 18.2 percent, and asphalt paving mixtures have climbed 11.6 percent.

"Everything is going up," said Glenn Cairns, president of George R. Cairns and Sons, Inc., after his construction firm's proposal on a Dover, N.H. flood control project came in $1.5 million higher than the city's $3.3 million budget.

Many state Departments of Transportation are feeling the pinch:
The New Hampshire DOT reported that it is paying 30 percent more for steel than in the summer.
In Ohio, the DOT is paying 19.1 percent more for steel than a year ago.
Florida's DOT will spend $7 million more on dozens of road projects to cover half of the steel price increases.
In West Virginia, the bids to repair two dozen bridges on I-70 came in $100 million over budget and the DOT plans to rebid the project.
Construction Starts Rise 21 Percent in October
The value of U.S. construction starts climbed 21 percent in October to an annual rate of $864 billion, nearly erasing the 22 percent decline over the previous three months, according to Dodge Data & Analytics.

In October, the value of nonresidential starts climbed 53 percent, nonbuilding starts--such as pipelines, highways, bridges, wind farms--rose 14 percent, and residential starts were up 2 percent.

Dodge Chief Economist Robert Murray said the strong performance of the nonresidential sector indicates that activity could "continue to proceed at an elevated pace, at least for now." He added that many public projects in the nonbuilding sector are waiting for congressional appropriations, and that the multifamily sector may slow over the coming year due to stricter lending practices.
Survey Highlights Growth and Potential of Smart Cities
A survey of 136 cities found that investments in smart city technologies can trigger substantial economic expansion.

According to ESI ThoughtLab, which performed the survey, a city can increase GDP per capita by up to 21 percent and population growth by 13 percent over the first five years of smart city investments.

In addition to the 136 city survey, the researchers surveyed 750 businesses and 2,000 people in 11 representative cities and performed economic impact models for cities in different stages of smart city maturity.

Key findings from the research include:
Data is the foundation for smart cities, so expert data management is paramount.
Cities must stay on the cutting edge of innovation. For instance, the researchers project that cities' blockchain usage will increase by 752 percent in the next three years, AI by 526 percent, and drones/robots by 298 percent.
Mobility will be multi-modal and connected. The mobility model will include ride and car sharing, smart traffic signals, mobile apps, and smart public transit systems.
Smart city funding will migrate from public sources to private investors. In three years, public-private partnerships will be the dominant source of financing.
For more information, click here.
ACEC/North Dakota Supports Incoming Congressman Kelly Armstrong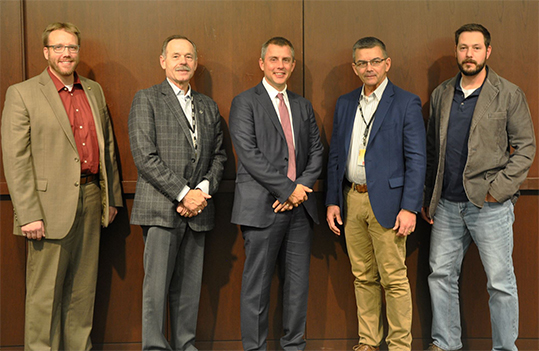 New Capture Planning Book Improves Your Firm's Business Development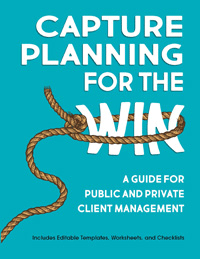 ACEC has just published Capture Planning for the Win, a step-by-step, scalable capture and pursuit management guide that will help you evaluate and improve your firm's business development capabilities.

Whether you're pursuing public or private-sector work, this guide provides a client-focused toolbox for identifying and understanding key stakeholders and decision makers, as well as developing and reinforcing competitive positions to help you write winning proposals.

In addition to the capture and pursuit planning and management material, Capture Planning for the Win includes 11 additional areas for plan development and evaluation:
Strategic and operations planning
Leadership and communications
Budgeting and marketing planning
Client maintenance and service
Integrated marketing planning
New markets penetration
Community involvement and networking
Internal marketing and support
Measuring results and accountability
Business development culture
Training and development
Capture Planning for the Win also includes customizable MS Word templates for benchmarking business development activities, capture planning, and effective Go/No-Gos.

For more information and to purchase the book, click here.
National EEA Awards Online Submittal Portal is Open
The 2019 Engineering Excellence Awards (EEA) online submittal portal is now open for submissions. To compete in the national EEA competition, all project materials must be submitted online through the portal.

To qualify for the national EEA program, projects must first be entered through your state Member Organization. All state programs are now underway. Click here for state executive director contact information and state EEA entry guidelines.

The entry deadline for the national 2019 EEA competition is January 4, 2019. Judging will be held in February and all award winners will be honored at the annual EEA Gala on May 7, 2019, during the ACEC Annual Convention in Washington, D.C.

Click here for more information.
New and Updated COPS Baseline 3-1: Skills Checklist for the Young Surveyor Available Now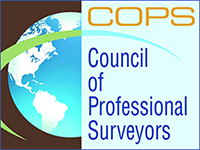 COPS Baseline 3-1: Skills Checklist for the Young Surveyor provides a list of technical skills typically required from an entry level surveyor.

The checklist progresses from what a surveyor needs to learn in their first six months, such as "Methods and application of staking curves horizontal and vertical" through to what they should know after four years on the job, when they "would be expected to be able to read, interpret and work from field notes, sketches, survey plans, architectural plans and engineering plans."

The checklist is provided as a Word document, so firms can add skills according to their specific needs. Young surveyors can also use the checklist to track major career and skill milestones. The checklist is $15 for ACEC members and $30 for non-members.

To order the checklist, click here.
December 3 Online Class Looks at Preparing for Connected and Automated Vehicles
One of the hottest topics in transportation is the impact that connected and automated vehicles (CAVs) will have on the nation's surface transportation system.

In the December 3 online class Preparing for the Future of Automated and Connected Vehicles, a panel of expert transportation technology practitioners will examine the National Highway Traffic Safety Administration's position on CAVs with an overview of the newly released Preparing for the Future of Transportation: Automated Vehicles 3.0 guidelines, and delve beyond the guidelines into the many issues facing state and local governments.

The panel will also explore future-proofing roadway infrastructure and other concepts on how agencies and firms can prepare to incorporate and accommodate rapidly changing technologies such as CAVs.

For more information and to register, click here.
The American Council of Engineering Companies
1015 15th St., NW, 8th Floor, Washington, DC 20005-2605
Phone:

202-347-7474

- Fax: 202-898-0068
www.acec.org
- E-mail:
acec@acec.org
Alan D. Crockett, Director, Communications
Gerry Donohue, Editor/Designer