ACEC Endorses Bill to Prevent Government Competition, Promote Private Sector Contracting
The Council expressed support this week for the Freedom from Government Competition Act, which requires federal agencies to procure commercially available services from private sources rather than perform them in-house, including professional services offered by A/E firms.

Introduced by Congressman John Duncan (R-TN), the bill makes exceptions for national defense, homeland security, and other inherently governmental functions, or where there is no private source capable of providing the goods or service.

"This legislation recognizes that public agencies can and should rely on the skills and expertise that private sector firms provide," wrote ACEC President Dave Raymond in a letter of support. "They can use local firms to meet tight project deadlines and identify innovative ways to get projects done in an efficient and cost-effective manner."

Click here to view a copy of the letter.
Republican Pundits to Debate Trump Agenda at ACEC Convention in Washington DC, April 15-17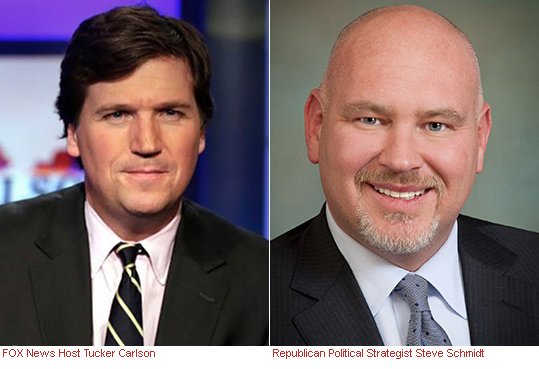 Republican Political Strategist Steve Schmidt and FOX News Commentator Tucker Carlson will face off on the Trump Administration, the current political climate, and the implications for the 2018 elections at the ACEC Convention in Washington, D.C., April 15-17.

Schmidt, who managed Senator John McCain's (R-AZ) presidential campaign in 2008, is a fervent Trump critic, while Carlson, who hosts the Tucker Carlson Live on FOX News, has been one of his most vocal supporters.

The Convention will again feature a panel of prominent lawmakers discussing the infrastructure agenda and issues of importance to the engineering industry. The panel will be moderated by POLITICO and Axios Co-Founder Mike Allen.

Other notable Convention speakers include: U.S. Department of Transportation Secretary Elaine Chao, U.S. Department of Energy Under Secretary Paul Dabbar, Georgia DOT Commissioner Russell McMurry, Illinois Tollway Chair Robert Schillerstrom, Washington D.C. Union Station Redevelopment Corp. President/CEO Beverly Swaim-Staley, Black & Veatch Chair/CEO Steve Edwards, POWER Engineers Chair Jack Hand, and Kiewit Engineering President Dan Lumma.

The Convention will also feature Capitol Hill visits, the Engineering Excellence Awards Gala hosted by actor/comedian Kevin Nealon, congressional issues briefings, CEO roundtables, and business education sessions.

For more information and to register, click here.
ACEC Urges Congress to Extend Key Tax Provisions
ACEC and its business allies have sent a letter to Congress urging reenactment of several tax provisions that expired at the end of 2016, including the Section 179D energy-efficient commercial buildings tax deduction and the production tax credit for biodiesel and geothermal.

The letter asks Congress to seamlessly extend the provisions for 2017 retroactively, and for 2018.

At press time, there were discussions to add the tax extenders to legislation to fund the federal government that is under consideration this week. ACEC will continue to advocate for these provisions.

To read the letter, click here.
Take Part in ACEC's Professional Liability Insurance Survey of Member Firms
The 2018 ACEC Professional Liability Insurance Survey of Member Firms for Fiscal Year 2017 will be conducted from February 12, through March 10.

This annual survey collects information on Member Firms' professional liability insurance, their claims experience, and the impact of the threat of litigation.

An email with a link to the survey will be sent to the primary contacts of the Member Firms. On Monday, February 12, the link will also be available on the ACEC homepage.

Member Firms that respond to the survey will receive a free copy of the complete results upon request. The survey results will also be available for sale through the ACEC Bookstore. A summary of the results will be published in the July/August 2018 issue of Engineering Inc.

All ACEC Member Firms are encouraged to take part in this survey. Click here if your firm wishes to participate, and provide a preferred email address to which the survey link should be sent.
Nominate Outstanding Engineering Students for 2018 ACEC Scholarships; Deadline March 1
Under the auspices of ACEC's College of Fellows, the ACEC Research and Management Foundation (ACEC/RMF) will award seven general scholarships and one specialty scholarship to top engineering students in 2018.

The general scholarships are:
ACEC Scholar of the Year Scholarship
The Rina Lee Scholarship
College of Fellows Scholarship
a/e ProNet Scholarship
Professional Liability Agents Network (PLAN) Scholarship
Life/Health Trust (LHT) Scholarship
Small Firm Council Scholarship
The specialty scholarship is the Council of American Structural Engineers (CASE) Scholarship.

The deadline for applications is March 1, 2018.

Scholarship winners will be selected by the ACEC Fellows Committee. All scholarship applicants must submit applications through their respective state Member Organizations. Click here for eligibility and submission guidelines. For additional information, contact ACEC's Director of Awards Programs Daisy Nappier.
Are You Ready for the Next Government Shutdown?
The Federal Government is back to work, but the next budget deadline is February 8. Are you prepared if a shutdown occurs?

Learn what your firm needs to do to weather a shutdown in ACEC's exclusive on-demand online class How to Prepare Successfully for a Federal Shutdown: Key Actions to Take Now.

Rebecca Kehoe of CohnReznick will walk you through the steps you need to take regarding staffing, subcontracting, communications, cash flow and accounting, as well as the information necessary for discussion with your federal contracting officers.

For more information and to download the class, click here.
How Will Tax Reform Affect Your Firm's Value, February 21
For firm owners contemplating ownership transition, an emerging question is how will changes to the U.S. tax code affect business valuations.
In the February 21 online class
Tax Reform and the Effect on Your Company's Value
, Matt Fultz of Matheson Financial Advisors will delve into various aspects of business valuation and how changes to the U.S. tax code are influencing the inputs and outcomes of engineering company valuations.
During this 60-minute session, participants will get an overview of business valuation, learn which elements have changed under the new tax code, and gain insights into how those changes have the potential to influence the value of their firm.
For more information and to register,
click here
.
Keep Your Firm Thriving with ACEC's Business of Design Consulting> Course, March 14-17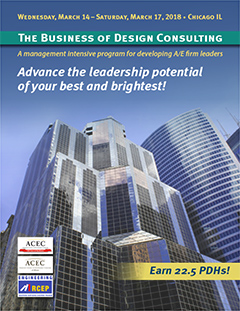 ACEC's Business of Design Consulting course in Chicago, March 14-17, provides a proven playbook for building leadership and managing your firm.

The 3½-day program delivers strategies for a wide array of critical, need-to-know business topics to maximize your firm's performance in today's churning business environment, including change management, strategic planning, finance, leadership, ownership transition, contracts and risk management, and marketing.

The experienced faculty of industry practitioners includes Rod Hoffman of S&H Consulting; Brett Stewart of XL Catlin Design Professional; Colvin Matheson of Matheson Financial Advisors; and David Stone of blüStone Marketing.

The course carries 22.5 professional development hours (PDHs)

For more information and to register, click here.
2018 QBS Awards Program Accepting Nominations
ACEC and NSPE are seeking nominations for the 2018 QBS Awards Program, which honors public entities, private organizations, and/or individuals for exemplary use of the QBS selection process at the federal, state, and local levels.

The deadline for nominations is February 21, 2018. The nomination form is available on the ACEC website in the QBS Awards Program section of the QBS Resource Center. Click here to access the form.

ACEC and NSPE will select up to three QBS Award winners. In addition, the QBS Awards program will designate up to four Merit Award winners, each of whom will be honored in a state event coordinated by the ACEC Member Organization and the NSPE/Professional Engineers in Private Practice (PEPP) State Chapter.
The American Council of Engineering Companies
1015 15th St., NW, 8th Floor, Washington, DC 20005-2605
Phone:

202-347-7474

- Fax: 202-898-0068
www.acec.org
- E-mail:
acec@acec.org
Alan D. Crockett, Director, Communications
Gerry Donohue, Editor/Designer