The Ballots Are In! Engineering Excellence Awards Judges Select Top 2018 Winners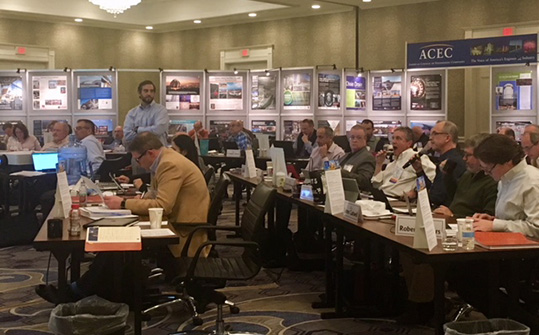 Engineering Excellence Awards (EEA) judges evaluated 146 of the best engineering projects in the United States and around the world last weekend in Chantilly, Va.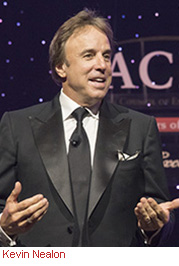 The 36-member panel selected 36 top award winners, including the Grand Conceptor award winner for the year's most outstanding engineering achievement.

All winners will be honored at the EEA Gala celebration on April 17, during the upcoming ACEC Annual Convention. The Gala will be hosted by television comic and movie star Kevin Nealon.

For more information about the EEA Gala, and to register, click here.

For more information about the ACEC Convention, click here.
ACEC-Backed Design-Build and Reverse-Auction Reforms Move Forward in the Senate
ACEC's efforts to limit single-step design-build and stop the use of reverse auctions in construction took a significant step forward last week as the Senate Homeland Security and Government Affairs Committee unanimously passed the Consensus Construction Coalition bill.

The bill limits the use of single-phase design-build, in which an unlimited number of teams submit designs without the contracting officer reviewing qualifications prior to submission, to projects of less than $3,000,000. The bill also codifies the prohibition of reverse-auctions, which require participants to lower their bids in a time-limited competition, in federal design-build construction projects.

The next step is for a full vote in the Senate.
Educational Opportunities Abound at ACEC Convention, April 15-18
The 2018 ACEC Convention, in Washington, D.C., April 15-18, will feature more than 30 business education programs, including:
What Does the New Tax Law Mean for You?
Big-Picture Industry Trends and Implications for Firm Strategy
Federal Market Opportunities: DOD Priorities and Funding
An Alternative to ESOPs for Mitigating Taxes During Ownership Transition
Getting More Work from Your Existing Clients
Federal Market Opportunities: Civilian Agencies Priorities and Funding
M&A Trends and Their Impact on Engineering Firms
International Opportunities: The Risk/Reward of Using Blockchain and Bitcoin in International Development
Top Ten Professional Liability Risks Keeping Engineers (and their Lawyers, Insurers and Risk Managers) Up at Night
Is My Current Ownership Structure Sustainable?
Winning the War for Talent—Opportunities for Employer Branding in the Engineering Community
The Convention will also feature an all-star lineup of speakers, including: U.S. Department of Transportation Secretary Elaine Chao, U.S. Department of Energy Under Secretary Paul Dabbar, Republican Political Strategist Steve Schmidt, FOX News Commentator Tucker Carlson, POLITICO and Axios Co-Founder Mike Allen, Georgia DOT Commissioner Russell McMurry, Illinois Tollway Chair Robert Schillerstrom, Washington D.C. Union Station Redevelopment Corp. President/CEO Beverly Swaim-Staley, Black & Veatch Chair/CEO Steve Edwards, POWER Engineers Chair Jack Hand, and Kiewit Engineering President Dan Lumma.

Convention attendees can participate in Capitol Hill visits, the Engineering Excellence Awards Gala, congressional issues briefings, and CEO roundtables.

For more information and to register, click here.
Member Organizations Drive ACEC/PAC Fundraising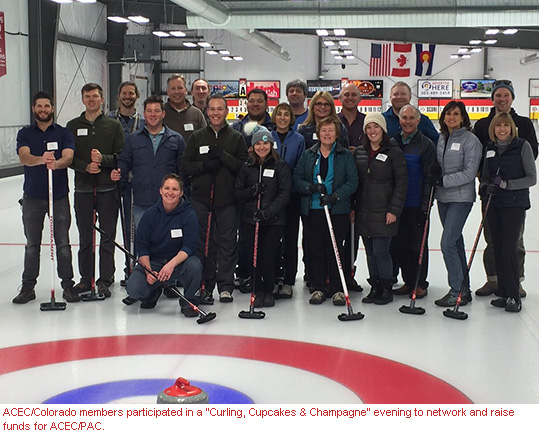 ACEC/PAC fundraising is off to a strong start in 2018 with several states already having hosted fundraising events for the national PAC.

ACEC/Colorado held a "Curling, Cupcakes & Champagne" night, where members were able to connect with their peers and support the PAC at the same time. "We were able to educate our members on the importance of the PAC, while keeping it fun and engaging for everyone involved," said Executive Director Marilen Reimer.

In New Hampshire, ACEC/NH President Alicia Dunstan, ACEC/PAC Champion Chris Mulleavey, ACEC/NH Executive Director Alex Koutroubas, and ACEC Political Affairs Executive Director Greg Knopp tasked the ACEC/NH Emerging Leaders group with coming up with a fundraising strategy to help the M.O. reach its goal for the first time. "It was very gratifying to see these young men and women realize that the PAC is an important investment in the future of themselves and their firms," said Dunstan. "We have high expectations this year and will continue to inform our members on how much ACEC/PAC supports our advocacy efforts at the federal level."

ACEC/Hawaii, ACEC/Illinois, and ACEC/New York recently held their annual silent auctions, and more states are planning events throughout the year.

For more information about ACEC/PAC and ACEC's political programs, contact ACEC Executive Director of Political Affairs Greg Knopp or ACEC/PAC Director Katherine Bohny.
Federal Agencies Brief ACEC Members on Business Prospects, Contracting Issues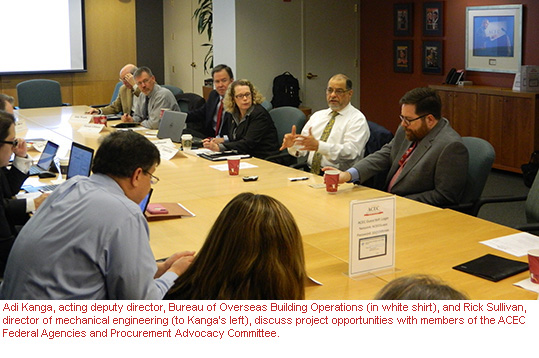 The U.S. Department of State Overseas Building Operations Bureau (OBO) outlined opportunities for engineering firms to lead renovation projects at U.S. embassies abroad with members of ACEC's Federal Agencies and Procurement Advocacy (FAPA) Committee last week.

The one-day meeting also featured briefings by the U.S. Army Corps of Engineers and the Naval Facilities Engineering Command discussing both DOD and Member Firm concerns over cost estimating and ways to improve the outcome.

Officials from the Department of Veterans Affairs discussed initiatives that would increase large and small construction projects while also looking to the private sector to provide needed facilities.

The Small Business Administration's Office of Advocacy representative solicited feedback on the lower-tier subcontracting rule that ACEC supported, and discussed the unlikely potential for a small business size standard update this year due to the high number of regulations going through the process.
Submit Your Firm's Innovative Urban Restoration Projects to Engineering Inc. by March 9
The July/August 2018 issue of Engineering Inc. will spotlight Member Firm's innovations in urban restoration.

If your firm has innovatively restored an urban industrial or hazardous site that you'd like to be considered for in this special Engineering Inc. section, e-mail the information below to Engineering Inc. Staff Editor Andrea Keeney by Friday, March 9, 2018.

In a one- or two-page document, submit the following: Project name and location; project overview, including unique aspects/challenges; a project photo; and the name, title, phone number and e-mail address of the Member Firm executive to be interviewed for the project profile. The project can be under construction or recently completed.

If you have any questions, contact Andrea Keeney.
Build Project Management Expertise in Your Firm Week-by-Week
Successful and profitable project delivery requires engineering-focused project management skills.

ACEC's new class Laying the Foundation for Superior Project Managers: Practices, Principles, and Fundamentals is designed to give new project managers the skills and confidence to excel within your firm's workflow specifications.

Beginning on March 19, the course combines video learning with live classroom time and has been designed to limit any disruption to billable hours. Participants with earn 18 PDHs.

The course includes nine modules: Job of a Project Manager; Project Management Team and Concepts; Planning and Management Concepts; The Project Team Manager; Soft Skills; Working with Design Firms; Project Notebooks and PM Manuals; Project Quality and Risk Management; and Staffing and Scheduling.

The instructor is Howard Birnberg, executive director of the Association for Project Managers and author of Project Management for Designers and Facilities Managers, 4th ed..

For more information and to register, click here.
Take Part in ACEC's Professional Liability Insurance Survey of Member Firms
The 2018 ACEC Professional Liability Insurance Survey of Member Firms for Fiscal Year 2017 is taking place through Friday, March 2. This annual survey collects information on engineering Member Firms' professional liability insurance, their claims experience, and the impact of the threat of litigation.

An email with more information and a link to the survey has been sent to the primary contacts of the Member Firms.

Member Firms that respond to the survey will receive a free copy of the complete results upon request. The survey results will also be available for sale through the ACEC Bookstore. A summary of the results will be published in the July/August 2018 issue of Engineering Inc.

All ACEC engineering Member Firms are encouraged to take part in this survey. Click here if your firm wishes to participate, and provide a preferred email address to which the survey link should be sent.
Nominate Outstanding Engineering Students for 2018 ACEC Scholarships; Deadline March 1
Under the auspices of ACEC's College of Fellows, the ACEC Research and Management Foundation (ACEC/RMF) will award seven general scholarships and one specialty scholarship to top engineering students in 2018.

The general scholarships are:
ACEC Scholar of the Year Scholarship
The Rina Lee Scholarship
College of Fellows Scholarship
a/e ProNet Scholarship
Professional Liability Agents Network (PLAN) Scholarship
Life/Health Trust (LHT) Scholarship
Small Firm Council Scholarship
The specialty scholarship is the Council of American Structural Engineers (CASE) Scholarship.

The deadline for applications is March 1, 2018.

Scholarship winners will be selected by the ACEC Fellows Committee. All scholarship applicants must submit applications through their respective state Member Organizations. Click here for eligibility and submission guidelines. For additional information, contact ACEC's Director of Awards Programs Daisy Nappier.
Keep Your Firm Thriving with ACEC's Business of Design Consulting Course, March 14-17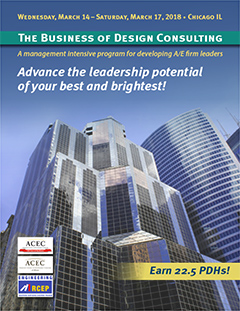 ACEC's Business of Design Consulting course in Chicago, March 14-17, provides a proven playbook for building leadership and managing your firm.

The 3½-day program delivers strategies for a wide array of critical, need-to-know business topics to maximize your firm's performance in today's churning business environment, including change management, strategic planning, finance, leadership, ownership transition, contracts and risk management, and marketing.

The experienced faculty of industry practitioners includes Rod Hoffman of S&H Consulting; Brett Stewart of XL Catlin Design Professional; Colvin Matheson of Matheson Financial Advisors; and David Stone of blüStone Marketing.

The course carries 22.5 professional development hours (PDHs)

For more information and to register, click here.
Deadline for 2018 QBS Awards Program Nominations Extended to March 7
ACEC and NSPE are seeking nominations for the 2018 QBS Awards Program, which honors public entities, private organizations, and/or individuals for exemplary use of the QBS selection process at the federal, state, and local levels.

The deadline for nominations has been extended to March 7, 2018. The nomination form is available on the ACEC website in the QBS Awards Program section of the QBS Resource Center. Click here to access the form.

ACEC and NSPE will select up to three QBS Award winners. In addition, the QBS Awards program will designate up to four Merit Award winners, each of whom will be honored in a state event coordinated by the ACEC Member Organization and the NSPE/Professional Engineers in Private Practice (PEPP) State Chapter.
The American Council of Engineering Companies
1015 15th St., NW, 8th Floor, Washington, DC 20005-2605
Phone:

202-347-7474

- Fax: 202-898-0068
www.acec.org
- E-mail:
acec@acec.org
Alan D. Crockett, Director, Communications
Gerry Donohue, Editor/Designer