Recent Highlights
ACEC Stock Index
Click on image to zoom.
The ACEC Index compares the stock performance of ACEC's publicly held Member Firms with the NYSE Composite Index and Total U.S. Construction Spending.
A/E Employment
Click on image to zoom.
Total U.S. architectural and engineering employment in April climbed to its highest level since October, 2008.
EBI
ACEC Webinars
June
4—Six Steps to Increase Profitability in Engineering Firms,
by June Jewell, president, AEC Business.com.
The presenter, author of
Find the Lost Dollars: 6 Steps to Increase Profits in Architecture, Engineering & Environmental Firms
, will provide best practices and advice on how to improve your firm's performance and prepare the firm's future leaders to successfully take the reins.
9—The 21 Best Differentiators for Your Firm,
by Sylvia Montgomery, senior partner, Hinge Branding and Marketing for Professional Services.
How do you identify what really sets your firm apart or choose a new, powerfully differentiated direction? This webinar will explore 21 ways that your firm can differentiate itself to gain a competitive advantage in the marketplace.
10—Why Clients REALLY Select Your Firm,
by Mark Goodale, principal, Morrissey Goodale.
Learn why clients really choose your firm. You've got to understand that you are always on stage, and if you're blind to that, you'll lose every time.
16—Raising Your Marketing ROI,
by David Stone, Stone & Company.
This program will show you how much you should be spending on marketing, what you can expect a marketing program to do for you, what should be in your marketing plan, how to set up an effective marketing department—whether in-house or outsourced—and how to measure results.
18—Talent Management Explained,
by Leigh Mires, chief learning officer, Thornton Tomasetti.
In this session, we will examine the benefits of competency models, learn how to build the models and review several examples of their application.
23—Best Practices for Highly Effective Boards,
by Gerry Salontai, Salontai Consulting Group.
Companies of all sizes and ownership structures in the professional services industry are moving to a more dynamic and forward-looking governance model. Learn how your company sizes up in this area and where there may be an opportunity to "up the game" for your business.
24—Understanding the Selection Processes of Clients, and the Dynamics of Selection Committees,
by Charles McIntyre, director of marketing, Cochran, Inc., and Harold Glaser, director of business development, Kennedy/Jenks Consultants.
This webinar will focus on the unique aspects of selection processes which can make the difference between success and failure, shining a light on a dynamic that many consultants overlook—the intersection of technology and human behavior.
25—Mobile and Field Technologies for Engineers,
by Paul Doherty, president/CEO, the digit group, inc.
This is the third of a five-part webinar series exploring the Information Technology forces that are driving change in the Engineering profession. This series is designed to explore real world examples and case studies regarding projects, tools and suggested next steps from around the world.
July
8—Deal Makers and Deal Breakers,
by Dan Buelow, managing director, Willis A&E, and Robert Stanton, Willis A&E
In this comprehensive overview on negotiating professional agreements, the presenters will focus on the "deal makers" and "deal breakers" that all design professionals should consider.
9—How to Win a Pitch: The Fundamentals That Will Distinguish You From Your Competition on the Short-List,
by Matthew Frankel, chief relationship builder, Speechworks
The biggest challenge in a sales presentation is not convincing the client that you're qualified; it's separating yourself from your highly qualified competitors by creating a better connection with the audience. In this session, learn the fundamentals that you must execute better than your competition if you want to consistently improve your chances of winning in these situations.
14—Superstar Project Managers Make Money: Set Yourself Up On Day One,
by Douglas Reed, president, FosterGrowth.biz
Learn how to identify client relationship vulnerabilities at each stage of the project; how to secure client buy-in by clarifying early what it will take for all stakeholders to become rapid supporters of you and your firm and stay that way past project completion; and how to create protocols, a checklist, and an action plan for immediate use during project initiation and kick-off meetings.
Did You Know?
All employees of ACEC member firms are able to buy products, pubs and seminars at member rates, and participate in committees and forums at no cost? Click here if you have questions.
ACEC's Registered Continuing Education Program (RCEP) provides a one-stop shop for identifying relevant coursework and managing individual PDH records to better satisfy state licensing mandates. Click here for details.
To learn how member dues are an investment that delivers bottom-line results, see the ACEC Value Proposition.
Latest News
ACEC-backed Design-Build Reform Introduced in Senate
Senators Rob Portman (R-OH) and Mazie Hirono (D-HI) introduced ACEC-supported legislation this week that includes significant reforms to the design-build process, including restricting the use of one-step design-build in both military and civilian construction; limiting the number of finalists in a two-phase design-build to five; prohibiting the use of reverse auctions in any construction projects; and increasing surety protections in the federal market.

Winning support for the bill was one of the primary goals of ACEC's Citizen Lobbyists during the 2015 ACEC Convention in April.

Portman and Hirono are also planning to offer their bill as an amendment to the Senate's version of the FY16 National Defense Authorization Act (NDAA). ACEC is working closely with a coalition of design and construction organizations to build support for the amendment. The coalition sent a letter to the Senate on Monday urging Senators to co-sponsor both the NDAA amendment and the bill.
Largest Annual Convocation of U.S. Engineering Firm Leaders at ACEC Fall Conference in Boston, October 14-17
More than 1,000 ACEC members will attend the upcoming 2015 ACEC Fall Conference in Boston, October 14-17. Conference registration is open and discounted early-bird rates are available.

Featured Member Firm CEO speakers at the Conference include: CDM Smith Chairman/CEO Stephen Hickox, HDR Engineering President/Vice Chair Eric Keen, and Thornton Thomasetti Chairman/CEO Tom Scarangello, Nitsch Engineering President/CEO Lisa Brothers, VHB President Mike Carragher, and Haley & Aldrich President/CEO Larry Smith.

The Conference will also feature keynote addresses by 2015 ACEC Distinguished Award of Merit Honoree Dr. Robert Ballard and Pulitzer Prize-winning author Doris Kearns-Goodwin.

Other highlights include business management sessions; CEO roundtables; CFO and CIO tracks, and numerous ACEC coalition, council and forum events.

For more Fall Conference information and to register, click here.
ACEC-Supported Patent Troll Reform Advances in Senate
The Senate Judiciary Committee cleared bipartisan legislation late last week to protect engineering firms and other businesses from so-called patent "trolls".

Patent trolls send letters to engineering firms and other businesses demanding payment for infringement of certain business process patents, such as commonly used technologies to scan and send documents.

Introduced by Judiciary Committee Chairman Charles Grassley (R-IA), S 1137 would require judges to award attorneys' fees to defendants in patent disputes if the plaintiff's case is determined to be unreasonable. The bill would establish rules governing the demand letters sent to engineering firms and other businesses, requiring more information on the alleged patent infringement; empower the Federal Trade Commission to enforce the new rules; and require patent holders to sue manufacturers before going after users of the technology.

Similar legislation (HR 9) is awaiting consideration in the House. President Obama has indicated his support for legislation to curb patent trolls.
ACEC Action Alert: Reauthorize the Export-Import Bank
ACEC members are asked to contact their House and Senate representatives to urge support for reauthorizing the Export-Import Bank before its charter ends on June 30, 2015.

ACEC is working with a large coalition of business organizations, including the U.S. Chamber of Commerce and the National Association of Manufacturers, to support reauthorizing the bank which provides critical insurance underwriting and other export financing options for foreign projects.

The goal is to have both chambers vote on the bank's reauthorization, and have the President sign it into law before the end of June.

Click here to access a sample letter to send to your delegation. You are encouraged to personalize the letter with firm-specific information. For more information, contact ACEC Director of Federal Agencies and International Programs Jessica Salmoiraghi.
House Transportation Bill Would Fund MAP-21, Cut Discretionary Grants; ACEC Working In Senate to Up Funding
The House passed the Fiscal Year 2016 (FY16) funding bill for the Departments of Transportation and Housing & Urban Development that maintains highway and transit formula funding under MAP-21—contingent on a program reauthorization or extension—while cutting discretionary transportation grants from the General Fund by $1 billion compared to FY15 levels.

Key cuts include a reduction in TIGER multimodal grants from $500 million to $100 million; $262 million from Amtrak, which would be funded at $1.14 billion; and nearly $200 million from the Federal Transit Administration's New Starts/Small Starts capital investment grants, reducing the program to $1.9 billion.

The bill now goes to the Senate, where ACEC is working to restore the program funding that was cut by the House.

The Council continues to work with coalition partners for passage of a multi-year reauthorization of MAP-21.

ACEC members are asked to contact their Representative and Senators today to urge support of a long-term bill. Every Member of Congress needs to hear about the importance of such a bill and the need for immediate action.

Click here to access a sample letter. You are encouraged to personalize the letter with firm-specific information and email it to your Member of Congress. For further information, contact ACEC Director of Transportation Programs Matt Reiffer.
Engineering Inc., Last Word Win Top National Communication Awards
The November/December 2014 issue of Engineering Inc. received a Grand Award for publication excellence in the 2015 APEX Awards.

More than 1,850 publications from throughout the nation took part in this year's awards program.

The May 7, 2014 issue of Last Word and the January/February 2014 Engineering Inc. issue also were honored with 2015 APEX Awards of Excellence.

Judges' comments on presenting the Grand Award to Engineering Inc. were: "It's a clean and attractive design with appealing spreads and photography, excellent attention to detail in everything from the type schedule to the use of decks, sidebars and pull quotes. On the editorial side, crisply written articles display careful analysis and cover a range of complex topics from the technical to the personal. It's a very well-done magazine and a very readable one."
ACEC Awards Scholarships to Five Top Engineering Students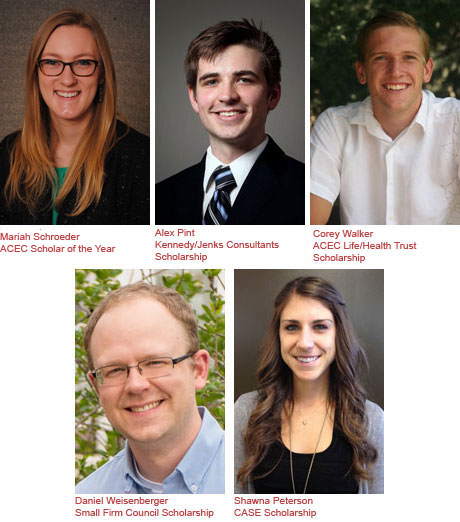 ACEC's Committee of Fellows has selected five engineering students to receive 2015 Scholarships.

Mariah Schroeder, who is seeking her master's degree in civil engineering from Purdue University, will receive the $10,000 ACEC Scholar of the Year scholarship.

Alex Pint, who will graduate with a master's degree in architectural engineering in December from Kansas State University, will receive the $7,500 Kennedy/Jenks Consultants Scholarship in honor of David D. Kennedy.

Corey Walker will receive the $5,000 ACEC Life/Health Trust Scholarship. Porter is entering his senior year and will earn a bachelor's degree in civil and geomatics engineering at California State University—Fresno.

Daniel Weisenberger, who seeking a bachelor's degree in architectural engineering from Kansas State University, will receive the $3,000 Small Firm Council Scholarship.

The Coalition of American Structural Engineers awarded a $2,500 scholarship to Shawna Peterson, who is working towards a master's degree in structural engineering at Stanford University.

For further information about ACEC Scholarships, contact Daisy Nappier.
ACEC to Host A/E Industry Economic Forecast Webinar on June 17
What can you expect in the engineering marketplace for the remainder of 2015?

In Industry Economic Overview—2015 Update and What to Expect Through the Rest of the Year, Greg Powell, vice president of investment banking at FMI Capital Advisors, Inc., will analyze how key market trends have affected the industry through the first half of 2015, review where the economy is gaining strength and where momentum is faltering, and provide a marketplace game plan for the rest of the year.

Powell will focus his forecast on short-term trends, so participants can take advantage of market opportunities in the second half of the year.

For more information and to register, click here.
Nominations for 2014 ACEC Community Service Awards Close on June 12
The ACEC Committee of Fellows is soliciting nominations for the 2014 ACEC Community Service Awards, which recognize Member Firm leaders who have made a significant impact on the quality of life in their communities.

Member Organizations nominate award candidates, who must have at least five years of experience as a principal or manager in an ACEC Member Firm. MOs must submit nominations to the Committee of Fellows by June 12.

Click here to access the Community Service Awards program criteria and nomination form. For more information, contact Daisy Nappier at dnappier@acec.org or call 202-347-7474.
The American Council of Engineering Companies
1015 15th St., NW, 8th Floor, Washington, DC 20005-2605
Phone: 202-347-7474 - Fax: 202-898-0068
www.acec.org - E-mail:acec@acec.org
Alan D. Crockett, Director, Communications
Gerry Donohue, Editor/Designer