Get Insiders' Forecasts on the Election and Its Economic Impact at ACEC Fall Conference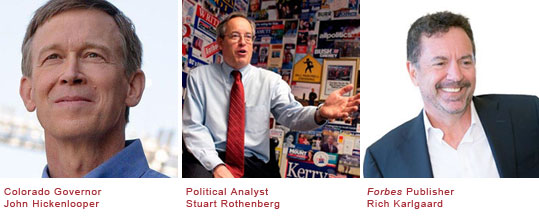 Keynote speakers at the upcoming ACEC Fall Conference will offer unique insights into the upcoming election and its impact on the business climate, the U.S. economy and opportunities for firms. The Conference will be in Colorado Springs, Colo., October 19-22.

Among the speakers are Colorado Governor John Hickenlooper, who spoke at the recent Democratic National Convention; Political Analyst Stuart Rothenberg, who is one of the most respected election forecasters; and Forbes Publisher Rich Karlgaard, who will talk about finding business opportunities in uncertain times.

The Conference also features three Member Firm leader panels on mergers & acquisitions, the water market, and smart cities, as well as more than 30 other advanced business sessions, CEO, CFO, and CIO roundtables, and Emerging Leaders and Coalition programs.

For more information, click here.
ACEC Calls for Top-Rate Parity in Tax Reform Blueprint
Through its leadership position in the Parity for Main Street Employers coalition, ACEC is urging House Ways and Means Committee Chairman Kevin Brady (R-TX) to improve the recently released tax reform blueprint to include top-rate parity for corporations and pass-through entities. Click here to read the letter.

The blueprint calls for reducing the top corporate rate to 20%, the top rate for pass-through businesses to 25%, and the top individual rate to 33%. ACEC has long advocated for parity in the top rates for corporations and pass-through businesses. Click here for more information on the blueprint.

The Council is preparing additional comments on other aspects of the plan. ACEC members are encouraged to contact ACEC Director of Tax and Regulatory Affairs Katharine Mottley at 202-682-4306 for more information.
Council Addressing Member Concerns over R&D Tax Credit, Section 179D; Member Input Needed
ACEC is engaging with Congress and the IRS in response to concerns from Member Firms involving the R&D tax credit and the Section 179D energy-efficient commercial buildings tax deduction.

The R&D tax credit incentivizes firms to perform research work in the United States. The law does not limit the tax credit to particular industries, but A/E firms have reported numerous instances of having the credit denied by IRS examiners. ACEC is working with Members of Congress and the agency to ensure that firms can claim the credit when appropriate, and is developing educational programming to better inform members on how to use it.

ACEC members have also reported challenges with the Section 179D tax deduction, which is intended to incentivize owners for installing certain energy-efficient systems, such as lighting and HVAC. Firms have raised concerns over situations where governmental entities are demanding payments or reduced fees in exchange for assigning the deduction to the designer.

Firms experiencing problems with these tax provisions may contact ACEC Director of Tax & Regulatory Affairs Katharine Mottley at 202-682-4306 in order to assist with the Council's industry response.
Minuteman Fund Grant Supports Washington Transportation Infrastructure Referendum
ACEC has awarded a Minuteman Fund grant to ACEC/Washington in support of its efforts to pass a November 2016 ballot referendum that would invest more than $35 billion in 62 miles of new light rail, bus and commuter rail service in the Puget Sound area.

For more information on the Minuteman Fund, click here.
ACEC to Honor Chen, Evans, Pence and Phillips for Outstanding Community Service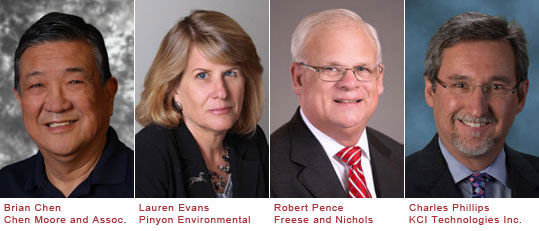 Four Member Firm leaders will be presented 2016 ACEC Community Service Awards at the upcoming Fall Conference in Colorado Springs for their extraordinary impact on the quality of life in their communities.

Ben Chen, chairman of Chen Moore and Associates, in Fort Lauderdale, Fla., will be recognized for his two decades of work with Workforce One, which improves the lives of welfare-dependent Floridians by providing job training and other services.

Lauren Evans, president of Pinyon Environmental, Inc., in Lakewood, Colo., has strived to help abused and neglected children in the legal system, STEM students, and coffee-growing families in Brazil.

Robert Pence, president/CEO of Freese and Nichols, Inc., in Fort Worth, Texas, will be honored for his decades of work with the United Way and local school systems.

Charles Phillips, senior vice president of KCI Technologies, Inc., in Sparks, Md., formed the House of Faith Youth Outreach to provide youth on the west side of Baltimore City with a safe place to go and receive mentoring, help with homework, music lessons and a good meal on a weekly basis.

For more information on the ACEC Community Service Awards, click here.
Council and U.S. China Business Council Host Session on China Water Opportunities
ACEC's International Committee and the U.S. China Business Council last week explored opportunities for Member Firms in China's water recycling market.

The presentation outlined the Chinese government program to reconfigure cities to capture, clean and reuse water rather than funneling the water away. The government has identified 30 cities to participate in the program, representing different climates and sizes and offering opportunities for new construction and renovation of current infrastructure. Due to the complex nature of the program, China is seeking international expertise to help with this developing policy.

For more information, contact ACEC Director of Federal Agencies and International Programs Jessica Salmoiraghi.
ACEC/Michigan Supports Congressman Fred Upton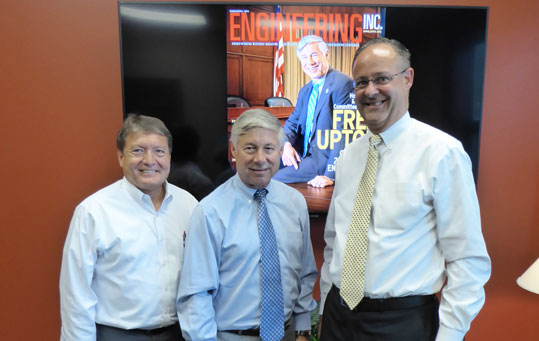 Register Now for the ACEC Environment and Energy Committee Summer Meeting
The ACEC/EEC summer meeting will be held August 24-25 in Washington D.C. at the ACEC headquarters. Space is limited.

The meeting will examine the challenges and opportunities for cities facing escalating concerns over the intersection of energy, water resources and infrastructure. Discussions will help to shape ACEC advocacy efforts in the next Congress and Administration.

Click here to register and view topics of discussion. For further information, contact Lynn Schloesser.
Register Today for Induction into the Order of the Engineer at Fall Conference
The College of Fellows will host the induction ceremony for interested ACEC Members into The Order of the Engineer—a national organization dedicated to "upholding the standards and dignity of the engineering profession"—on Thursday, October 20, 7:00 a.m.-7:45 a.m. during the upcoming ACEC Fall Conference in Colorado Springs, CO.

The Order of the Engineer was initiated to foster a spirit of pride in the profession, emphasizing that the primary purpose of engineering is to serve the public and that all members of the engineering profession share a common bond.

At the Fall Conference ceremony, inductees will take the "Obligation of the Engineer"" oath and be presented with a stainless steel ring as a symbol of membership.

Click here to register for the induction ceremony and to order rings. Click here to visit the Order of the Engineer website. For further information, contact Daisy Nappier.
ACEC Online Class: Document Retention Best Practices for Engineering Firms
Learn how long your firm needs to keep specific papers/emails/files/records in the August 30 online class Document Retention: Best Practices for A/E Design Professionals.

Ted Levin, a partner with the law firm of Morris Polich & Purdy and a member of the ACEC Risk Management Committee, will examine document retention from a practical and legal perspective, and explore workable principles that will help your firm manage its documents with confidence.

For more information, click here.
ACEC's Pathways to Executive Leadership Brings High-Level Training to Aspiring Engineers
ACEC's new Pathways to Executive Leadership program provides in-depth instruction on how to lead an A/E firm, giving participants the skills necessary to think strategically in their markets, build effective teams, and deliver great customer service.

The program will span six months, beginning October 18-21, 2016 at the ACEC Fall Conference in Colorado Springs and ending April 22-25, 2017 at the ACEC Annual Convention in Washington D.C., and includes both onsite and online sessions.

Pathways to Executive Leadership is designed for mid-career professionals with 8-12 years' experience who seek to elevate their career track. It fills the gap between ACEC's Business of Design Consulting program and the Senior Executives Institute.

Faculty includes Geordie Aitken and Magda Dominik of the Aitken Leadership Group; Rod Hoffman and Barb Smith of S & H Consulting; and ACEC Member Firm leaders.

For more information on the program and to register, click here.
U.S. DOT Announces Nearly $500 Million in TIGER Award Grants
The Transportation Investment Generating Economic Recovery (TIGER) program announced this week almost $500 million in grants to transportation projects in 32 states and two U.S. territories.

"For the eighth year running, TIGER will inject critical infrastructure dollars into communities across the country," said U.S. DOT Secretary Anthony Foxx. "This unique program rewards innovative thinking and collaborative solutions to difficult and sometimes dangerous transportation problems."

Demand for the 2016 TIGER grant program continued to exceed available funds. The DOT received 585 eligible applications from all 50 States, and several U.S. territories, collectively requesting more than $9.3 billion in funding. During the previous seven rounds, the Department received more than 7,300 applications requesting more than $143 billion for transportation projects across the country.

For more information, click here.
Federal Highway Administration Calls for States to Designate 'Zero-Emission' and 'Alternative Fuel' Corridors
The Federal Highway Administration (FHWA) has invited state and local officials to designate "zero-emission" and "alternative fuel" corridors where drivers can find alternative fuels.

"By identifying where alternative fueling stations can be found we can accelerate the use of innovative next-generation vehicles, improve air quality, reduce greenhouse gas emissions and ensure our transportation network meets the needs of 21st-century drivers," said FHWA Administrator Gregory Nadeau.

The designation effort will develop a process to make formal corridor designations—including identifiable national signs like the red, white and blue "shield" signs used on U.S. Routes.

Initial nominations for corridor designations are due to the FHWA no later than August 21, 2016. For more information, click here.
The American Council of Engineering Companies
1015 15th St., NW, 8th Floor, Washington, DC 20005-2605
Phone:

202-347-7474

- Fax: 202-898-0068
www.acec.org
- E-mail:
acec@acec.org
Alan D. Crockett, Director, Communications
Gerry Donohue, Editor/Designer