Washington Politics, Market Forces, Focus of ACEC Convention; Record Attendance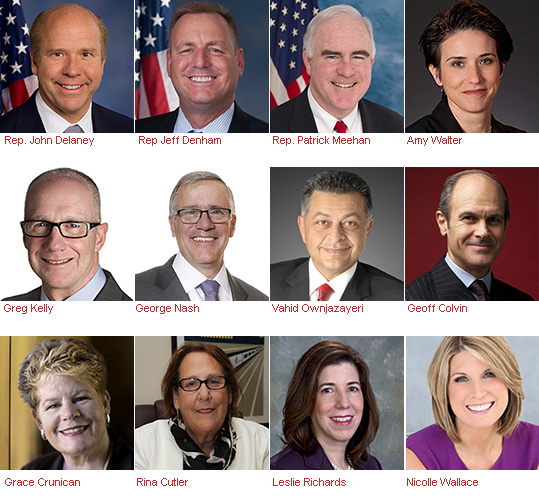 Members of Congress, company leaders, and agency officials will address key issues facing the engineering industry at the upcoming ACEC Convention in Washington, D.C., April 23-26. More than 1,500 members are pre-registered.

Representatives John Delaney (D-MD), Jeff Denham (R-CA), Patrick Meehan (R-PA), and Amy Walter of the Cook Political Report will discuss major issues before Congress and the Trump Administration.

Fortune magazine Senior Editor Geoff Colvin; Greg Kelly, president/CEO, U.S. and South America, WSP | Parsons Brinckerhoff; George Nash, Atkins North America CEO; and Vahid Ownjazayeri, chief growth officer—Americas, AECOM, will address industry prospects.

Pennsylvania Secretary of Transportation Leslie Richards, Amtrak Senior Director Rina Cutler, and Bay Area Rapid Transit (BART) General Manager Grace Crunican will discuss infrastructure investment proposals, public-private partnerships, and contracting out.

Former White House Director of Communications Nicolle Wallace will kick off the Convention with a behind-the-scenes look at the White House and Capitol Hill. The Convention also features Capitol Hill visits, business management sessions, and the 50th Anniversary Engineering Excellence Awards Gala, hosted by Kevin Nealon.

Download the ACEC Convention App, which includes a complete schedule of Convention events and will provide real-time updates during the event.

For more information and to register, click here.
ACEC/PAC Continues at Record Pace; Builds Momentum into Convention
ACEC/PAC has raised more than $351,000 year-to-date, compared to $297,000 at this time last year. Fueling the increase has been more participation by $5,000 donors (17 year-to-date vs. 10 at this time last year) and a jump in first time donors (212 so far in 2017).

ACEC/PAC will be active at the upcoming ACEC Convention in Washington, April 23-26. The PAC's Casino Night will be on April 24, with hosted bars, appetizers, fun money, gaming and prizes. At the PAC Breakfast on April 26, the 15 winners in the Spring Sweepstakes Raffle will be picked, including the $10,000 grand prize winner.

ACEC/Indiana, ACEC/Wisconsin and ACEC/Hawaii, along with other states who made their 2017 ACEC/PAC goal, will be recognized during the ACEC Board of Directors luncheon, as will the M.O.s that reached their 2016 ACEC/PAC fundraising goal in the last quarter of the year.

For more information about ACEC/PAC and ACEC's political programs visit the ACEC/PAC website or contact ACEC Executive Director of Political Affairs Greg Knopp or ACEC/PAC Director Katherine Bohny.
Minuteman Fund Grant Helps ACEC/Louisiana Advocate Gas Tax Hike
ACEC awarded a Minuteman Fund grant to ACEC/Louisiana to help defray the cost of advocating the enactment of gas tax increase legislation.

Louisiana's current state gas tax rate is 20 cents per gallon and hasn't been increased in more than 26 years.

ACEC/LA will conduct a social media campaign, in cooperation with a number of other stakeholder groups, to encourage legislators to vote in favor of a rate increase.

Click here for more information on the Minuteman Fund.
ACEC Focuses on Infrastructure Funding, Highway Trust Fund Fix in Congressional Budget Debate
The Council has joined the U.S. Chamber of Commerce, National Association of Manufacturers, American Association of State Highway and Transportation Officials, and other stakeholders in urging the House and Senate Budget Committees to prioritize infrastructure investment in the Fiscal Year 2018 budget.

ACEC is seeking provisions that will permanently resolve the Highway Trust Fund's structural revenue deficit and grow funding levels for transportation programs above FAST Act levels.

Click here to view a copy of the letter.

ACEC Citizen Lobbyists will advocate for a major infrastructure investment package and tax reform priorities at the upcoming Annual Convention and Legislative Summit in Washington, DC, April 23-26. For more information on the lobbying program, click here.
Learn Secrets to Successfully Communicating Technical Topics, April 18
You get one chance to make a first impression—and clear communication is the key to making sure it's a good one.

In the April 18 online class Secrets to Successfully Communicating Technical Topics, learn tips and techniques to help you translate technical material into information that is quickly and easily understood by non-technical audiences.

Presenter Shelley Row will teach you how to: understand your audience and what they want from you; simplify content to make it clear and understandable; and design effective visuals that highlight your content.

For more information and to register, click here.
Submit Your Firm's Innovative Airport Projects to Engineering Inc. by April 21
The September/October 2017 issue of Engineering Inc. will spotlight Member Firm's innovations in airport facility and infrastructure design.

If your firm has an innovative airport project that you'd like to be considered for in this special Engineering Inc. section, e-mail the information below to Engineering Inc. Staff Editor Andrea Keeney by Friday, April 21, 2017.

In a one- or two-page document, submit the following: project name and location; project overview, including unique aspects/challenges; and the name, title, phone number and e-mail address of the Member Firm executive to be interviewed for the project profile. The project can be under construction or recently completed.

If you have any questions, contact Andrea Keeney.
California Legislature Votes to Increase State Gas Tax; Governor Brown to Sign Bill
The California Legislature passed legislation last week to raise gas taxes and vehicle fees by $5.2 billion a year to pay for repairs and upgrades to the state's roads, highways and bridges.

The bill passed the Senate on a 27-11 vote and was approved in the Assembly with 54 votes, the minimum required.

Governor Jerry Brown supported the bill, which raises the state gas tax by 12 cents per gallon to 30 cents, the first increase in 23 years.
The American Council of Engineering Companies
1015 15th St., NW, 8th Floor, Washington, DC 20005-2605
Phone:

202-347-7474

- Fax: 202-898-0068
www.acec.org
- E-mail:
acec@acec.org
Alan D. Crockett, Director, Communications
Gerry Donohue, Editor/Designer