Infrastructure Week Lobbying Effort Calls for Highway Trust Fund Solvency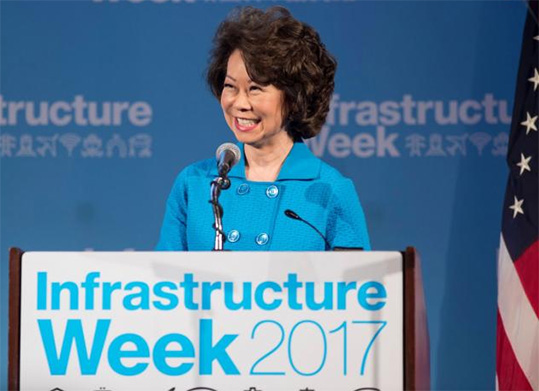 This week—Infrastructure Week—the Council is participating in various activities, including a multi-organization lobbying campaign for a robust infrastructure bill and new revenues to restore solvency to the Highway Trust Fund.

The Council took part in a kick-off event for Infrastructure Week on Monday, which featured USDOT Secretary Elaine Chao and presentations and panel discussions led by Greg Kelly, president/CEO of WSP, U.S. and Latin America; Jacqueline Hinman, chair/CEO of CH2M; Michael Burke, chair/CEO of AECOM; and Robert Slimp, chair/president/CEO of HNTB.

ACEC also participated in a strategy session on Wednesday at the National Association of Manufacturers with industry association leaders to help shape infrastructure proposals being developed by the Trump Administration.

In addition, the Council is supporting a Congressional letter drafted by Rep. Sam Graves (R-MO) and Rep. Eleanor Holmes Norton (D-DC) that urges the House Ways & Means Committee to include a long-term, sustainable revenue stream to fund transportation infrastructure as part of tax reform. More than 140 Representatives have already signed the letter. ACEC members are urged to contact their Representatives to ask them to sign on. Click here to access a sample letter that can be personalized with firm-specific information.

Bipartisan Senate Water Bill Funds CSO Projects, Expands QBS
Senators Ben Cardin (D-MD) and John Boozman (R-AR) introduced legislation this week that authorizes funding to control wet weather discharges and expands Qualifications-Based Selection (QBS) for federally-funded water projects.

The bill authorizes $1.8 billion over five years to assist communities with projects to control combined sewer overflows, sanitary sewer overflows, and storm water discharges. The measure would also expand the requirement to use QBS for engineering services under the State Revolving Fund program to include drinking water projects.

Both provisions were adopted as part of a larger water bill in the Senate last year. ACEC is working with the bill's sponsors to promote passage, either as a stand-alone bill or as part of a larger infrastructure package this year.
Texas Rejects P3s for Infrastructure
The Texas House voted down a bill on May 5 that would have allowed public-private partnerships (P3s) to participate in 18 highway projects with a total value of $30 billion.

The defeat leaves the second most-populous state unable to use P3s to finance the infrastructure improvements, even as the Trump Administration is proposing to expand their use.

The bill's failure underscores the difficulty the Administration faces in its bid to use private investment to reach $1 trillion in funding to rebuild roads, bridges, airports, veterans' hospitals, and other facilities.

Nationwide, 13 states have yet to adopt legislation authorizing some form of public-private partnership deals, according to Moody's Investors Service, and New Mexico and Mississippi also tried unsuccessfully to pass P3 measures this year.
ACEC/Massachusetts Supports Representative Capuano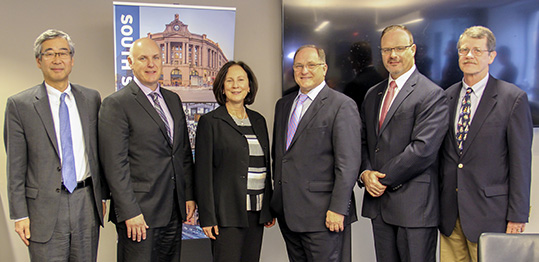 2017 Young Professional of the Year Award Winners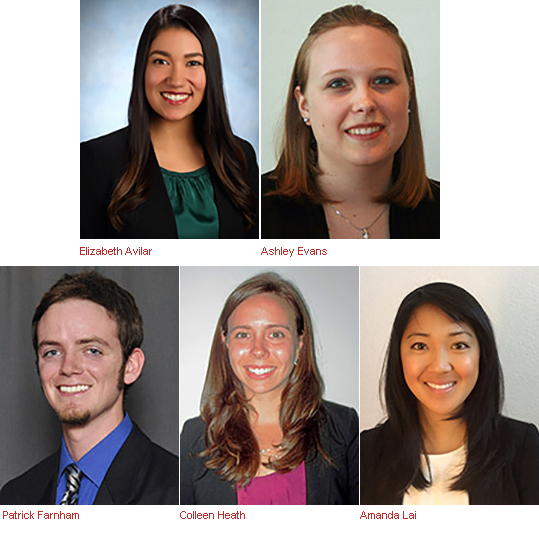 ACEC has recognized five Member Firm employees as 2017 Young Professionals of the Year. This annual awards program promotes the accomplishments of young engineers by highlighting their contributions to engineering and to society.

The 2017 winners are Elizabeth Avelar, civil engineer, Kjeldsen, Sinnock & Neudeck, Inc., West Sacramento, Calif.; Ashley Evans, Assistant Project Manager, Arcadis U.S., Inc., Austin, Texas; Patrick Farnham, Senior Staff Engineer, Langan Engineering & Environmental Services, New York City; Colleen Heath, Environmental Engineer, Boston, Mass.; and Amanda Lai, Project Engineer, Kleinfelder, San Diego, Calif.

In addition, Evans was recognized by DiscoverE as one of the 2017 New Faces of Engineering.

For more information about the Young Professionals of the Year program, click here.
ACEC Fellows Award Scholarships to Seven Top Engineering Students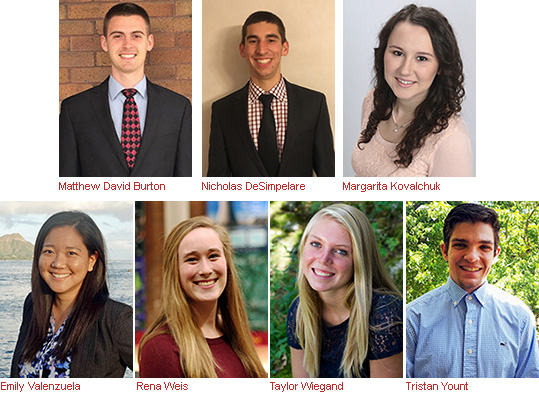 ACEC's Committee of Fellows has selected seven engineering students to receive 2017 Scholarships.

Matthew David Burton, who is working toward a bachelor's degree in civil engineering at the University of Cincinnati, was awarded the $10,000 ACEC Scholar of the Year scholarship.

Margarita Kovalchuk was awarded the $5,000 ACEC Life/Health Trust Scholarship. She will earn a bachelor's degree in civil engineering from California State University, Sacramento.

Emily Valenzuela, who received the $5,000 a/e ProNet Engineering Scholarship, is working towards a master's degree in civil and water resources engineering from Colorado State University.

Nicholas DeSimpelare received the $5,000 Professional Liability Agents Network Scholarship. DeSimpelare will earn his bachelor's degree in civil engineering from Michigan State University in 2018.

Rena Weis received the $3,000 College of Fellows Scholarship and is working towards a master's degree in civil and environmental engineering at University of Minnesota.

Taylor Wiegand, who received the $2,500 Small Firm Council Scholarship, will graduate in 2018 from Michigan Technological University with a master's degree in environmental engineering.

The Council of American Structural Engineers (CASE) awarded a $5,000 scholarship to Tristan Yount, who is working towards a master's degree in structural engineering at University of Kansas.

For further information about ACEC Scholarships, contact Daisy Nappier.
Nominations for 2017 ACEC Community Service Awards Close on June 16
The ACEC Committee of Fellows is soliciting nominations for the 2017 ACEC Community Service Awards, which recognize Member Firm leaders who have made a significant impact on the quality of life in their communities.

Member Organizations nominate award candidates, who must have at least five years of experience as a principal or manager in an ACEC Member Firm. The deadline for nominations is June 16.

Click here to access the Community Service Awards program criteria and nomination form. For more information, contact Daisy Nappier or call 202-347-7474.
Excel as an Expert Witness, Boston, June 15-16
Engineers are often asked to serve as expert witnesses in legal proceedings—but these potentially lucrative assignments require much more than technical expertise.

Register now for ACEC's long-standing seminar, Applying Expertise as an Engineering Expert Witness, which outlines how to prepare for and successfully provide expert testimony for discovery, depositions, the witness stand, and related legal proceedings.

Scheduled for June 15-16, 2017 in Boston, MA, this 1-1/2 day course will detail each step of the qualifications, ramifications, and expectations of serving as an expert witness. Click here for the brochure.
Learn The Fundamentals of a Financially Sustainable Ownership Program, May 23
Too many firms are stuck in neutral and not making any meaningful progress with their ownership transition plans. Whether complacency or simply not knowing where to start is holding you back, the future won't wait.

In the May 23 online class Fundamental Elements for a Financially Sustainable Ownership Program, Matt Fultz will cover the financial fundamentals paramount to successfully transitioning ownership in your engineering firm.

You'll gain a better understanding of the underlying financial factors that impact your firm's value; learn commonly used methods for valuing a business, including the asset approach, market approach and income approach; and identify the link between your firm's financial performance and creating a financially sustainable ownership transition plan.

For more information and to register, click here.
The American Council of Engineering Companies
1015 15th St., NW, 8th Floor, Washington, DC 20005-2605
Phone:

202-347-7474

- Fax: 202-898-0068
www.acec.org
- E-mail:
acec@acec.org
Alan D. Crockett, Director, Communications
Gerry Donohue, Editor/Designer