Robotics, SEAL Team Six, Millennials and Your Firm...at the ACEC Fall Conference, Oct. 15-18

The 2017 ACEC Fall Conference in Orlando, October 15-18, will feature best-selling author Martin Ford, who will discuss the accelerating impact of artificial intelligence and robotics on the engineering industry, economy, and society at large.

Rob O'Neill, the former SEAL Team Six leader who killed Osama bin Laden, will share the military's "best of the best" plan for success and how to apply it in your firm.

A renowned authority on generations in America, Neil Howe will provide startling insights into the work habits of the "Millennial Generation"—he actually coined the term—and how you can make the most of them.

The Conference will be held at the Hilton Bonnet Creek & Waldorf Astoria resort.

For more information and to register, click here.
Delaware Meets ACEC/PAC Goal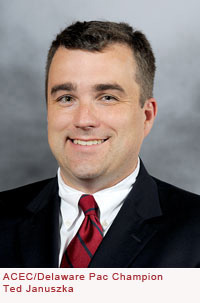 ACEC/Delaware reached its ACEC/PAC goal this week, marking the eleventh straight year that the state has made 100 percent of its PAC objective. Delaware joins Indiana, Wisconsin, Hawaii, Tennessee, Massachusetts, and Rhode Island in having met their 2017 fundraising objective.

"Delaware makes meeting our PAC goal a high priority early on each year, and two tools are critical to our success" said PAC Champion Ted Januszka of Pennoni Associates in Newark. "We use the ACEC/PAC Sweepstakes raffle, which gives people the incentive to contribute with a chance to win, as well as the ACEC/PAC disbursement budget, which illustrates the return on our fundraising investment."

For more information about ACEC/PAC and ACEC's political programs visit the ACEC/PAC website or contact ACEC Executive Director of Political Affairs Greg Knopp or ACEC/PAC Director Katherine Bohny.
Action Alert: Council Supports Bills to Use Private Activity Bonds for Public Buildings
ACEC members are asked to contact your Congressional delegation to urge support for bipartisan legislation that would add public buildings to the list of facilities that qualify for private activity bonds (PABs). Click here to access a sample letter that can be personalized with firm-specific information.

Senators Dean Heller (R-NV) and Bill Nelson (D-FL), and Representatives Mike Kelly (R-PA) and Earl Blumenauer (D-OR), introduced S. 326 and H.R. 960 respectively to create a new financing mechanism to support the design and construction of schools, court houses, libraries, and other public buildings.

The legislation would make available up to $5 billion in PABs for state and local governments to construct a variety of government-owned buildings, providing needed infrastructure funding and encouraging the use of public-private partnerships.
Member Action Needed to Create Level Playing Field for Federal Trade Association PACs
ACEC is backing legislation to repeal the "prior approval" rule, which requires ACEC/PAC and other federal trade association political action committees (PACs) with corporate members to get permission from individual members before soliciting and/or accepting contributions.

Members are asked to contact their Representatives today and urge them to cosponsor the Prior Approval Reform Act (H.R. 2101). Click here for more information and to access a sample letter.

Introduced by Mark Amodei (R-NV), the bill would allow ACEC and other associations to communicate with their members under the same set of federal rules that apply to corporate PACs and labor unions.

The current prior approval law is discriminatory, because no other political entity, including corporate, labor union, and individual membership association PACs are subject to this restriction. The requirement also limits free speech protected by the First Amendment because it hinders political participation among association members.
Deadline Imminent for Nominations for 2017 ACEC Community Service Awards
The ACEC Committee of Fellows is soliciting nominations for the 2017 ACEC Community Service Awards, which recognize Member Firm leaders who have made a significant impact on the quality of life in their communities.

The deadline for nominations is June 16.

Member Organizations nominate award candidates, who must have at least five years of experience as a principal or manager in an ACEC Member Firm.

Click here to access the Community Service Awards program criteria and nomination form. For more information, contact Daisy Nappier or call 202-347-7474.
ACEC Supports Representative Issa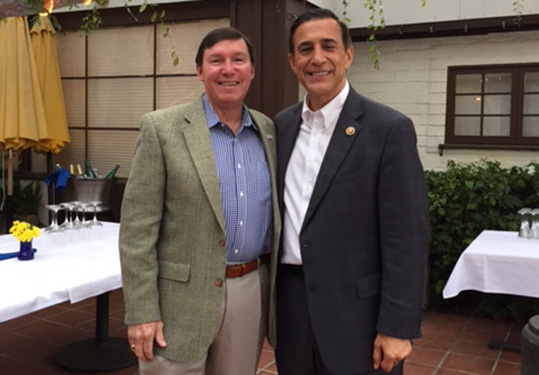 Don't Miss Out on ACEC Expert Witness Seminar, Boston, June 15-16
Engineers are often asked to serve as expert witnesses in legal proceedings—but these potentially lucrative assignments require much more than technical expertise.

Register now for ACEC's long-standing seminar, Applying Expertise as an Engineering Expert Witness, which outlines how to prepare for and successfully provide expert testimony for discovery, depositions, the witness stand, and related legal proceedings.

Scheduled for June 15-16, 2017 in Boston, MA, this 1-1/2 day course will detail each step of the qualifications, ramifications, and expectations of serving as an expert witness. Click here for the brochure.
Online Class Shows How Conversation and Collaboration Win Sales, June 14
Your firm's growth depends on your ability to turn prospects into clients, conversation by conversation. How do you make your conversations count?

In the June 14 online class Conversation and Collaboration Win Sales, Nancy Bleeke will show you how to build a strategic framework that focuses your conversations with prospects on what they really want and converts them into fully committed clients.

You'll learn why you need to ditch the pitch and how to use collaborative conversations to secure decisions and commitments; what selling really is and why we all sell; what it really means to be customer-focused and earn the buyer's time, attention, and business; and how to use a five-minute preparation to increase your probability of having a winning conversation.

For more information and to register, click here.
NYC Subway Announces "The MTA Genius Transit Challenge"
The Metropolitan Transportation Authority (MTA) today announced the launch of the "MTA Genius Transit Challenge," an international competition seeking solutions to increase the capacity and improve the reliability of New York City's subway service.

Three $1 million "genius" prizes will be awarded for the best ideas in each of three categories:
How to improve the New York City subway's signal system
How to bring better subway cars to the system
How to increase communications connectivity in subway tunnels
The competition will begin June 29 with a conference at the City College of New York's Great Hall.

For more information, click here.
The American Council of Engineering Companies
1015 15th St., NW, 8th Floor, Washington, DC 20005-2605
Phone:

202-347-7474

- Fax: 202-898-0068
www.acec.org
- E-mail:
acec@acec.org
Alan D. Crockett, Director, Communications
Gerry Donohue, Editor/Designer