New ACEC Superfund Study is "Wake Up" Call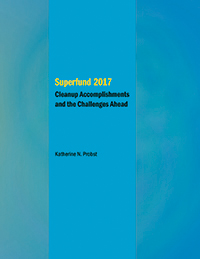 A just-released independent study of EPA's Superfund program shows a steady decline in both funding and the rate of clean-ups. "It's a wake-up call to Congress and the federal government," said ACEC President/CEO Dave Raymond

Superfund 2017: Cleanup Accomplishments and the Challenges Ahead documents how annual Superfund appropriations have fallen from a high of $1.9 billion in FY 2000 to a low of $1.09 billion in FY 2016 (in constant 2016 dollars), even as new contaminated sites continue to be added to the National Priorities List (NPL). For FY2018, the Trump Administration has proposed to cut $330 million more from the program.

"Funding for Superfund has been trending downward, and the Administration has proposed even deeper cuts, putting at risk the progress that has been made in cleaning up many of the nation's contaminated sites," said Raymond. "This is a very timely study at a critical point in the federal appropriations process and should be used by Congress, government agencies, and private firms to guide the program going forward."

The study was written by Katherine N. Probst, an independent analyst who was the lead author of a landmark 2001 Superfund report to Congress. ACEC funded the new study, but Probst had complete independence in all aspects of the work.

Click here to read the study.
ACEC Secures Airport Funding Increases in House FAA Bill
The Federal Aviation Administration reauthorization bill passed by the House Transportation and Infrastructure Committee on Tuesday includes an ACEC-backed amendment to boost funding for the Airport Improvement Program (AIP) from the current level of $3.35 billion to $3.6 billion in FY2018 and to $4 billion in FY2023. This would be the first increase for the AIP program in more than a decade.

ACEC continues to work with the Committee to lift the $4.50 cap on Passenger Facility Charges (PFCs) and to apply QBS to PFC-funded projects.

Later this week, the Senate Commerce Committee is expected to consider its FAA bill, which increases AIP funding by $400 million in Fiscal Years 2019-2021.

The Council is also supporting provisions in both bills related to unmanned aircraft systems, including a risk-based permitting process for expanded commercial operations, and additional research and development into new and emerging technologies.

Click here to view a letter outlining ACEC's views on the House bill.
Former Intelligence Chief Michael Hayden to Speak at ACEC Fall Conference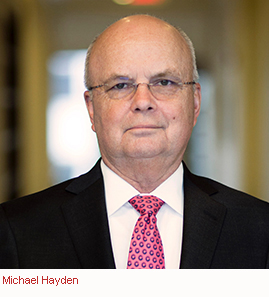 Former National Security Agency and Central Intelligence Agency Director Michael Hayden will discuss the war on terrorism, growing cyber challenges, and dangers and opportunities facing the United States.

Other speakers at the Conference include:
Martin Ford, best-selling author on the impact of artificial intelligence and robotics
Rob O'Neill, the former SEAL Team Six leader who killed Osama bin Laden
Neil Howe, expert on the Millennial Generation (he coined the term).
The Conference also features CEO, CFO and CIO roundtables and Emerging Leaders and Coalition programs.

The Fall Conference will be held October 15-18 at the Hilton Bonnet Creek & Waldorf Astoria resort.

For more information and to register, click here.
Senate Health Care Bill Stalled
Senate Republicans released draft legislation late last week that would fundamentally reshape the Affordable Care Act (ACA). Controversy over provisions in the bill led Senate leadership to postpone a vote until after the July 4 recess.

The measure would retroactively repeal the employer mandate penalties for firms with more than 50 employees that do not offer qualified health insurance to January 1, 2016.

The bill would also repeal the health insurance tax on fully-insured plans sold to small firms, delay the "Cadillac tax" on high-cost plans until 2026, and eliminate the ACA tax on the investment income of high-income individuals starting in 2017 and on the earnings of high-income individuals starting in 2023.

The legislation includes language to promote the development of association health plans (AHPs), such as the ACEC Life/Health Trust, allowing AHPs to sell fully-insured health plans to association members while being regulated by one state instead of all 50 states.
ACEC Publishes Guide to Succeeding in Professional Consulting Organization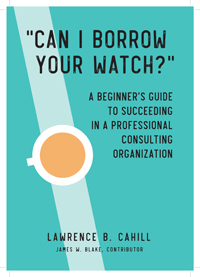 "Can I Borrow Your Watch?" A Beginner's Guide to Succeeding in a Professional Consulting Organization offers new engineers a head start in the business of professional consulting. ACEC published the 143-page book in early June.

Written by veteran management consultant Lawrence Cahill and ACEC member James Blake, "Can I Borrow Your Watch" is tailored to the unique needs of engineering firms. The book lays out the skills and experiences young consultants need to be successful in a large organization, including writing reports, project management, client relationships, proposals, and financial management.

Bulk pricing is available! For more information on how to provide all of your budding engineering consultants with this essential manual click here.

Click here to browse the table of contents, learn more about the authors, and read the first two chapters.

To order a copy of "Can I Borrow Your Watch", click here.
Submit Your Firm's Sustainable Headquarters/Branch Office Design to Engineering Inc. by July 21
Engineering Inc. will spotlight Member Firms' commitment to sustainability as illustrated through their own facility's green innovations and designs in its November/December 2017 issue.

If your firm's headquarters or branch office features innovative examples of sustainable design and you'd like it to be considered for in this special Engineering Inc. section, e-mail the information below to Engineering Inc. Staff Editor Andrea Keeney by Friday, July 21, 2017:

In a one- or two-page document, submit the following: project name and location; project overview, including unique aspects/challenges; and the name, title, phone number and e-mail address of the Member Firm executive to be interviewed for the project profile. The project can be under construction or recently completed.

If you have any questions, contact Andrea Keeney.
Register for Induction into the Order of the Engineer at Fall Conference
The College of Fellows will host the induction ceremony for interested ACEC Members into The Order of the Engineer—a national organization dedicated to "upholding the standards and dignity of the engineering profession"—at the upcoming 2917 ACEC Fall Conference in Orlando, Fla.

The Order of the Engineer was initiated to foster a spirit of pride in the profession, emphasizing that the primary purpose of engineering is to serve the public and that all members of the engineering profession share a common bond.

At the Fall Conference ceremony, inductees will take the "Obligation of the Engineer" oath and be presented with a stainless steel ring as a symbol of membership.

Click here to register for the induction ceremony and to order rings. Click here to visit the Order of the Engineer website. For further information, contact Daisy Nappier.
Avoid Organizational Amnesia When Key Staff Leave, June 29
At many small and mid-size firms, employees with vast knowledge and experience are leaving at a record pace...and taking with them a lot of intellectual capital before it can be transferred to the company.

In the June 29 online class How to Avoid Organizational Amnesia: Transferring Employee Knowledge and Skills Before They Walk Out the Door, Dan Weedin will share strategies to ensure that the valuable organizational information residing in the brains of your veteran employees is adequately retrieved, catalogued, and passed on to the next generation. Through an intentional and planned process of coaching, mentoring, and professional development, you can ensure you never lose your organizational memory.

You will learn how to improve retention of valuable intellectual capital from exiting employees; enhance professional development for all employees; create a sustainability model to assure it never becomes a problem; and improve organizational morale and culture through a collaborative process.

For more information and to register, click here.
The American Council of Engineering Companies
1015 15th St., NW, 8th Floor, Washington, DC 20005-2605
Phone:

202-347-7474

- Fax: 202-898-0068
www.acec.org
- E-mail:
acec@acec.org
Alan D. Crockett, Director, Communications
Gerry Donohue, Editor/Designer