ACEC/Rhode Island Wins Major QBS Victory

ACEC/Rhode Island used its newfound influence to gain enactment of a law mandating that all state municipalities follow a "Qualifications-Based Selection" (QBS) process when procuring engineering services.

Rhode Island became the Council's 52nd State Organization in October 2016.

The new law, which was enacted last week, provides guidance for city and town leaders on how to implement QBS and makes clear that price is not to be a factor prior to negotiation with the most qualified firm.

"Being part of a powerful organization that for years has carried on the fight for QBS throughout the nation was a tremendous boost when emphasizing the benefits," says ACEC/RI President John Shevlin.

Executive Director Marcel Valois said the new ACEC/Rhode Island is primed for continued influence. "ACEC/RI is less than a year old and this quick legislative win demonstrates to our members the potential we have as an effective voice for the engineering community in our state," he said.

Valois and Shevlin are also encouraged about the prospects of a similar QBS bill they are promoting with a state purchasing entity when the General Assembly reconvenes.
ACEC-Backed Senate Bill Would Fully Fund Major Transportation Programs, Raise Passenger Facility Charges
The Council is supporting the Senate FY2018 Department of Transportation appropriations bill that fully funds surface transportation programs under the FAST Act and increases investment in airport infrastructure.

The bill provides almost $45 billion for highways and rejects the Administration's budget proposal to cut transit capital investment grants for new projects. It provides $550 million for TIGER multimodal grants, an increase of $50 million above current levels, and increases Airport Improvement Program funding by $250 million.

The legislation also includes an ACEC-backed provision to increase the cap on Passenger Facility Charges collected by airports for infrastructure investment. A similar provision was left out of related bills to reauthorize FAA programs. Click here to view a letter of support from ACEC and other stakeholders in support of the increase.

The Senate Appropriations Committee is scheduled to vote on the bill Thursday. To view a summary of the legislation, click here.
House Committee Echoes ACEC Call for USAID to Increase Use of American Engineering Firms
ACEC-backed language in the House Appropriations Committee FY2018 State and Foreign Operations report calls for the U.S. Agency for International Development (USAID) to make greater use of U.S. firms in international development projects.

The bi-partisan language was sponsored by Rep. Charlie Dent (R-PA), Rep. Dutch Ruppersberger (D-MD) and Rep. Tom Rooney (R-FL).

ACEC is working with Senate offices on companion language.
Get Your PDHs at the ACEC Fall Conference, October 15-18
ACEC's Fall Conference in Orlando, Fla., October 15-18, will feature 24 advanced business sessions, including:
Impact of Technology on Engineering Businesses
Contracting Trends and How to Protect the Role of the Engineer
Top AEC Markets: Sectors, Strategies, & Trends for 2018
Engineer-Led Design-Build for Greater Profitability
Dangerous Contractual Terms
Getting Your PMs to Think Like Owners
Earn 1.25 professional development hours (PDHs) for each session that you attend.

The Conference also features CEO, CFO and CIO roundtables and Emerging Leaders and Coalition programs. Speakers include: former National Security Agency and Central Intelligence Agency Director Michael Hayden; Martin Ford on the impact of artificial intelligence and robotics; Rob O'Neill, the former SEAL Team Six leader who killed Osama bin Laden; and Neil Howe, expert on the Millennial Generation (he coined the phrase).

For more information on the Fall Conference and to register, click here.
ACEC College of Fellows to Host Charity Fun Walk at Fall Conference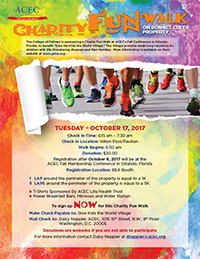 The College of Fellows is sponsoring a Charity Fun Walk at the Fall Conference in Orlando on October 17, 2017. Proceeds from the event will benefit "Give the Kids the World Village," which provides week-long vacations for children with life-threatening diseases and their families.

The walk will follow a route around the perimeter of the Hilton Bonnet Creek & Waldorf Astoria property. The ACEC Life/Health Trust is sponsoring T-shirts, and power breakfast bars and mimosas will be available.

Participation donation is $20.

For more information, contact Daisy Nappier.
Only Seven Seats Remain for ACEC's Pathways to Executive Leadership Program
Following on last year's sold-out inaugural class, ACEC's 2017 Pathways to Executive Leadership program provides in-depth instruction on how to lead an A/E firm, giving participants the skills necessary to think strategically in their markets, build effective teams, and deliver great customer service.

"The Pathways training was the best experience I've had in terms of learning strategies and tactics that have helped me in my day-to-day activities," said Brad Thompson, planning services manager at Volkert, Inc. "I can't say enough good things about it. It was extremely valuable to me, and I think it would be for anybody in our industry.

The program spans six months, beginning October 15-18, 2017 at the ACEC Fall Conference in Colorado Springs and ending April 22-25, 2018 at the ACEC Annual Convention in Washington D.C., and includes both onsite and online sessions.

Only seven seats remain for the upcoming class.

Pathways to Executive Leadership is designed for young professionals looking to accelerate their career growth. It fills the gap between ACEC's Business of Design Consulting program and the Senior Executives Institute.

Faculty includes Geordie Aitken and Magda Dominik of the Aitken Leadership Group; Rod Hoffman and Barb Smith of S & H Consulting; and ACEC Member Firm leaders.

For more information on the program and to register, click here.
Register for Induction into the Order of the Engineer at Fall Conference
The College of Fellows will host the induction ceremony for interested ACEC Members into The Order of the Engineer—a national organization dedicated to "upholding the standards and dignity of the engineering profession"—at the upcoming 2017 ACEC Fall Conference in Orlando, Fla.

The Order of the Engineer was initiated to foster a spirit of pride in the profession, emphasizing that the primary purpose of engineering is to serve the public and that all members of the engineering profession share a common bond.

At the Fall Conference ceremony, inductees will take the "Obligation of the Engineer" oath and be presented with a stainless steel ring as a symbol of membership.

Click here to register for the induction ceremony and to order rings. Click here to visit the Order of the Engineer website. For further information, contact Daisy Nappier.
Online Class Offers Keys to Managing Projects to Meet Clients Expectations, August 10
Give your engineers a jump-start on managing their design services contracts.

In the August 10 online class Manage Your Projects to Meet Your Clients Expectations, John Lowe will share strategies and tactics to simplify your approach to contracting for your services and improving the efficiency of your design process.

You'll also better understand the significance of professional design services contract terms; create a culture of professional liability avoidance; improve the efficiency of your design process; avoid bidding process pitfalls; and improve the management of the construction process.

For more information and to register, click here.
The American Council of Engineering Companies
1015 15th St., NW, 8th Floor, Washington, DC 20005-2605
Phone:

202-347-7474

- Fax: 202-898-0068
www.acec.org
- E-mail:
acec@acec.org
Alan D. Crockett, Director, Communications
Gerry Donohue, Editor/Designer