Record Fall Conference Attendance Expected; Discount Registration Deadline Looms—Book Now!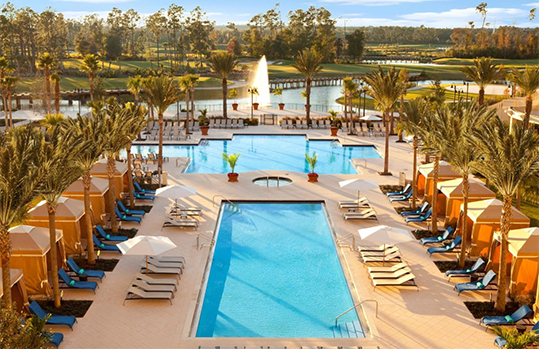 Your opportunity to save $100 on your registration for the ACEC Fall Conference ends on September 14. Additional registrants from the same firm and first-time member attendees can save an additional $145.

To register now for the Fall Conference in Orlando, October 15-18, click here.

The ACEC hotel room blocks at Hilton Orlando Bonnet Creek or Waldorf Astoria Orlando also close on September 14. To reserve your room online, click here.

The Fall Conference features internationally renowned speakers, CEO panels, more than 30 management education programs, CEO roundtables, the CASE Convocation, the annual ACEC Awards Luncheon, and numerous ACEC coalition, council, and forum events.

For more Fall Conference information, click here.
ACEC Priorities Part of September Congressional Agenda
Congress returned to Capitol Hill this week with a full agenda for September, including FY2018 appropriations bills, an increase in the federal debt limit, disaster assistance, airport construction, tax reform, and other priorities affecting ACEC members.

The House will take up a massive omnibus spending package that will fund numerous federal programs, including transportation and environmental infrastructure and international development. ACEC has secured language within the State Department funding bill to encourage greater use of U.S. engineering firms by the U.S. Agency for International Development (USAID).

Congress may also take up legislation to reauthorize Federal Aviation Administration (FAA) programs, including funding for airport improvement projects. The Council continues to work with lawmakers to expand the use of Qualifications-Based Selection (QBS) for airport projects receiving federal funds.

In addition to emergency funding to aid communities impacted by Hurricane Harvey, Congress is expected to take up legislation to reauthorize the Federal Emergency Management Agency (FEMA) and to extend the federal flood insurance program by three months. ACEC has language attached to the legislation directing FEMA to examine liability risks for firms performing emergency response work for government agencies.

On the regulatory front, ACEC is working to shape pending federal rules on cybersecurity and on revisions to the salary threshold for non-exempt employees under the Fair Labor Standards Act (FLSA).
Illinois Hits 2017 ACEC/PAC Fundraising Goal; Sets Sights Higher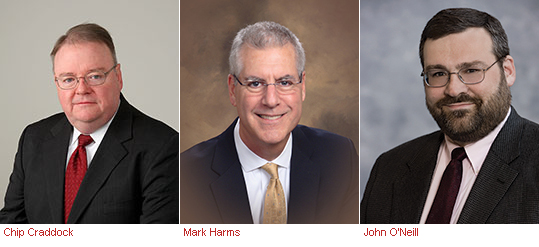 ACEC/Illinois surpassed its ACEC/PAC goal for the 13th straight year this week, but is not done yet. The state is still actively fundraising and expects to raise even more for ACEC/PAC in the coming months.

The Illinois effort is led by a trio of PAC Champions: Chip Craddock of Clark Dietz, Inc., John O'Neill of Michael Baker International, and Mark Harms of SCI Engineering. "We're very proud that Illinois has the most Capitol Club members (four) and the most Chairman's Club members (six)," said Harms. "All of us understand that contributing to the PAC is part of our responsibility as ACEC members."

ACEC/IL is helping ACEC/Missouri reach its fundraising goal by hosting a Missouri vs. Illinois Ryder Cup format golf tournament.

Member Organizations that have already reached their 2017 goals are Indiana, Wisconsin, Hawaii, Tennessee, Massachusetts, Rhode Island, Delaware, Montana, and Alabama.

For more information about ACEC/PAC and ACEC's political programs visit the ACEC/PAC website or contact ACEC Executive Director of Political Affairs Greg Knopp or ACEC/PAC Director Katherine Bohny
ACEC/California Members Participate in Congressman Vargas Campaign Event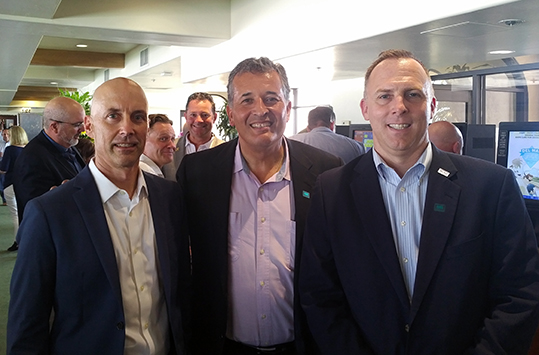 Solve the Mysteries of the FAR; ACEC/NHI Courses, Austin, Texas, October 2-5
In collaboration with FHWA's National Highway Institute, ACEC will offer Mysteries of the FAR Revealed: Using the AASHTO Audit Guide, in two consecutive courses, in Austin, Texas, October 2-5.

Course One is a two-day (October 2-3) program detailing how to apply the Audit Guide in the development and administration of A/E consultant direct and indirect costs and rates.

Course Two, which runs on October 4-5, is an advanced program that focuses on audit requirements and procedures in reviewing compliance with federal regulations and guidance.

For more information on Course One, click here. For Course Two, click here.
Submit Your Firm's Innovative Restorations to Engineering Inc. by Sept. 21
Has your firm done an innovative and interesting restoration of a vacant, aged or deteriorating structure?

The January/February 2018 issue of Engineering Inc. will spotlight Member Firm's restorations.

If you have a project that you'd like to be considered for in this special Engineering Inc. section, e-mail the information below to Engineering Inc. Staff Editor Andrea Keeney by Thursday, Sept. 21.

In a one- or two-page document, submit the following: project name and location; project overview, including unique aspects/challenges; and the name, title, phone number and e-mail address of the Member Firm executive to be interviewed for the project profile. The project can be under construction or recently completed.

If you have any questions, contact Andrea Keeney.
How to Use Twitter to Connect to Clients, Prospects, and the Media, September 12
It's time to add Twitter to your firm's lead-generation tool belt.

In the September 12 online class 6 Ways to Use Twitter to Connect to Clients, Prospects, and the Media, Jennifer Abernethy will show you not just how to use Twitter, but how to help your business stand out on Twitter. Whether you want more clients, more information, or simply another way to build your professional brand, it's time to add Twitter to your firm's lead-generation tool belt.

You'll also learn: What to consider before you tweet; how to stand out, get found, and become a thought leader on Twitter; why the number of followers doesn't matter; and how to use Twitter as an SEO tool.

For more information and to register, click here.
Engineering Inc. to Highlight Member Firm Community Service Programs; Deadline Sept. 15
Many engineering firms devote considerable staff time and resources to various community service programs, either locally or nationally. These efforts, also known as corporate social responsibility, enable firms to give back to their community and society. If your firm is involved in a community service program, we would like to hear from you and feature your story in Engineering Inc.

To have your firm's program(s) considered for an upcoming feature in the magazine, please e-mail the following information below to Engineering Inc. Staff Editor Andrea Keeney by September 15, 2017:

Please submit a one- to two-page document outlining the following information:
Name and brief overview of the firm's community service program
Complete contact information for community service program manager(s), who will be interviewed for feature article
Launch date of the program and its objective(s)
How many firm employees participate in the program?
When does the program occur? At certain times of the year or ongoing?
Where is the program conducted? Is it a local community, multiple locations or nationwide?
How many individuals are impacted by this program and how successful has it been?
If selected, firms should be prepared to provide hi-res photos and captions, as well as formal, color headshots of firm executives interviewed for the article.

If you have any questions, please contact Andrea Keeney.
ACEC College of Fellows to Host Charity Fun Walk at Fall Conference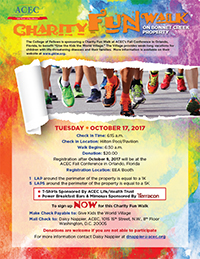 The College of Fellows is sponsoring a Charity Fun Walk at the Fall Conference in Orlando on October 17, 2017. Proceeds from the event will benefit "Give the Kids the World Village," which provides week-long vacations for children with life-threatening diseases and their families.

The walk will follow a route around the perimeter of the Hilton Bonnet Creek & Waldorf Astoria property. The ACEC Life/Health Trust is sponsoring T-shirts, and Terracon is sponsoring power breakfast bars and mimosas.

Participation donation is $20.

For more information, contact Daisy Nappier.
Register for Induction into the Order of the Engineer at Fall Conference
The College of Fellows will host the induction ceremony for interested ACEC Members into The Order of the Engineer—a national organization dedicated to "upholding the standards and dignity of the engineering profession"—at the upcoming 2017 ACEC Fall Conference in Orlando, Fla.

The Order of the Engineer was initiated to foster a spirit of pride in the profession, emphasizing that the primary purpose of engineering is to serve the public and that all members of the engineering profession share a common bond.

At the Fall Conference ceremony, inductees will take the "Obligation of the Engineer" oath and be presented with a stainless steel ring as a symbol of membership.

Click here to register for the induction ceremony and to order rings. Click here to visit the Order of the Engineer website. For further information, contact Daisy Nappier.
The American Council of Engineering Companies
1015 15th St., NW, 8th Floor, Washington, DC 20005-2605
Phone:

202-347-7474

- Fax: 202-898-0068
www.acec.org
- E-mail:
acec@acec.org
Alan D. Crockett, Director, Communications
Gerry Donohue, Editor/Designer