Florida M.O. Changes Name to Align with "Powerful ACEC National Brand"

The ACEC Florida Member Organization's recent decision to officially change its name from FICE to ACEC/Florida was fueled by a strong desire to align with the Council's powerful national brand, state leaders say.

Effective January 1, 2018, the Florida Institute of Consulting Engineers (FICE) and its 350 statewide member firms, will become ACEC/Florida—the last of the Council's 52 M.O.s to formally adopt the unified name.

FICE Past President J. Scott Gombar, of Eisman & Russo, Weston, Fla., led the successful name change campaign. "I became very passionate about what ACEC does for our profession and our businesses," Gombar said, adding that the opinions of ACEC members nationwide convinced him of the benefits of changing the name.

Following approval by the FICE Board of Directors, Florida Member Firms voted almost unanimously to adopt the ACEC name.

Executive Director Allen Douglas said being known officially as ACEC/Florida will benefit the M.O. in many ways. "Most importantly, it will help us in our advocacy efforts in the state legislature, and in state and federal agencies as we are now part of the powerful ACEC national brand."
ACEC Win—Firm Liability Limited in New NERC Supply Chain Cyber Security Standard
ACEC helped to win critical changes in the new North American Electric Reliability Corporation (NERC) supply chain cyber security standard. After more than a year of negotiations, NERC dropped proposed contract language that would have created unreasonable liability for engineering firms in the event of a breach of utility cyber security.

Original contract language recommended by DOE included prescriptive provisions that pushed liability down the supply chain to vendors such as engineering firms. The new rule incorporates a risk-based approach for minimizing cyber security breaches that limits prospective liability for A/E firms.

NERC filed the new standard with the Federal Energy Regulatory Commission (FERC) last week and approval is expected within a few weeks.

For more information contact ACEC Environmental & Energy Programs Director Lynn Schloesser.
Congressman Addresses ACEC's New SEI Class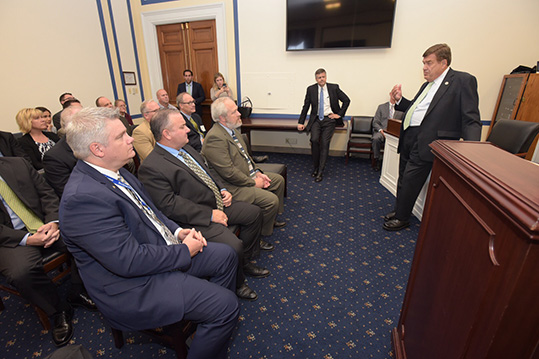 New "Power of ACEC" Video Earning Rave Reviews
Executive directors and members are commending ACEC's recently released "Power of ACEC" video, praising it as a persuasive membership recruitment and retention tool.

"Wow, that video is so well done! It makes me proud to work for ACEC in Missouri!"—Bruce A. Wylie, president/CEO, ACEC/Missouri.

"This is a fantastic piece of work!!!! It will become a vital tool for my ongoing battle to recruit new members and educate everyone on the need to support the PAC. Well done, as usual!!!"—Brendan Cosgrove, executive director, ACEC/Vermont.

"You've captured the spirit of our work, brilliantly! Thank you for finally giving me a POWER TOOL to add to my toolkit! Job well done."—Renee Casillas, executive director, ACEC/Alabama.

"Great and really professionally done, highlighting the immense attractiveness of ACEC."—Rod Hoffman, CEO, S&H Consulting.

To view the new "Power of ACEC" video, click here.
From Geo-Politics to Contracting Trends—Speakers at the Upcoming Fall Conference
The 2017 ACEC Fall Conference in Orlando, October 15-18, features an impressive array of speakers:
Former National Security Agency and Central Intelligence Agency Director Michael Hayden on global political challenges
Martin Ford, best-selling author on the impact of artificial intelligence and robotics
Rob O'Neill, the former SEAL Team Six leader who killed Osama bin Laden
Neil Howe, expert on the Millennial Generation (he coined the term)
Panel addressing Impact of Technology on the Business of Engineering: Benesch President/CEO John Carrato, EMH&T President Sandy Doyle-Ahern, KCI Chair/CEO Terry Neimeyer and TranSystems CEO Rich Morsches
Panel looking at Contracting Trends and How to Protect the Role of the Engineer: Lochner President/CEO Jeanne Cormier, Setec CEO Michel Kahan, Gresham, Smith and Partners Chair/CEO Alan Pramuk, and RS&H CEO David Sweeney
The Conference also features CEO, CFO and CIO roundtables, more than 30 business sessions, and Emerging Leaders and Coalition programs.

For more information and to register, click here.
North Dakota Latest State to Hit ACEC/PAC Fundraising Target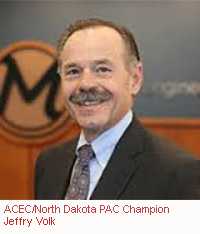 ACEC/North Dakota has reached its PAC goal for the 13th consecutive year.

"Our state organization has really built an expectation that we will make goal each and every year," said ACEC/ND PAC Champion Jeffry Volk of Moore Engineering in West Fargo.

Eleven other states have already hit their fundraising targets: Indiana, Wisconsin, Hawaii, Tennessee, Massachusetts, Rhode Island, Delaware, Montana, Alabama, Illinois and Georgia. Several more MOs are expected to meet their fundraising goals before the ACEC Fall Conference.

For more information about ACEC/PAC and ACEC's political programs visit the ACEC/PAC website or contact ACEC Executive Director of Political Affairs Greg Knopp or ACEC/PAC Director Katherine Bohny
ACEC Discusses Future of Superfund Program with EPA
The ACEC Superfund Workgroup met with representatives from EPA;s Office of Superfund Remediation and Technology Innovation last week to discuss the future of the program and opportunities to accelerate site clean-ups.

The meeting followed on the recent publication of the ACEC-commissioned study Superfund 2017, Cleanup Accomplishments and the Challenges Ahead by Katherine Probst.

The Superfund Workgroup is focused on key programmatic issues including: program funding, site redevelopment, task order simplification, streamlining the design process, and encouraging targeted early actions.

For more information contact ACEC Environmental & Energy Programs Director Lynn Schloesser.
Mott MacDonald's Preto Wins ACEC/PAC Sweepstakes; Fundraising Passes $770,000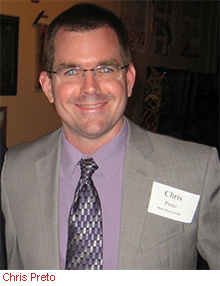 Chris Preto of Mott MacDonald won the $1,000 Grand Prize in the inaugural ACEC/PAC Summer Sweepstakes. ACEC/PAC sold more than 500 tickets and raised more than $12,500, pushing the PAC past $770,000 in year-to-date receipts and keeping it ahead of last year's record setting pace.

David Stigler of Pennoni Associates won the $500 prize; Steven True of BergerABAM in Washington won $250; and Kensal Lynn of Schwab-Eaton, Doug Barry of Pennoni, Scott Woerman of Landau Associates, and David Munson of David Munson & Associates won $100 each.

For more information about ACEC/PAC and ACEC's political programs visit the ACEC/PAC website or contact ACEC Executive Director of Political Affairs Greg Knopp or ACEC/PAC Director Katherine Bohny
How to Manage Your Firm's Finances to Ease Ownership Transition, Phoenix, Nov. 9-10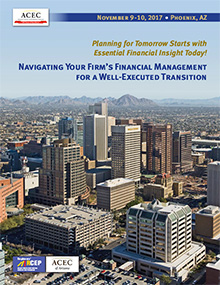 Planning for tomorrow starts with essential financial insight today.

The ACEC seminar, Navigating Your Firm's Financial Management for a Well-Executed Transition will give you a fresh perspective on your firm's financials and what the numbers mean as you consider the next steps for your business.

Matheson Financial Advisors Managing Director David Cohen will lead the seminar, which will be in Phoenix, November 9-10, 2017.

During the two-day program, you will:
Explore financial management beyond revenue, profits, backlog, and staff size.
Examine various performance, liquidity, and leverage ratios, and how to benchmark these results for shareholder value, and the relationship of firm valuation to internal ownership transition planning and mergers and acquisitions.
Learn about various internal transition options available to your firm and the process of mergers and acquisitions as it relates to growth and potential exit strategies.
You will earn 18 hours of Continuing Professional Education (CPE) credits and 15 Professional Development Hours (PDH).

Members can save $100 on registration by signing up before October 20.

For more information, click here.
Illinois, Missouri Face Off in Golf Tournament to Support ACEC/PAC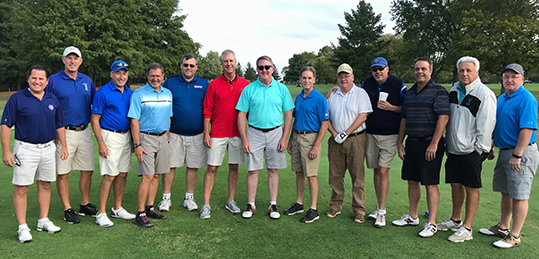 Online Class: Manage Your Time to Get an Extra Day Each Week
In the October 17 online class, 8 Days A Week: Time Management Leo MacLeod will share a flexible, but proven approach to structuring your time and managing your distractions. You will regain an additional day each week to spend it the way you want.

Learn how to:
Determine and protect the best use of your time
Prioritize and plan your week
Manage client expectations
Make time for business and professional development
Manage staff interruptions and gain their cooperation
Delegate effectively
Manage e-mail and all your technologies
Reduce your overall meeting schedule and run, faster, more productive meetings
For more information and to register, click here.
ACEC College of Fellows to Host Charity Fun Walk at Fall Conference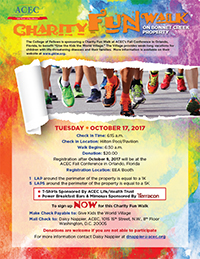 The College of Fellows is sponsoring a Charity Fun Walk at the Fall Conference in Orlando on October 17, 2017. Proceeds from the event will benefit "Give the Kids the World Village," which provides week-long vacations for children with life-threatening diseases and their families.

The walk will follow a route around the perimeter of the Hilton Bonnet Creek & Waldorf Astoria property. The ACEC Life/Health Trust is sponsoring T-shirts, and Terracon is sponsoring power breakfast bars and mimosas.

Participation donation is $20.

For more information, contact Daisy Nappier.
Register for Induction into the Order of the Engineer at Fall Conference
The College of Fellows will host the induction ceremony for interested ACEC Members into The Order of the Engineer—a national organization dedicated to "upholding the standards and dignity of the engineering profession"—at the upcoming 2017 ACEC Fall Conference in Orlando, Fla.

The Order of the Engineer was initiated to foster a spirit of pride in the profession, emphasizing that the primary purpose of engineering is to serve the public and that all members of the engineering profession share a common bond.

At the Fall Conference ceremony, inductees will take the "Obligation of the Engineer" oath and be presented with a stainless steel ring as a symbol of membership.

Click here to register for the induction ceremony and to order rings. Click here to visit the Order of the Engineer website. For further information, contact Daisy Nappier.
The American Council of Engineering Companies
1015 15th St., NW, 8th Floor, Washington, DC 20005-2605
Phone:

202-347-7474

- Fax: 202-898-0068
www.acec.org
- E-mail:
acec@acec.org
Alan D. Crockett, Director, Communications
Gerry Donohue, Editor/Designer