CEOs Guardedly Optimistic About Market in Latest ACEC EBI Survey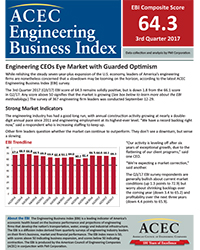 ACEC Member Firm leaders remain upbeat about the current state of the U.S. engineering market, but are concerned about a slowdown going forward, according to the latest ACEC Engineering Business Index (EBI) survey.

The 3rd Quarter EBI fell 1.8 points to 64.3. Any score above 50 indicates business expansion.

Survey respondents were bullish on today's market (up 1.3 points to 72.0), but less confident about backlog prospects over the coming year (down 3.4 points to 65.2) and profitability over the next three years (down 4.4 points to 65.9).

"Our activity is leveling off after six months of exceptional growth, due to the flattening of our client programs," said one respondent.

In private client markets, respondents anticipate growth over the next 12 months in only the Manufacturing/Industrial segment (up 0.4 points to 66.1). The Energy & Power segment, which has been strong in recent surveys, dropped 2.6 points to 64.7. "We are seeing much less funding coming up for future projects," said one CEO.

In public markets, Transportation was up 3.8 to 70.5, and Water and Wastewater rose 3.3 to 69.6, possibly reflecting CEO optimism about infrastructure funding.

To view the latest EBI report, click here.
ACEC Chair Pecori Promotes U.S. Engineering Interests at FIDIC Conference in Jakarta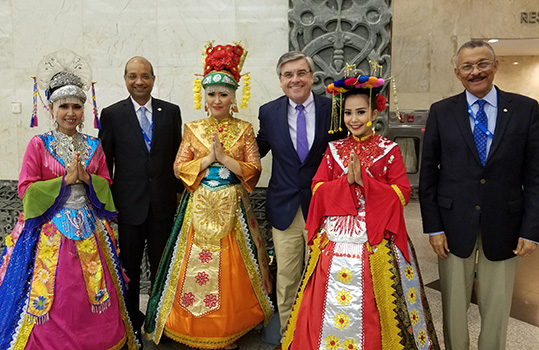 ACEC Chair Sergio "Satch" Pecori of Hanson Professional Services urged FIDIC to promote contracting best practices with international funding organizations and to strengthen its business programs. "We made excellent progress in gaining the support of the Chinese and other delegations for our business agenda," said Pecori.

ACEC Chair-Elect Manish Kothari of Sheladia Associates gave presentations on "Resilience and Disaster Risk Mitigation" and "Effective Consulting Services to Support Resilient Infrastructure".

Bill Howard of CDM Smith, a member of the FIDIC executive committee, was elected FIDIC vice president. ACEC President/CEO Dave Raymond was also recognized for his contributions to FIDIC over many years.

At the FIDIC Awards Ceremony, CDM Smith's "Biosolids Main Process Train" was named an Outstanding Project of the Year, and McFarland-Johnson, Inc. won an Award of Merit for its "Harnessing Geothermal Power for Airports" project.

The ACEC delegation also included former FIDIC President Gregs Thomopulos and Richard Stump of Stanley Consultants, Mike Geer of CDM Smith, and ACEC's Mark Steiner.
ACEC's Raymond Advances Industry Agenda at White House and Department of Energy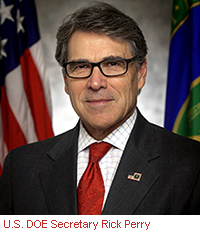 Council President/CEO Dave Raymond and other business leaders met with senior Administration officials last Thursday to discuss President Trump's infrastructure investment plans.

Jeff Rosen, Deputy Secretary of Transportation, and D.J. Gribbin, Special Assistant to the President for Infrastructure, reaffirmed the Administration's commitment to a robust infrastructure package that mixes direct federal funding with incentives for state, local, and private sector investment.

Yesterday, Raymond participated in discussions with Energy Department Secretary Rick Perry focused on regulatory reforms to expedite energy project delivery. Raymond also advocated for greater engineering participation on cyber security working groups.
Alaska, Kentucky and Maryland Lead ACEC/PAC Charge Into Orlando

ACEC/Alaska, ACEC/Kentucky, and ACEC/Maryland reached their PAC fundraising goals for 2017 this week.

For the 15th straight year, ACEC/AK hit its ACEC/PAC target. "Our members 'get it' and understand how critical it is to support business-friendly US House and Senate members to ensure good legislation is passed, which then allows their firm the opportunity to thrive," said PAC Champion Floyd Damron of CH2M in Anchorage.

ACEC/KY has reached goal for seven straight years and 14 out of the past 15. "Our state leadership, especially ACEC-KY President Shawn Washer, stressed the importance of meeting our goal early this year, along with emphasizing the positive things ACEC/PAC provides, namely access, input, and influence on the federal level," said PAC Champion Karen Wood of HMB Professional Engineers in Frankfurt

ACEC/MD PAC Champion Art Barrett of Gannett Fleming in Baltimore led the effort to get the state to goal for the thirteenth straight year. "Our members have been committed to supporting ACEC/PAC for a long time," said Barrett. "We've got a great team and a great system in place because our leadership makes ACEC/PAC a priority."

The other states at goal are Indiana, Wisconsin, Hawaii, Tennessee, Massachusetts, Rhode Island, Delaware, Montana, Alabama, Illinois, Georgia and North Dakota.

For more information about ACEC/PAC and ACEC's political programs visit the ACEC/PAC website or contact ACEC Executive Director of Political Affairs Greg Knopp or ACEC/PAC Director Katherine Bohny
Fall Conference Daily Rates are a Great Value
Take advantage of daily registration rates that allow you to attend a full day of sessions at the 2017 ACEC Fall Conference in Orlando, October 15-18.

Attend on Monday, October 16, and you can hear Martin Ford address the impact of robotics and artificial intelligence on the workforce, a panel of Member Firm CEOs discuss how technology will change the business of engineering, and former SEAL Team Six Leader Robert O'Neill share leadership lessons.

On Tuesday, October 17, you can hear Neil Howe analyze current and future demographic trends, a Member Firm CEO panel discuss how to protect the role of the engineer in today's contracting environment, and former CIA and NSA Director Michael Hayden offer his insights into cybersecurity.

Each day you can attend any of 15 business education sessions and tour the Exhibit Hall with more than 40 product and services vendors.

For more information on the Fall Conference, click here. For information on daily rates, click here.
ACEC/Colorado Supports Congressman Mike Coffman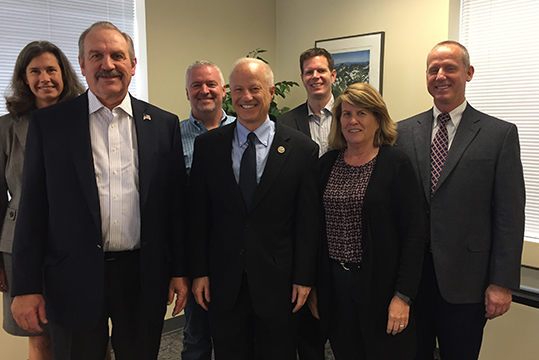 Greyling Takes Over as ACEC BIT Administrator on January 1
Greyling Insurance Brokerage & Risk Consulting—a division of EPIC will replace Marsh as the broker and program administrator for the ACEC Business Insurance Trust (ACEC BIT) Program on January 1, 2018.

Founded in 2005, Greyling/EPIC is a Top 20 insurance broker nationwide and was developed by risk management professionals to exclusively serve design professionals.

The ACEC BIT program provides access to insurance products and risk management services specifically designed by engineers for engineers. Unique benefits include: Deductible assistance program; royalty sharing; coalition program dues; and royalty sharing for ACEC/National and State Organizations.

For more information, contact Greyling/EPIC's ACEC BIT Program Manager Jeff Connelly at 833.ACECBIT 833.223.2248 (toll-free) or ACEC BIT Chair Gary Loesch at 631.756.8000: ext. 1140.
Online Class: How Marketing and HR Can Collaborate to Boost Your Bottom Line
Collaboration between your marketing and HR teams can be crucial for your firm's success, but how can you bridge the gap between the two?

In the October 18 online class Work Together, Win Together: How Marketing and HR Can Collaborate to Win the War for Talent (and Clients too), Tim Asimos will examine the intersection of marketing and HR and demonstrate how to better align them to support your firm's brand, employees, culture, and bottom line.

You will learn how to:
Align the internal culture with the external brand
Transform employees (past and present) into brand advocates
Apply marketing strategies and tactics to recruitment efforts
Leverage marketing's skills to improve internal communication
Build a marketing mindset through continuous education and training
For more information and to register, click here.
Register for Transitions Seminar in Phoenix by October 20 and Save $100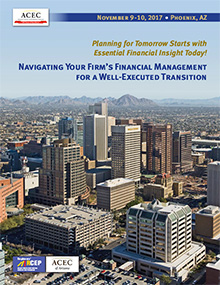 Planning for tomorrow starts with essential financial insight today.

The ACEC seminar, Navigating Your Firm's Financial Management for a Well-Executed Transition will give you a fresh perspective on your firm's financials and what the numbers mean as you consider the next steps for your business.

Matheson Financial Advisors Managing Director David Cohen will lead the seminar, which will be in Phoenix, November 9-10, 2017.

Members can save $100 on registration by signing up before October 20.

During the two-day program, you will:
Explore financial management beyond revenue, profits, backlog, and staff size.
Examine various performance, liquidity, and leverage ratios, and how to benchmark these results for shareholder value, and the relationship of firm valuation to internal ownership transition planning and mergers and acquisitions.
Learn about various internal transition options available to your firm and the process of mergers and acquisitions as it relates to growth and potential exit strategies.
You will earn 18 hours of Continuing Professional Education (CPE) credits and 15 Professional Development Hours (PDH).

For more information, click here.
ACEC College of Fellows to Host Charity Fun Walk at Fall Conference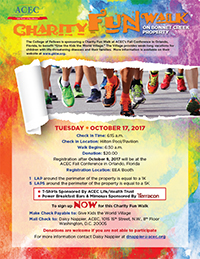 The College of Fellows is sponsoring a Charity Fun Walk at the Fall Conference in Orlando on October 17, 2017. Proceeds from the event will benefit "Give the Kids the World Village," which provides week-long vacations for children with life-threatening diseases and their families.

The walk will follow a route around the perimeter of the Hilton Bonnet Creek & Waldorf Astoria property. The ACEC Life/Health Trust is sponsoring T-shirts, and Terracon is sponsoring power breakfast bars and mimosas.

Participation donation is $20.

For more information, contact Daisy Nappier.
Register for Induction into the Order of the Engineer at Fall Conference
The College of Fellows will host the induction ceremony for interested ACEC Members into The Order of the Engineer—a national organization dedicated to "upholding the standards and dignity of the engineering profession"—at the upcoming 2017 ACEC Fall Conference in Orlando, Fla.

The Order of the Engineer was initiated to foster a spirit of pride in the profession, emphasizing that the primary purpose of engineering is to serve the public and that all members of the engineering profession share a common bond.

At the Fall Conference ceremony, inductees will take the "Obligation of the Engineer" oath and be presented with a stainless steel ring as a symbol of membership.

Click here to register for the induction ceremony and to order rings. Click here to visit the Order of the Engineer website. For further information, contact Daisy Nappier.
The American Council of Engineering Companies
1015 15th St., NW, 8th Floor, Washington, DC 20005-2605
Phone:

202-347-7474

- Fax: 202-898-0068
www.acec.org
- E-mail:
acec@acec.org
Alan D. Crockett, Director, Communications
Gerry Donohue, Editor/Designer