ACEC Fights to Remove Detrimental Provision from Tax Bill; Member Action Needed
ACEC will oppose the House tax reform bill (HR1) that is scheduled for floor consideration next week if it includes a tax hike on engineering firms operating as passthrough entities.

"As currently drafted, the bill creates an uneven tax structure for engineering businesses that actually increases the tax burden on most engineering firms in this country," ACEC President/CEO Dave Raymond wrote in a letter to the House Ways and Means Committee on Tuesday. "For this reason, we would urge lawmakers to oppose the bill when it reaches the House floor if it is not modified to address this inequity." Click here to view a copy of the letter.

More than 2,600 ACEC members have already contacted their U.S Representatives and Senators to express concern over the bill. The Council urges members to continue their outreach efforts. For a sample letter, click here.

HR1 includes provisions that ACEC supports, including a lower corporate tax rate of 20 percent and a new 25 percent rate for passthrough businesses. However, engineering firms organized as passthroughs—which represent the majority of America's engineering businesses—are denied the 25 percent passthrough rate. Combined with the elimination of other tax deductions, these firms face a substantially higher tax burden under the new bill than current law.
ACEC/California to Use Minuteman Grant Fund to Contest Repeal of Transportation Funding
ACEC/California will use a Minuteman Fund grant to combat efforts to repeal The Road Repair and Accountability Act, which devotes $54 billion over the next decade to fix roads, freeways, and bridges across the state, and to invest in transit and safety.

An initiative is underway to repeal the law, which took effect on April 28, 2017, and to make passage of future infrastructure funding measures more difficult.

ACEC/California is working with the Fix Our Roads Coalition, a broad coalition of stakeholder groups that support stable and accountable funding for California's roads, to push back against the repeal effort.

Click here for more information on the Minuteman Fund.
ACEC/Arizona, ACEC/Connecticut and ACEC/Pennsylvania Make PAC Goals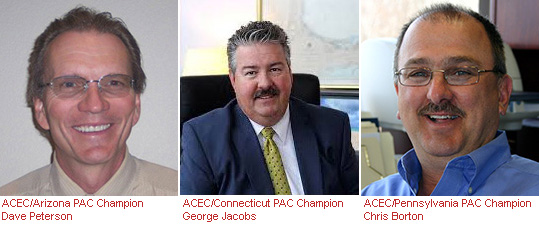 Arizona, Connecticut, and Pennsylvania hit their PAC fundraising targets this week.

ACEC/Arizona made goal for the seventh straight year. "We believe in strength in numbers," said PAC Champion Dave Peterson of WSP USA. "We have about 80 PAC donors statewide who are actively engaged in the program."

At ACEC/Connecticut, PAC Champion George Jacobs of CME Engineering said, "Our state leadership fully understands the importance of maintaining a $1 Million PAC and the important role it plays in electing legislators who will support our firms on federal issues. That's why we've made goal 12 years in a row."

For 11 straight years ACEC/Pennsylvania has hit its fundraising target. PAC Champion Chris Borton of Borton-Lawson said ACEC members who participate in the PAC are responsible for the success of the advocacy effort for all engineering firms nationwide.

Other states to have reached or surpassed their PAC goals are Indiana, Wisconsin, Hawaii, Tennessee, Massachusetts, Rhode Island, Delaware, Montana, Alabama, Illinois, Georgia, North Dakota, Alaska, Kentucky, Maryland, Florida and New York.

For more information about ACEC/PAC and ACEC's political programs visit the ACEC/PAC website or contact ACEC Executive Director of Political Affairs Greg Knopp or ACEC/PAC Director Katherine Bohny
ACEC/Ohio Supports Congressman Latta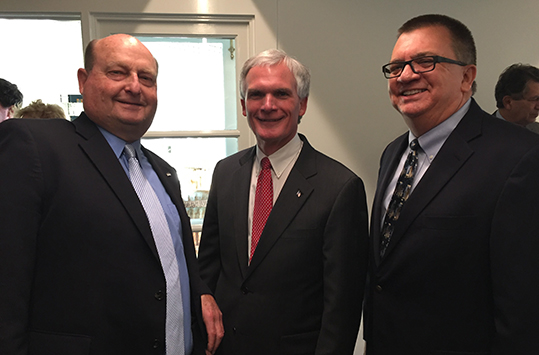 Online Class Addresses Ethical Challenges for the A/E World, November 16
Professional ethics seem simple—Just do the right thing. In the real world, though, ethics can become very complicated for design and construction professionals competing for business and serving competing clients.

In the November 16 online class Ethical Challenges for the A/E World, David Ericksen will draw on real life ethical cases from design professionals to illustrate the challenges and corresponding dilemmas.

Ericksen will help you: Identify most common ethical issues drawn from reported ethical opinions; understand overlay of contractual ethical obligations; develop strategies to identify and manage core ethical challenges; and appreciate ethical conduct as business opportunity.

For more information and to register, click here.
Submit Your Firm's Innovative International Projects to Engineering Inc. by Nov. 21
The March/April 2018 issue of Engineering Inc. will spotlight international projects designed by ACEC Member Firms, highlighting the worldwide reach of the industry.

If your company has a unique international project that you'd like to be considered for this special Engineering Inc. section, e-mail the information below to Engineering Inc. Staff Editor Andrea Keeney by Tuesday, November 21, 2017:

In a one- or two-page document, submit the following: project name and location; project overview, including unique aspects/challenges; and the name, title, phone number and e-mail address of the Member Firm executive to be interviewed for the project profile. The project can be under construction or recently completed.

If you have any questions, contact Andrea Keeney.
Keys to Sustainable, Profitable Business at Small Firm Council Meeting, Austin, Texas, Feb. 1-3
Join small firm leaders from around the country at the 2018 Small Firm Winter Meeting in Austin, Texas, February 1-3.

Mark Goodale, principal/co-founder of Morrissey Goodale, will present Essentials to Achieving a Sustainable, Profitable Business, a 1-1/2 day program on how firms can better market themselves, what key firm positions to fill, how to organize the firm into teams, and when it's time to delegate.

The seminar is designed for firm leadership, including owners, principals, HR professionals, CEOs, and CFOs.

Click here for more information and to register.
The American Council of Engineering Companies
1015 15th St., NW, 8th Floor, Washington, DC 20005-2605
Phone:

202-347-7474

- Fax: 202-898-0068
www.acec.org
- E-mail:
acec@acec.org
Alan D. Crockett, Director, Communications
Gerry Donohue, Editor/Designer