Senate Poised to Vote on Tax Reform; Member Action Needed
ACEC continues to work with Senate leaders to improve the treatment of engineering passthrough firms in the tax bill expected to be voted on later this week. ACEC members are encouraged to contact their Senators on this issue. Click here for more information and to access a sample message.

The Senate bill would lower the tax rate for C corporations to 20 percent. While it would also create a new 17.4 percent tax deduction for passthrough businesses—S corporations, partnerships and LLCs—the bill initially excluded most passthrough owners in certain professions from qualifying for the new deduction, including lawyers, doctors, accountants, financiers, entertainers, professional athletes, as well as architects and engineers. In response to concerns raised by ACEC and other groups, the bill was modified to allow engineering and other passthrough owners within this excluded group to claim the deduction for joint filers with incomes below $500,000 and individual filers with incomes below $250,000.

"We're making progress, but we're concerned the structure in the Senate bill will still leave many passthrough owners behind," said ACEC President and CEO Dave Raymond. In a November 14 letter to Senators quoted in ENR magazine (November 20), Raymond said, "There is no public policy justification for establishing a tax code that favors corporations over smaller firms or one that creates arbitrary winners and losers among passthrough firms."

For more information, contact ACEC Vice President of Government Affairs Steve Hall or Director of Tax and Regulatory Affairs Katharine Mottley.
ACEC Publications Sweep International Competition
ACEC's bi-monthly magazine Engineering Inc. won six honors for excellence, and the Council's weekly newsletter Last Word won three in the 2017 MarCom Awards—an international competition that recognizes exceptional communications.

This year's MarCom competition included more than 6,500 entries from the United States, Canada, and 17 other countries.

The Engineering Inc. January/February cover feature (In the Crosshairs) received a Platinum award for writing, while the same issue earned Honorable Mention awards for both cover and overall magazine design. The May/June 2017 issue, (Engineering Excellence Awards) received a Gold award.

Two Last Word editions received Gold awards in the E-Communication/E-Newsletter category, while another edition of Last Word as well as the 2017 Engineering Excellence Awards brochure earned Honorable Mentions.
ACEC/PAC Closing in on $1 Million; Nebraska and Utah Latest to Reach Goals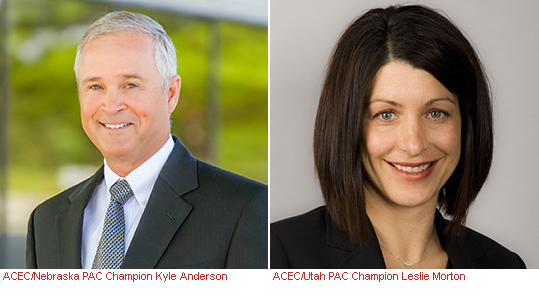 With just four weeks remaining in 2017, ACEC/PAC is pushing hard to meet its goal of raising $1 million for the second straight year. Two dozen State Organizations have already made their 2017 goals and another 18 are actively fundraising to meet theirs.

ACEC/Nebraska and ACEC/Utah are the latest states to achieve their PAC fundraising goals for 2017, joining Indiana, Wisconsin, Hawaii, Tennessee, Massachusetts, Rhode Island, Delaware, Montana, Alabama, Illinois, Georgia, North Dakota, Alaska, Kentucky, Maryland, Florida, New York, Arizona, Connecticut, Pennsylvania, and Missouri.

Nebraska has made goal for 14 consecutive years. "We've been successful because we reach out to our members peer-to-peer and explain the issues affecting their firms...and right now there are many," said ACEC/NE PAC Champion Kyle Anderson of Felsburg, Holt and Ullevig in Omaha.

It's the sixth straight year that Utah has made its fundraising goal. PAC Champion Leslie Morton of Psomas and Executive Director Michael Smith host an annual silent auction to raise PAC funds. "We try to make it fun, but the reason behind the auction is serious," said Smith. "Keeping the PAC well-funded is essential to electing those who will support us in Congress."

For more information about ACEC/PAC and ACEC's political programs (including how close your state is to its fundraising goal), visit the ACEC/PAC website or contact ACEC Executive Director of Political Affairs Greg Knopp or ACEC/PAC Director Katherine Bohny.
ACEC/Massachusetts Supports Congressman Seth Moulton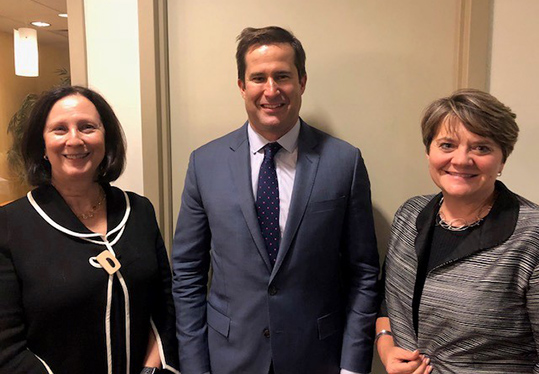 Former ACEC Chair Richard Stanley Passes Away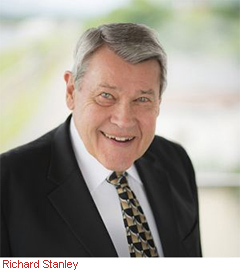 Richard Stanley, former chair of Stanley Consultants, which was founded by his father C. Maxwell Stanley, died on November 17 following a brief illness. He was 85.

Stanley served his entire career with the firm, starting as a design engineer in 1955. He was elected president in 1971 and served as chairman from 1984 until 2007.

Stanley was ACEC Chair during 1976-1977. He is one of three Council chairs from Stanley Consultants—the largest number from a single firm. Sanford Fosholt of Stanley was the 1963-64 chair of the Consulting Engineers Council, one of two organizations that merged in 1974 to form the modern ACEC. Gregs Thomopulos of Stanley led ACEC in 2013-2014.

"Dick was a great leader and unique human being whose values were an inspiration to all of us," said Thomopulos. "He made a significant contribution to the engineering industry through his leadership of Stanley Consultants and his involvement with ACEC."
Solve the Mysteries of the FAR; ACEC/NHI Courses, Orlando, Florida, January 15-18
In collaboration with FHWA's National Highway Institute, ACEC will offer Mysteries of the FAR Revealed: Using the AASHTO Audit Guide, in two consecutive courses, in Orlando, Fla., January 15-18, 2018.

Course One is a two-day (January 15-16) program detailing how to apply the Audit Guide in the development and administration of A/E consultant direct and indirect costs and rates.

Course Two, which runs on January 17-18, is an advanced program that focuses on audit requirements and procedures in reviewing compliance with federal regulations and guidance.

For more information on Course One, click here. For Course Two, click here.
ACEC Online Class Examines How To Use Finance Tools to Build a More Valuable Firm, December 6
Many firms "fly blind" when it comes to understanding their financial condition. They don't have an accurate idea of where they are or where they're going. Fortunately today's industry accounting software has made assessing your financial status much less daunting.

In the December 6 online class Accounting and Finance Tools for Building a More Resilient and Valuable Firm, Matt Fultz and Natalie Warther of Matheson Financial Advisors will deepen your understanding of the financial side of your business and show you how to prepare your company and employees for future financial success.

In the program, you will learn the relationship between accounting, finance, and sound business management; how to apply basic financial management to build a more valuable and resilient business; and techniques for developing top-down and bottom-up budgets for your A/E firm using the financial ratios to drive performance.

For more information and to register, click here.
Keys to Sustainable, Profitable Business at Small Firm Council Meeting, Austin, Texas, Feb. 1-3
Join small firm leaders from around the country at the 2018 Small Firm Winter Meeting in Austin, Texas, February 1-3.

Mark Goodale, principal/co-founder of Morrissey Goodale, will present Essentials to Achieving a Sustainable, Profitable Business, a 1-1/2 day program on how firms can better market themselves, what key firm positions to fill, how to organize the firm into teams, and when it's time to delegate.

The seminar is designed for firm leadership, including owners, principals, HR professionals, CEOs, and CFOs.

Click here for more information and to register.
The American Council of Engineering Companies
1015 15th St., NW, 8th Floor, Washington, DC 20005-2605
Phone:

202-347-7474

- Fax: 202-898-0068
www.acec.org
- E-mail:
acec@acec.org
Alan D. Crockett, Director, Communications
Gerry Donohue, Editor/Designer