Almost 6,000 ACEC Member Messages Deluge Congress on Tax Reform as Deal Nears
ACEC Member Firms have flooded Congressional offices with letters, emails, and calls in recent weeks, urging lawmakers to improve the treatment of passthrough businesses in the House and Senate tax reform bills.

With Congressional negotiators closing in on a final tax reform text this week, ACEC staff and members continue to reach out to lawmakers. Click here to access the ACEC Action Alert center and an updated sample letter.

The final legislation is expected to follow the general outline of the Senate-passed bill on certain key business issues. The compromise bill may lower the corporate tax rate from 35 percent to 21 percent, and create a 20 percent tax deduction for passthrough business owners, although these rates could change as negotiations continue. As currently written, the Senate bill allows architect and engineering passthrough owners to claim the deduction for joint filers with incomes below $500,000 and individual filers with incomes below $250,000.

ACEC has circulated widely a fact sheet to educate lawmakers on the need to treat all engineering firms equitably.
Record Year in Making for ACEC/PAC; South Carolina Hits Target, Other States Close on Heels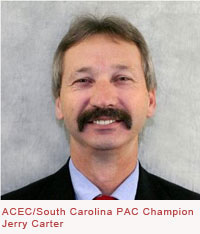 ACEC/PAC is headed for a strong $1 million-plus finish in 2017, aided both by states such as South Carolina, which this week met its goal for the 13th straight year, and other states that are turning in better than expected results.

"If you look at the kind of legislation before Congress right now, including tax reform, it's obvious that engineers have a strong vested interest in supporting ACEC's advocacy efforts," said PAC Champion Jerry Carter of Vaughn & Melton Consulting Engineers. "And that begins with ACEC/PAC."

Other states that have already reached their 2017 fundraising goals are: Indiana, Wisconsin, Hawaii, Tennessee, Massachusetts, Rhode Island, Delaware, Montana, Alabama, Illinois, Georgia, North Dakota, Alaska, Kentucky, Maryland, Florida, New York, Arizona, Connecticut, Pennsylvania, Missouri, Nebraska, Utah and Nevada.

The deadline for forwarding personal contributions to ACEC/PAC is Friday, December 29, 2017.

For more information about ACEC/PAC and ACEC's political programs (including how close your state is to its fundraising goal), visit the ACEC/PAC website or contact ACEC Executive Director of Political Affairs Greg Knopp or ACEC/PAC Director Katherine Bohny.
ACEC-Backed GSA Administrator Takes Office
Emily Murphy was sworn in this week to lead the General Services Administration (GSA).

ACEC has worked closely with Murphy for many years. She managed construction and design procurement policy for both the House Small Business and Armed Services Committees and was the chief acquisition officer at GSA under President George W. Bush.

ACEC supported Murphy's nomination. Click here to view ACEC's endorsement letter.

"She possesses the highest caliber of professionalism and integrity, and her knowledge of federal procurement policy is unrivaled," said ACEC President/CEO Dave Raymond. "Her extensive experience and keen understanding of federal policies makes her the ideal candidate for this important position."
ACEC's Raymond at Meeting of Top U.S. Trade Association CEOs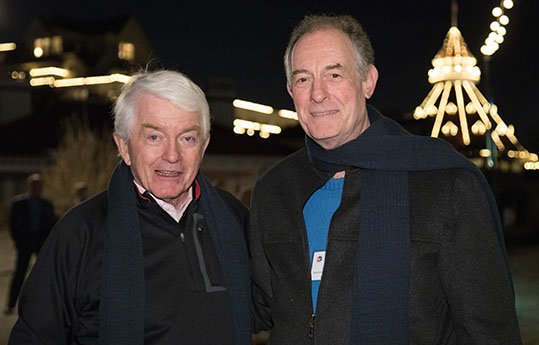 Former ACEC Staff Member Rina Lee Donates Scholarship
Rina Lee, a member of the ACEC staff from 1970 to 2003, has donated $10,000 to sponsor a scholarship in her name. She was ACEC's director of publication programs.

"To me, ACEC was `The Earthly Paradise' for 33 years and will be in my heart forever," said Lee, adding that the scholarship is her way of giving back and thanking the Council.

For more information on ACEC's scholarship program, click here or email Daisy Nappier.
Prevent Sexual Harassment in Your Firm, Online Class, January 30
News stories about sexual assault and harassment have dominated the media for months now. As a result, many companies, including engineering firms, are evaluating their risks, reviewing their policies prohibiting sexual harassment, and implementing training programs to sensitize employees to the issues, and prevent sexual harassment.

In the January 30, 2018 online class, Sexual Harassment Prevention in the A/E Workplace: Understanding the Law; and Establishing and Improving Policies, Procedures and Effective Training, a panel of experts will identify the elements of an effective policy prohibiting sexual harassment and examine options for training.

The panel includes Beverly Tompkins, general counsel, Simpson Gumpertz Heger; and Joanne Dekker and Kent Holland, ConstructionRisk Counsel.

For more information and to register, click here.
Solve the Mysteries of the FAR; ACEC/NHI Courses, Orlando, Florida, January 15-18
In collaboration with FHWA's National Highway Institute, ACEC will offer Mysteries of the FAR Revealed: Using the AASHTO Audit Guide, in two consecutive courses, in Orlando, Fla., January 15-18, 2018.

Course One is a two-day (January 15-16) program detailing how to apply the Audit Guide in the development and administration of A/E consultant direct and indirect costs and rates.

Course Two, which runs on January 17-18, is an advanced program that focuses on audit requirements and procedures in reviewing compliance with federal regulations and guidance.

For more information on Course One, click here. For Course Two, click here.
Keys to Sustainable, Profitable Business at Small Firm Council Meeting, Austin, Texas, Feb. 1-3
Join small firm leaders from around the country at the 2018 Small Firm Winter Meeting in Austin, Texas, February 1-3.

Mark Goodale, principal/co-founder of Morrissey Goodale, will present Essentials to Achieving a Sustainable, Profitable Business, a 1-1/2 day program on how firms can better market themselves, what key firm positions to fill, how to organize the firm into teams, and when it's time to delegate.

The seminar is designed for firm leadership, including owners, principals, HR professionals, CEOs, and CFOs.

Click here for more information and to register.
The American Council of Engineering Companies
1015 15th St., NW, 8th Floor, Washington, DC 20005-2605
Phone:

202-347-7474

- Fax: 202-898-0068
www.acec.org
- E-mail:
acec@acec.org
Alan D. Crockett, Director, Communications
Gerry Donohue, Editor/Designer