ACEC Urges Congress to Fund Water Infrastructure
ACEC and 90 other stakeholder organizations called on House and Senate leadership "to include funding and financing for drinking water, wastewater, water reuse and stormwater infrastructure in any infrastructure package considered in the 116th Congress."

In a letter to Representatives Nancy Pelosi (D-CA) and Kevin McCarthy (R-CA) and Senators Mitch McConnell (R-KY) and Charles Schumer (D-NY), the stakeholder group highlighted that the EPA estimates that the nation's water and wastewater infrastructure will need $750 billion in investment over the next 20 years just to maintain current levels.

"While federal contributions to transportation infrastructure have stayed constant at approximately half of total capital spending, federal investment in water infrastructure has declined from 63 percent to 9 percent since 1977," the letter stated.

According to various studies, every $1 invested in drinking water and wastewater infrastructure increases long-term GDP by $6.35 and provides $23.00 in public health benefits.

"Studies also show that the U.S. economy would stand to gain over $200 billion in annual economic activity and 1.3 million jobs over a 10-year period by meeting its current water infrastructure needs," the letter stated. "Without these investments, breakdowns in water supply, treatment, and wastewater capacity are projected to cost manufacturers and other businesses over $7.5 trillion in lost sales and $4.1 trillion in lost GDP from 2011 to 2040."

To view the letter, click here.
New Executive Committee Members Elected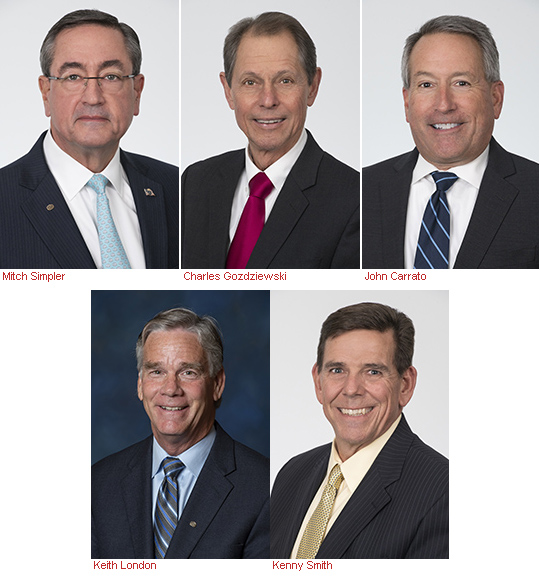 ACEC's Board of Directors has elected four new members to ACEC's Executive Committee, with two-year terms beginning at the May, 2019 Annual Convention in Washington, D.C.

Charles Gozdziewski, chairman emeritus of Hardesty & Hanover in New York, will become the new chair-elect, succeeding Mitch Simpler, who will begin his term as chair on May 5.

Newly-elected vice chairs are: John Carrato, president/CEO of Alfred Benesch & Company in Illinois; Keith London, president/CEO of Kennedy/Jenks Consultants in California; and Kenny Smith, CEO of T. Baker Smith in Louisiana.

ACEC/Utah Executive Director Michael Smith will serve as the NAECE representative on the 2019-2020 Executive Committee.

The new officers will join Art Barrett, Stephanie Hachem, Keith Jackson, Jay Wolverton, and Linda Bauer Darr on the 2019-2020 Executive Committee.
U.S. DOT to Propose Changes to Drone Regulations
U.S. Secretary of Transportation Elaine Chao announced proposed changes this week to federal rules governing commercial use of small unmanned aircraft systems (UAS) to permit flights over people on the ground and at night. ACEC has called for these changes since the current restrictions were established in 2016.

Under existing FAA rules, commercial drone operators can apply for a waiver to fly drones over people and at night, but the exemption process is slow and restrictive. The proposed rule would create a new framework of three categories of permissible UAS operations over people, based on the risk of injury, and modify pilot certification knowledge testing and training standards for nighttime operations.

Click here to view the proposed rule. Public comments will be due in 60 days of publication in the Federal Register.

ACEC will be developing and submitting industry feedback on the proposal. For additional information, contact Matt Reiffer.
ACEC/Indiana First to Annual ACEC/PAC Fundraising Goal…Again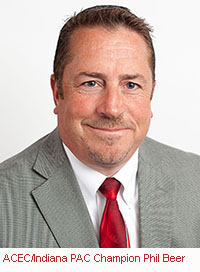 For the fifth year in a row, ACEC/Indiana became the first state in the nation to reach its ACEC/PAC fundraising goal in the calendar year. Indiana has made its PAC goal every year since formal fundraising targets were established in 2003.

"We're very proud of the track record we've compiled making PAC goal," said Indiana PAC Champion Philip Beer of USI Consultants in Indianapolis. "The key to our success is that our state board supports this effort 100%—because they understand ACEC/PAC is central to our advocacy efforts on Capitol Hill. That connection is very apparent every time we visit our congressional delegation in Washington during the ACEC Convention in the spring."

For more information about ACEC/PAC and ACEC's political programs visit the ACEC/PAC website.
ACEC Highlights Workforce Development at National Transportation Conference
ACEC Senior Director of Transportation Programs Matt Reiffer discussed industry workforce challenges on a panel session at the 2019 Transportation Research Board (TRB) annual meeting this week. According to ACEC's most recent Engineering Business Index (EBI) survey, 37 percent of engineering firm CEOs point to the shortage of engineering talent as the greatest threat to their firm's success.

The panel discussed on-going efforts for recruiting and retaining workers into engineering and other transportation and infrastructure fields, including traditional construction and maintenance trades as well as emerging technologies. Additional concerns involved skill shortages in data management, robotics, artificial intelligence, nanotechnology, additive manufacturing/3D printing, and fully autonomous vehicles.

Among the recommended solutions were crafting an in-company lifelong learning system, investing in human capital, promoting and enhancing a diverse workforce, and collaborating with other stakeholders on strategies to expand the pool of available talent.

On a broader scale, panelists discussed improving education and training systems, implementing policies and programs to help workers repurpose their existing skills or retrain to acquire new skills.

The session was hosted and moderated by the FHWA Center for Accelerating Innovation. Other panelists were Stephanie Ivey, associate dean for research, Herff College of Engineering, University of Memphis; Marshall Elizer, assistant secretary, Washington State DOT; Thomas O'Brien, executive director, Center for International Trade and Transportation (CITT), California State University, Long Beach; and King Gee, director of engineering and technical services, AASHTO.
McKnight Succeeds Stagner at ACEC/Texas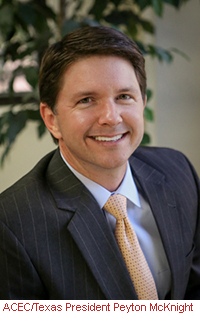 Peyton McKnight is the new president of ACEC/Texas, succeeding Steve Stagner who led the organization for 25 years.

McKnight joined ACEC/Texas in 2003, serving as general counsel and legislative director. Prior to that, he was assistant general counsel to Governor Rick Perry and worked for several state legislators.

Looking forward, he said, "We want to continue to raise the profile of the engineering community and expand on the legislative accomplishments we've had over the past 20 years, especially funding for infrastructure and civil justice reform."

For more on ACEC/Texas, click here.
Superfund Site Cleanup Slowed by Government Shutdown
Federal cleanup at many superfund sites has been suspended due to the partial government shutdown.

More than 14,000 EPA employees have been idled by the three-week-old shutdown. Federal employees are only allowed to work at sites that have been determined to be an "imminent threat" to life or property. The EPA is studying about 800 Superfund sites to determine which ones pose a threat.

Contractors and state workers are continuing to do cleanup work at Superfund sites.
Dodge Momentum Index Dips in December; Up 4.3 Percent for 2018
The Dodge Momentum Index, which tracks the first report of nonresidential building projects in planning, fell 4.9 percent in December. According to Dodge, the primary reason behind the drop was a 7.6 percent decline in commercial activity; institutional activity dipped only 0.7 percent.

For the year, the Momentum Index rose 4.3 percent, with the institutional sector up 8.5 percent and the commercial increasing 1.6 percent. All of the gains in the Momentum Index were realized in the first half of 2018. In final six months of the year, the Index fell 4.4 percent, with the commercial sector losing 7.2 percent while the institutional sector remained flat.

According to Dodge, "This suggests that spending for commercial buildings may be reaching its cyclical peak, while spending for institutional buildings continues to be supported by the stabilizing influence of public spending for projects such as schools and transportation terminals."

For more on Dodge Momentum Index, click here.
Voters Approved More than $40 Billion in Transportation Measures in 2018; Florida Leads Way
Voters in 34 states considered local and state transportation funding ballot initiatives in 2018, approving more than three-quarters of the measures for a national total of $40.9 billion, according to a report by the Eno Center for Transportation.

"Our analysis found that voters have a tremendous appetite to fix their infrastructure and expand transportation opportunities," said Eno CEO/President Robert Puentes.

Florida voters approved more transportation funding than all other states combined, with sales tax increases in Hillsborough and Broward county accounting for $24.4 billion. ACEC/Florida strongly supported the tax increase campaigns.

Across the country, 34 sales tax increases provided the bulk of the new transportation funding ($31.7 billion), followed by tolls and excise tax increases ($5.2 billion) bond measures ($3.4 billion), and property tax increases ($640 million).

All three gas tax increases measures on ballots lost, although California voters also defeated an initiative to eliminate a previously approved gas tax increase. ACEC/California played a major role in protecting the funding, which one study estimates at approximately $100 billion over the next 20 years.

For more, click here.
Renewables to Account for Majority of New U.S. Power Generation
Renewable energy sources will provide almost 2/3 of new U.S. power generation in 2019, according to the U.S. Energy Information Administration (EIA).

The EIA estimates that 23.7 GW will be added to the nation's power grid in 2019 and renewables will account for 64 percent of the new energy. In addition, 8.3 GW of power generation will be retired this year, more than half of which will be from coal.

Wind power will account for 46 percent of the new power and 18 percent will come industrial scale solar projects. Natural gas will account for 34 percent of the new power and other renewables and battery storage total just 2 percent.

The EIA estimates that residential and commercial solar power projects will add 3.9 GW of solar power.
Nominate Outstanding Engineering Students for 2019 ACEC Scholarships; March 15 Application Deadline
Under the auspices of ACEC's College of Fellows, the ACEC Research and Management Foundation (ACEC/RMF) will award seven general scholarships and one specialty scholarship to top engineering students in 2019.

The general scholarships are:
ACEC Scholar of the Year Scholarship
The Rina Lee Scholarship
College of Fellows Scholarship
a/e ProNet Scholarship
Professional Liability Agents Network (PLAN) Scholarship
Life/Health Trust (LHT) Scholarship
Small Firm Council Scholarship
The specialty scholarship is the Council of American Structural Engineers (CASE) Scholarship.

The deadline for applications is March 15, 2019.

Scholarship winners will be selected by the ACEC Fellows Committee. All scholarship applicants must submit applications through their respective state Member Organizations. Click here for eligibility and submission guidelines. For additional information, contact ACEC's Director of Awards Programs Daisy Nappier.
Increase Your Bottom Line and Create a "Best Place to Work," January 24
Small and mid-sized A/E firms know all too well the challenges of managing high employee expectations in an extremely competitive marketplace with limited resources.

In the January 24 online class Creating a Great Place to Work while Achieving Financial Success, Rizwan Siddiqi, president/CEO of EBA Engineering, Inc., shares his proven methods for providing effective leadership to increase your company's bottom line while also creating a great place to work.

Siddiqi will explore industry best practices for leadership success and demonstrate how effective leadership is not only making big decisions and spending big dollars but also the small little steps that go a long way in winning the hearts of your employees.

For more information and to register, click here.
Small Firm Council Meeting Focuses on Growth, Tampa, Feb. 7-9
Join small firm leaders from around the country at the 2019 Small Firm Winter Meeting in Tampa, Florida, February 7-9.

The meeting includes a seminar by Mark Goodale of Morrisey Goodale, What You Need to Know When You Grow. Goodale will outline the day-to-day changes a firm must address as it grows, including:
When is it time to hire administrative staff and human resources?
How can you maintain your firm's culture as it grows?
How do you retain employees if you want to stay the same size?
The meeting, which is designed for firm leadership, including owners, principals, HR professionals, CEOs, and CFOs, will also feature an open roundtable discussion and a special session on how to properly protect your small firm against new threats and liabilities.

Click here for more information and to register.
The American Council of Engineering Companies
1015 15th St., NW, 8th Floor, Washington, DC 20005-2605
Phone:

202-347-7474

- Fax: 202-898-0068
www.acec.org
- E-mail:
acec@acec.org
Alan D. Crockett, Director, Communications
Gerry Donohue, Editor/Designer