ACEC News / Advocacy
April 23, 2019
Bender to Join ACEC/National as Political Affairs VP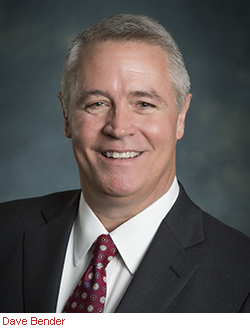 ACEC/Illinois President Dave Bender will join ACEC/National on June 17 as Vice President of Political Affairs.
"Dave is a known quantity in our industry. He's part of the ACEC family with a track record of success in Illinois," said ACEC Chair Manish Kothari. "Dave served the state of Illinois in cabinet agencies and in the Governor's office and has 20 years of association management experience, so he understands our firms, the industry and government. He will use those strengths to hit the ground running. Our members are fortunate to have him on the team."
"Dave has been a tremendous advocate for our industry in Illinois. He brought great energy and enthusiasm to the job which has helped to elevate our organization's stature in Illinois and nationally," said John Nelson, Chairman of ACEC/Illinois' Board of Directors. "He has helped to protect the business interests of our Member Firms while being a tireless advocate for a sustainable infrastructure revenue program in Illinois. Although we will miss Dave back home, we see this as a great opportunity for Dave and for ACEC/IL as we add another great friend in Washington DC advocating on behalf of our industry."
"Since I joined the engineering industry over seven years ago, the critical importance of the work done by engineering firms has fascinated me. The people are some of the most innovative thinkers I have ever encountered," said Bender, who has overseen an organization representing 235 consulting engineering firms with over 13,000 employees. "I am humbled and grateful to have the opportunity to continue my career combining my love of this industry with my decades of experience in the political arena. I have immense appreciation for ACEC President & CEO Linda Bauer Darr's vision for ACEC's future and am thankful to her for including me in it. I look forward to working with Steve Hall and with the entire ACEC team—a world class group of professionals."
To read the press release announcing Bender's appointment, click here.

All comments to blog posts will be moderated by ACEC staff.
'Subscribe' enables commenters to sign up for e-mail notification of subsequent entries
Connect with us

To view back issues of the Last Word newsletter, click here.